Travel
Fastest Roller Coasters In The World
Ferrari World in Abu Dhabi, United Arab Emirates houses the Formula Rossa roller coaster. a ride which achieves an astonishing speed of 149.1 miles per hour.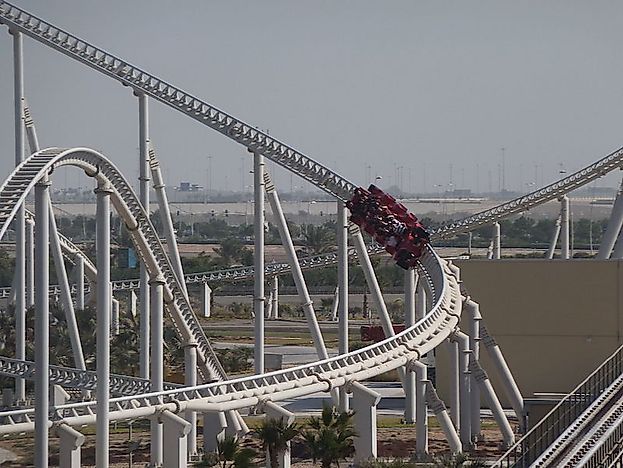 Roller coaster is a kind of amusement consisting of light railway tracks and has numerous turns of rising steeps and falling slopes on which people take a ride in open carriages moving at a high speeds. They are developed for the modern amusement parks and are now common in different places. Roller coaster is believed to have origins in Russian around the 17th century when they were constructed on hills of ice in now St Petersburg. Roller coaster spread into the amusement park in the 20th century with the first known roller coaster, The Cyclone, opened in 1927. Roller coaster ride provides a thrill and entertainment for both the young and adults who enjoy speed and height at the same time. The twist, turns, bends and the physics behind the acceleration of roller coaster offer entertainment to the riders. Riding a roller coaster in groups add more fun and reliever a rider of any fear. High speed centripetal accelerated roller coasters have replaced the motorized roller coaster.
The Fastest Roller Coasters In The World
The Formula Rossa
Ferrari World in Abu Dhabi, UAE, houses the roller coaster Formula Rossa that achieves an astonishing speed of 149.1mph (239km/h) and was built by Intamin. It accelerates to top speed in 5 seconds. Formula Rossa uses a hydraulic system that releases necessary velocity. Once on this roller coaster, the rider usually experiences about 1.7 G's of force when accelerating and 4.8G's during the ride. Formula Rossa track is 2.2 km ranking sixth in steel roller coaster. Because of the high speed and the risks the riders are exposed to, passengers are expected to wear protective gears similar to the ones worn by skydivers.
Kingda Ka
Kingda Ka is located in the Six Flags Great Adventure in the Jackson, New Jersey US. The roller coaster is the tallest and the second fastest in the world. Kingda Ka is launched by hydraulic launch mechanism to a speed of 128 mph (206 km/h) in 3.5 seconds. After the train is started, it climbs the main top hat tower up to a height of 456 feet. Kingda Ka has a weight of 230kgs and is always themed as a mythical tiger. The sign station has Nepalese style with the queue surrounded by bamboo giving it a jungle theme. Jungle music is also played throughout in the Golden Kingdom section of the ride station.
Top Thrill Dragster
Top Thrill Dragster, a steel accelerator, was built by Intamin at Cedar Point, Sandusky in Ohio. Top Thrill Dragster was the sixth roller coaster built since 1964. The roller coaster, together with Kingda Ka, is the only existing strata coaster in the world today. The roller coaster is themed Top Fuel Drag Racing Motorsport and has a speed of 120 mph.
High Speed, Strong Precautions
High-speed roller coaster exposes the riders to high risk. Thus necessary precautions must be taken. Listed age, weight, height, and health must be obeyed. The rider should also observe the ride first before making a trip to know what to expect. The rider must at all time keep his body parts inside the ride to avoid the body part being exposed to the rails. The rider must also wear protective clothing and gears to protect the body in case of a fall or a knock. The roller coaster must be properly maintained to prevent avoidable accidents.
The Fastest Roller Coasters In The World
| Rank | Roller Coaster | Speed | Location |
| --- | --- | --- | --- |
| 1 | Formula Rossa | 149.1 mph | Ferrari World, Yas Island, Abu Dhabi, UAE |
| 2 | Kingda Ka | 128 mph | Six Flags Great Adventure, Jackson, New Jersey, US |
| 3 | Top Thrill Dragster | 120 mph | Cedar Point, Sandusky, Ohio, US |
| 4 | Dodonpa | 107 mph | Fuji-Q Highland, Yamanashi, Japan |
| 5 | Tower of Terror II | 100 mph | Dreamworld, Queensland, Australia |
| 5 | Superman: Escape from Krypton | 100 mph | Six Flags Magic Mountain, Valencia, California, US |
| 6 | Fury 325 | 95 mph | Carowinds, Charlotte, North Carolina, US |
| 6 | Steel Dragon 2000 | 95 mph | Nagashima Spa Land, Nagashima, Japan |
| 7 | Millennium Force | 93 mph | Cedar Point, Sandusky, Ohio, US |
| 8 | Leviathan | 92 mph | Canada's Wonderland, Maple, Ontario, just outside Toronto |
| 9 | Intimidator 305 | 90 mph | Kings Dominion, Doswell, Virginia |
| 10 | Titan | 85 mph | Six Flags Over Texas, Arlington, Texas |
| 10 | Phantom's Revenge | 85 mph | Kennywood, West Mifflin, Pennsylvania, US |
| 10 | Goliath | 85 mph | Six Flags Magic Mountain, Valencia, California, US |
This page was last updated on April 25, 2017.
Citations
Your MLA Citation
Your APA Citation
Your Chicago Citation
Your Harvard Citation
Remember to italicize the title of this article in your Harvard citation.