Economics
Which Country Eats the Most Ice Cream?
New Zealand, the United States, and Australia are the world's biggest consumer of ice-cream.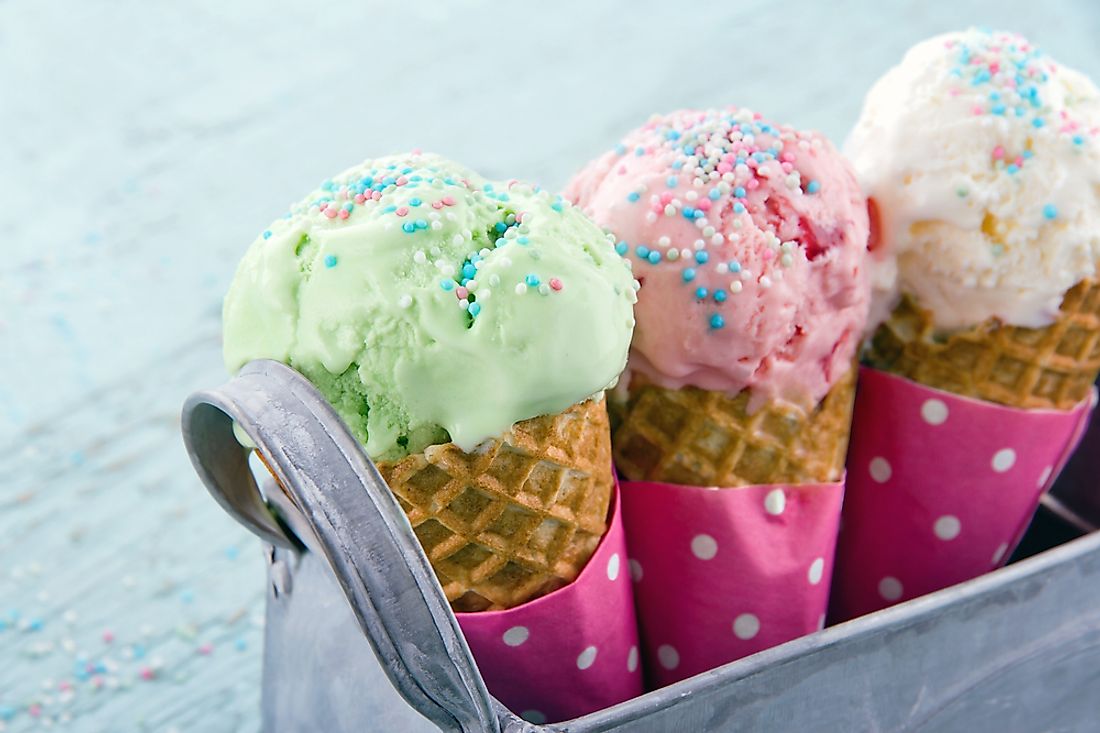 Ice cream is one of the many dairy products consumed around the world. Combined with other ingredients and flavors, and it is frozen using unique methods to make a soft, creamy product. Although ice cream has been enjoyed for many years, its popularity spiked by the widespread use of refrigeration. The product comes in various forms, such as frozen yogurt and sorbet, and sometimes it made with unconventional flavors.
Ice Cream Consumption In New Zealand
New Zealand leads the world in ice cream consumption with a per capita consumption of 28.4 liters per year. The country is renowned for the high standard of its dairy products. Dairy product manufacturers in New Zealand adhere to strict hygiene and quality standards and benefit from training programs. New Zealand's ice cream manufacturers are highly innovative as they try to create an edge for themselves in the market. The stiff competition has led to the creation of flavors such as hokey pokey, the second most popular flavor in the nation after vanilla.
The US Loves Ice Creams
20.8 liters of ice cream per capita is consumed in the US annually. In 2014, American ice cream manufacturers produced over 872 million gallons of the product. The production of ice cream in the nation kicks up near the summer in March all through to August. Ice cream consumption reaches its peak in June and reduces towards the end of the year. Most of the American ice cream businesses are passed down for generations, many having been in business for over 50 years. The businesses benefit from a thriving regional and national market while some export to Asia, the Caribbean, and Latin America, among other regions. Vanilla is the most consumed flavor, followed by a chocolate chip mint.
The Thriving Ice Cream Sales In Australia
Ice cream consumption in Australia stands at 18.0 liters per capita annually. The Australian ice cream market is dominated by brands such as Streets, Cadbury, Peters, and Connoisseur. Ice cream consumption shoots up during the Australian summer. 3% of grocery buyers buy ice cream cartons weekly while 19% purchase them monthly, and a further 21% purchase ice cream tubs every two to three months. Grocery stores and supermarkets account for 67.6% of the ice cream sales. There has been an increased interest in fruit-based ice cream varieties, with Australians seeking healthy options.
Ice Cream In Finland's Summers
Ice cream consumption in Finland is estimated at 14.2 liters per capita annually. Finland is known as a cold region, and most of the ice cream consumption takes place during the short summer. 45% of the country's ice cream sales are credited to Nestlè while Unilever, which operates Ben & Jerry's, has a 21% share of Finland's ice cream market.
Emerging Trends In The Global ice cream Markets
Estimated that by 2022, the global ice cream market will reach $89 billion. Increasing demand for sweet treats and increased income are the major factors driving this sector. The growth of low fat and organic ice cream is changing the ice cream production landscape. Ice cream manufacturers are, in turn, seeking to maximize the nutritional benefits of the products they sell. New flavors and varieties are constantly cropping up to entice consumers. Ice cream consumption is also growing in emerging markets such as China, Brazil, and India.
The Top Ice Cream Consuming Countries Of The World
| Rank | Country | Per capita ice-cream consumption (litres/year) |
| --- | --- | --- |
| 1 | New Zealand | 28.4 |
| 2 | United States | 20.8 |
| 3 | Australia | 18.0 |
| 4 | Finland | 14.2 |
| 5 | Sweden | 12.0 |
| 6 | Canada | 10.6 |
| 7 | Denmark | 9.8 |
| 8 | Ireland | 8.4 |
| 9 | Italy | 8.0 |
| 10 | United Kingdom | 7.0 |
This page was last updated on January 10, 2020.
Citations
Your MLA Citation
Your APA Citation
Your Chicago Citation
Your Harvard Citation
Remember to italicize the title of this article in your Harvard citation.