Economics
The Top 20 Export Products Of Australia
The economic growth of Australia is largely dependent on the mining and agricultural sectors.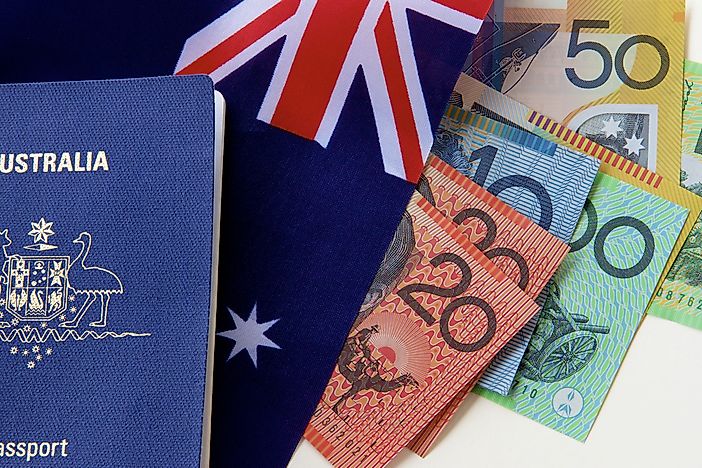 The Top 20 Export Products of Australia
The economic growth of Australia is primarily dependent on the mining and agricultural sectors since the two sectors contribute 12% of the nation's GDP. The country is ranked as the world's 19th-largest exporter and 19th-largest importer. Australia has negotiated free trade agreements with countries like Malaysia, Singapore, Korea, the US, Canada, and New Zealand. Besides, the country is a member of the World Trade Organization (WTO), G20, Asia-Pacific Economic Cooperation (APEC), and Organization for Economic Co-operation and Development (OECD).
The Economy of Australia
Australia's fiscal year runs from July 1st to June 30 the following year. Its nominal GDP was $1.62 trillion ranking 12th while its Purchasing Power Parity was $2 trillion ranking 21st in 2015. The country's sector by contribution to GDP is services (58%), retail trade (5%), manufacturing (7%), construction (9%), and mining (7%). Australia's nominal GDP per capita is valued at $51,000 ranking 5th and 16th in GDP by PPP at $47,000. The country's GDP recorded a growth of 1.8% in 2016. Inflation stood at 1.0% while the primary industries are mining, food processing, chemicals, transportation and industrial equipment, and steel. The labor force in the country totals 12 million, and the unemployment rate is estimated at 5.7%. Australia is ranked 15th regarding ease of doing business. The country's dollar is ranked one of the fifth most traded currencies in the world.
The Mining, Manufacturing, and Agriculture Industries in Australia
Australia boasts a variety of mineral resources including coal, iron ore, copper, zinc, nickel, lead, diamonds, mineral sands, gold, aluminum, bauxite, and uranium. The industry encompasses different activities from extraction, smelting, refining, conversion, to packaging. Mining technology, services, and equipment are also key contributors to the industry. The industry generates $138 billion annually, and its direct labor force is estimated at 187,400. The manufacturing sector in Australia encompasses businesses involved in the chemical and physical transformation of raw resources to finished products. Such businesses include automotive, aerospace, shipbuilding, petrochemical, food processing, metallurgy, machinery and equipment, textiles, printing, and wood and paper products.

Australia is highly productive in agricultural activities, and the industry generates 2.3% of the total GDP. An estimated 93% of the country's food supply is sourced domestically while other agricultural products are exported. The major crops are grains and oilseeds, sugarcane, wheat, vegetables, barley, fruits, maize, sorghum, and chickpeas. The country is dotted with productive wine regions which support a lucrative wine industry. The rest of agricultural products are beef, lamb, fish, wool, and mutton.
Top Exports of Australia and the Major Partners of the Country
Australia's natural resources are major exports from the country and are ranked as follows by value in USD$ millions as per 2012 figures : iron ore (54,397); coal (44,89); natural gas (13,796); gold (13,530); crude oil (11,148); copper ore (5,767); raw aluminium (3,627); raw nickel (1,785). Major agricultural exports are wheat (7,026); frozen beef (2,918); wool (2,707); raw cotton (2,660); wine (2,137); beef (1,943); and lamb, mutton, and goat meat (1,734). Other top exports from Australia are aluminium oxide (3,565); refined petroleum (3,140); pharmaceuticals (3,083); refined copper (2,904); and cars (1,771). The nation's major export partners are China accounting for 32.2% of total exports, Japan accounted for 15.9% of the exports while South Korea, United States, and India accounted for 7.1%, 5.4%, and 4.2% respectively.
What is Australia's Largest Export?
Australia's top exports include iron ore, coal, natural gas, gold, and crude oil.
| Rank | Trade Item | Value |
| --- | --- | --- |
| 1 | Iron ore | 54,397 |
| 2 | Coal | 44,899 |
| 3 | Natural gas | 13,796 |
| 4 | Gold | 13,530 |
| 5 | Crude oil | 11,148 |
| 6 | Wheat | 7,026 |
| 7 | Copper ore | 5,767 |
| 8 | Raw Aluminium | 3,627 |
| 9 | Aluminium oxide | 3,565 |
| 10 | Refined Petroleum | 3,140 |
| 11 | Pharmaceuticals | 3,083 |
| 12 | Frozen beef | 2,918 |
| 13 | Refined Copper | 2,904 |
| 14 | Wool | 2,707 |
| 15 | Raw Cotton | 2,660 |
| 16 | Wine | 2,137 |
| 17 | Beef | 1,943 |
| 18 | Raw Nickel | 1,785 |
| 19 | Cars | 1,771 |
| 20 | Lamb, Mutton and Goat meat | 1,734 |