The Top 10 Tomato Producing States In The United States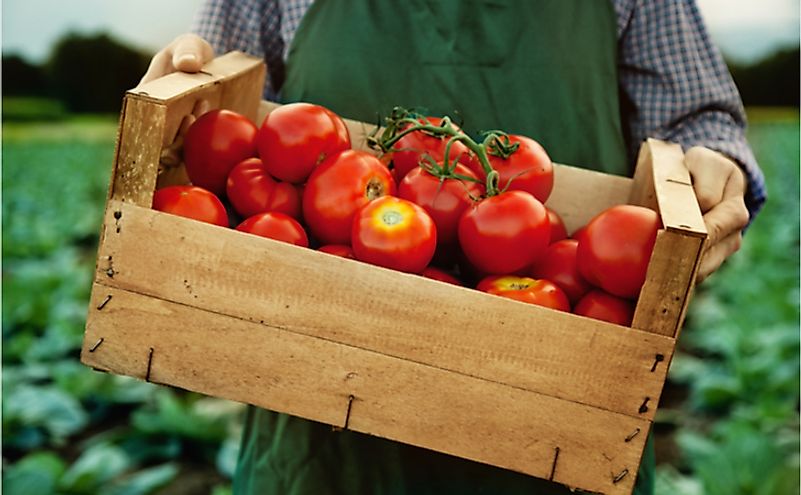 Tomato is among the most popular vegetable produced in the US and the world. This plant originated in Mexico but spread to the world through the Spanish colonization. The three topmost producers of tomatoes in the US are Indiana, Florida, and California. Nonetheless, among the top 10 states that produce large quantities of tomatoes are Tennessee, Florida, South Carolina, Virginia, North Carolina, Ohio, New Jersey, California, Michigan, and Indiana. Besides the tomatoes being sold in the fresh vegetable markets, a large portion of the tomatoes is processed as sauces, paste, canned whole tomatoes, ketchup, and juice. A highlight of four of the tomato producers are as follows;
1. California
California State produces 255,388 thousand centum weight (cwt) of tomatoes each year. Consequently, it is the highest producer of tomatoes in the US and among the highest tomato producers in the world. More specifically, approximately one-third of the world's tomatoes and 95% of United States' tomatoes are produced in California. Some of the areas where tomatoes are grown include Sacramento Valley and San Joaquin Valley. Production mostly takes place in Solano, Merced, Sutter, and Stanislaus counties. The major planting periods are from late January-early June whereas the harvesting season ranges from late June-October.
2. Florida
Florida is the 2nd largest producer of tomatoes in the US with its annual production being 7,560 thousand cwt. Tomato production regions in Florida include Tampa Bay and Dade County. Some of the popular types of tomatoes grown in Florida are Floragold, Everglades, and Better Boy. Planting seasons suitable for this state are March and August. The state of Florida produces about 50% of the fresh tomatoes in the US.
3. Indiana
The 3rd largest producer of tomatoes in the US is Indiana which produces 4,940 thousand cwt. Farmers grow both fresh market tomatoes and processing tomatoes. In 2012, Indiana grew 11.2 million pounds and 259,650 tons of fresh market and processing tomatoes respectively. The fresh market tomatoes were valued at $7.6 million whereas the tomatoes grown for processing were valued at $30.6 million.
4. Ohio
Ohio is the 4th largest producer of tomatoes in the US with its yearly production being 2,808 thousand cwt. The best tomato varieties for Ohio farms are Early Girl, Sun Gold, Brandywine, and Roma. The state experiences short growing seasons which commence in late May.
Challenges Faced By The Tomato Producers
The first challenge is the global climate change that has resulted in unpredictable weather patterns. Thus, farmers have had to invest more in irrigation due to the longer periods of sunshine. Secondly, the fluctuation in the global prices of tomatoes also affects its production in the US as it is part of the major exports for some of the states like California. The third challenge can be termed as the demand and supply imbalances. An example of such a scenario is a high supply of tomatoes vis-à-vis a low demand for it. Ultimately, the manufacturers end up having excessive inventories which may take time to clear. Finally, tomato growers also contend with common tomato viruses such as early blight, leaf mold, blossom end rot, and verticillium wilt among others.
The Top 10 Tomato Producing States In The United States
| Rank | US State | Production in thousand centum weight |
| --- | --- | --- |
| 1 | California | 255,388 |
| 2 | Florida | 7,560 |
| 3 | Indiana | 4,940 |
| 4 | Ohio | 2,808 |
| 5 | Michigan | 2,750 |
| 6 | Tennessee | 1,240 |
| 7 | South Carolina | 1,152 |
| 8 | New Jersey | 943 |
| 9 | North Carolina | 870 |
| 10 | Virginia | 420 |