The Tallest Educational Buildings in the World
Educational buildings are buildings designed for various education-related activities in primary, secondary or higher educational system and often include classrooms and research areas. The development of education in the 15th century, especially in medieval Europe, gave rise to specialized buildings. The buildings have developed through centuries becoming increasingly specialized. Today, schools and institutions of higher learning are investing millions of dollars in the construction of facilities, some of which are among the tallest buildings in the world. Japan and Russia boast of some of the tallest educational buildings in the world. Some of these buildings include;
Main Building
The Main Building of Moscow State University in Moscow, Russia, is the tallest educational facility in the world. It is also the highest of the seven Stalinist buildings in Moscow. Main Building has been the headquarters of Lomonosov Moscow State University since its inauguration in 1953. The 787-foot tall skyscraper has 36 floors and a spire on atop the floors. It was the 7th tallest building in the world and the tallest in Europe up to 1988 when it was surpassed by Messe Turm. Main Building inspired several other buildings including Palace of Culture and Science in Warsaw.
Mode Gakuen Cocoon Tower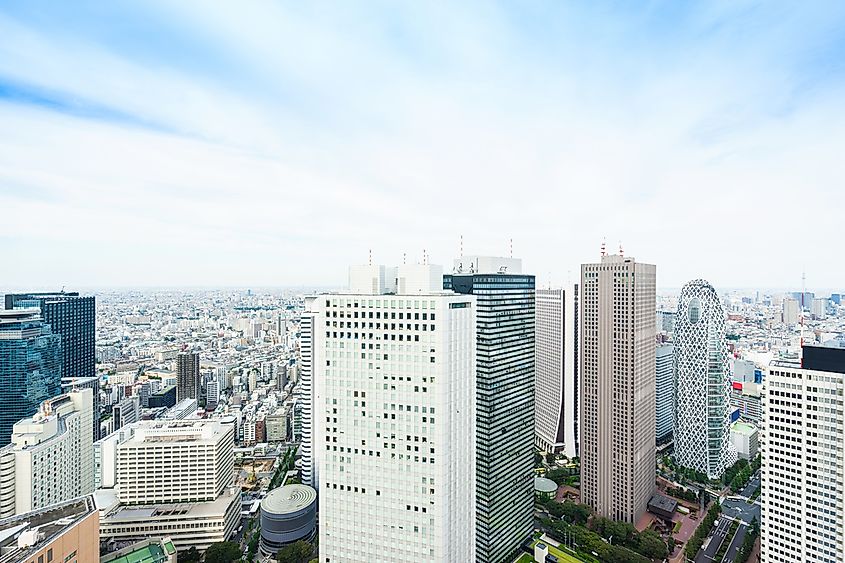 The Mode Gakuen Cocoon Tower can be seen here, as it is the curved building in the far right.
Mode Gakuen Cocoon Tower is a 669-foot educational building in the district of Nishi-Shinjuku in Tokyo, Japan. The 50-story building is the tallest educational facility in the world after Moscow's Main Building. It hosts three institutions; Tokyo Mode Gakuen, HAL Tokyo, and Shuto Medical College. The last two schools are operated by Mode Gakuen University. Completed in 2008, Mode Gakuen Cocoon Tower is the 17th tallest building in Tokyo. Each of the 50 floors contains rectangular classrooms and a student lounge after every three floors.
Cathedral of Learning (USA)
Cathedral of Learning in the US houses the University of Pittsburgh's main campus. At over 530 feet, it is the fourth tallest educational building in the world and the tallest in the western hemisphere. Construction of the building began in 1926 and was completed in 1934 prior to its formal dedication in 1937. The first 40 of the 42 floors are used for education purposes although most of the floors above the 36th-floor house mechanical equipment. A transmitter for the student-run radio station is placed on top of the building. Cathedral of Learning has also hosted a Pennsylvania's Mock Trial Competition.
Rhodes Tower
James A Rhodes Tower is a 363-foot tall skyscraper located in Cleveland, Ohio. The building is owned by Cleveland State University. The 21-story building is the 2nd tallest educational facility in the US and the 16th tallest in the world. Rhodes Tower houses the university's main library on the first eight floors and the administration offices on the top floors. The construction of the tower began in 1968 and was completed in 1971. Its style was influenced by the numerous constructions that were going on in the US at that time including Justice Center Complex and AT Tower. The tower was opened for university use on September 21, 1971. A major renovation of the tower took place in 2001 to fix the problem of lack of insulation and the periodic leaks.