Russia's sky is characterized by some of the tallest skyscrapers in the world. The country has a long and rich cultural history, and like any other long-standing civilization, continues to witness immense and impressive works of architecture as a symbol of its might and wealth. The country has some of the most beautiful and tallest examples of Russian architecture through the ages. Close to 50 buildings in the country are at least 430 feet tall with the tallest building, the Federation Tower, measuring 1,227 feet. Some of the tallest buildings in Russia are still under construction while some have been proposed and approved for construction. The tallest buildings in Russia include;
Federation Tower (East Tower)
The Federation Tower is a complex skyscraper located in Moscow. The building is located on the 13th lot of the Moscow International Business Center. Its construction started in 2003 but was temporarily stopped until 2011 and was completed in 2016. The building consists of two towers that are constructed on the same platform. The East Tower, which is the tallest, is a 95-storey structure measuring 1,227 feet while the West Tower is 65-storey measuring 794 feet. The East Tower is the tallest building in Europe and is often referred to as Tower East to avoid name competition with the Naberezhnaya Tower. Both the Tower East and West accommodate offices, hotel suites, restaurants, and apartments. The Tower East is used as a sight-seeing object and for extreme sport.
OKO
OKO is a complex structure constructed on the 16th plot in the Moscow International Business Center. The site for the building is divided into two sections namely 16a and 16b. The South Tower is the second tallest in the building at 1,161.7 feet while the North Tower is 803.6 feet tall. The South tower has 85 stories while the North Tower has 49. The construction of OKO started in 2011 and was completed in 2015 at a cost of approximately $2 billion. The building accommodates offices, apartments, and parking and is owned by the Capital Group. The South Tower is also the location o the highest skating rink in Europe.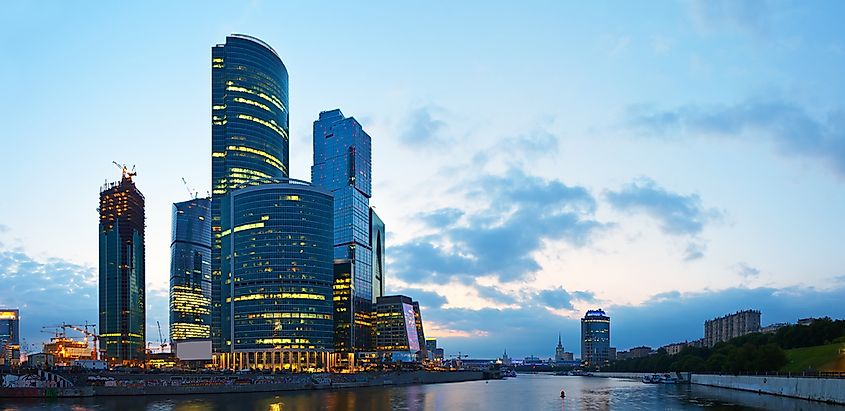 Mercury City Tower
Mercury City Tower is a 1,112 feet tall skyscraper located in Moscow. It is one of Europe's tallest buildings. The building is also located on plot 14 in the International Business Center in Moscow. The construction of the building began in 2009 and was completed in 2013 at a cost of $1 billion. Mercury City Tower has 75 floors with five underground floors and covers a floor area of about 2 million square feet. It is owned by Igor Kesaev. Mercury City Tower is a multipurpose building accommodating offices, shops, and apartments.
Eurasia
Eurasia is a 1,013-feet tall skyscraper located in Moscow's International Business Center. The complex accommodates offices, apartments, and entertainment facilities. The skyscraper is one of the world's 94 supertall skyscrapers. It is located on plot 12 of the MIBC and covers an area of about 2.3 million square feet. The construction of the building started in 2007 and was completed in 2014 and has 70 floors. It is owned by the VTB Bank. The building design is a combination of classical and modernist styles and was developed by Mos City Group. It has a scenic elevator on the outside which allows a nice view. Eurasia has a parking capacity of more than 1,000 cars