Society
The Tallest Buildings In Dubai
Burj Khalifa, the tallest man-made structure in the world is located in Dubai, United Arab Emirates.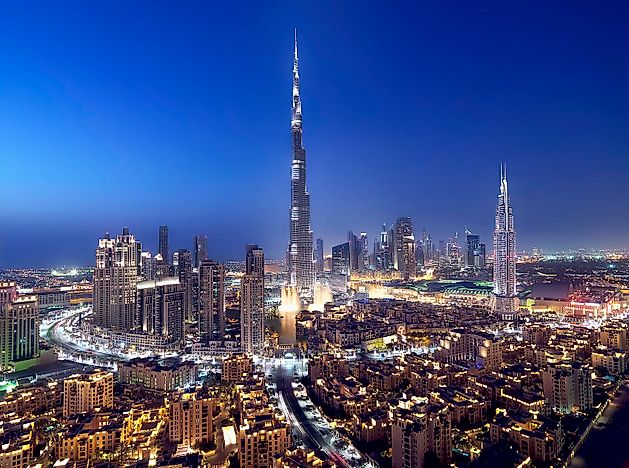 The first place that comes to our minds when we talk about the unique skyscrapers and architectures in the world is undoubtedly Dubai. Apparently, Dubai is vastly commended for its distinct towers, and most significantly, they all represent the radiance of design, structure, architecture, and technology, which is used to build the tallest buildings in Dubai. The tallest buildings in Dubai have added immense value to the tourism of Dubai since people travel there to enjoy the sights of the skyscrapers. An ideal thing to do in Dubai as a tourist is to visit the tallest buildings!
Dubai consists of 911 complete skyscrapers, where 73 stands more than 656 ft, 88 towers stands higher than 591 ft, and 18 are taller than 984 ft. Apparently, building towers have become a passion for Dubai. From 2012, Dubai has around 640 active infrastructure developments, and some of these have broken the current records. Further, Dubai pompously holds the title of the world's tallest building, world's third and fourth tallest residential towers, and the world's tallest hotel. The following list includes the most popular and tallest building in Dubai, which have become the center of tourist attraction.
The Tallest Buildings In Dubai
Burj Khalifa
It is the tallest building, currently holding the title of the tallest skyscraper in the world standing at 2,717ft tall with 163 floors. The building stands tall in Downtown Dubai, which is linked with an entry opening from the Dubai Mall. It was completed and officially opened in 2010 having used an approximately $1.5billion USD.
Princess Tower
It is the second tallest dwelling tower in the world, which is the delight of Dubai. It stands at 1,358ft high with 101 floors. Apparently, it is the tallest building in Dubai that has a stunning view, and its completion took a span of six years. It consists of 957 bays and 763 housing units. It was officially opened in 2012.
23 Marina
It is a total of 92 levels where four are underground, and the remaining 88 floors are above. It is the third tallest housing skyscraper in the world, standing at 1,289ft high with 88 floors. The building was superbly completed in 2012, and it consists of 62 ultra-modern elevators. Further, it has 289 housing partitions, lifts that have a luxury duplex, and attached swimming pools.
Elite Residence
It is the third tallest residential tower in the world standing at 1,250ft high with 87 floors. It has approximately 685 apartments. In fact, Elite Residence comprises of 91 floors, 11 floors are devoted to facilities, four are underground, and 79 are for residence.Every apartment is laden with various luxuries and amenities like reception services, parking, health clubs, business avenues, salon, and spas. The skyscraper used around six years for it to be completed.
Almas Tower
It is the tallest central tower in Dubai, which is located in the middle of Jumeirah Lake. It was officially opened in 2009, and it took around five years to completion. In fact, it is previously the tallest skyscraper in Dubai before Burj Khalifa. The height reaches 1,180ft, with 68 floors.
Future Projects
Dubai unveiled the plans to build a taller tower than the Burj Khalifa tower, whose upper decks will represent the hanging ancient gardens of Babylon. The tower will be the eighth wonder of the world that is scheduled for completion in 2018. In fact, it will be the attraction and showpiece of the 2020 World Expo and Dubai Creek Harbor project.It is anticipated that the tower will possess at least a boutique hotel, VIP observation garden decks, panoramic restaurants, rotating balconies, and twenty mixed use floors. Further, the design of the tower will be influenced by distinct and unique characteristics of the Islamic architecture and culture.
The Tallest Buildings In Dubai
| | Building | Height (in feet) | Number of floors |
| --- | --- | --- | --- |
| 1 | Burj Khalifa | 2,717 ft | 163 |
| 2 | Marina 101 | 1,398 ft | 101 |
| 3 | Princess Tower | 1,358 ft | 101 |
| 4 | 23 Marina | 1,289 ft | 88 |
| 5 | Elite Residence | 1,250 ft | 87 |
| 6 | The Address The BLVD | 1,207 ft | 72 |
| 7 | Almas Tower | 1,180 ft | 68 |
| 8 | JW Marriott Marquis Dubai Tower 1 | 1,165 ft | 76 |
| 8 | JW Marriott Marquis Dubai Tower 2 | 1,165 ft | 76 |
| 9 | Emirates Office Tower | 1,163 ft | 54 |
| 10 | Ahmed Abdul Rahim Al Attar Tower | 1,122 ft | 76 |
This page was last updated on April 25, 2017.
Citations
Your MLA Citation
Your APA Citation
Your Chicago Citation
Your Harvard Citation
Remember to italicize the title of this article in your Harvard citation.