Economics
The Richest States in Germany
The following are the states of Germany ranked by GDP.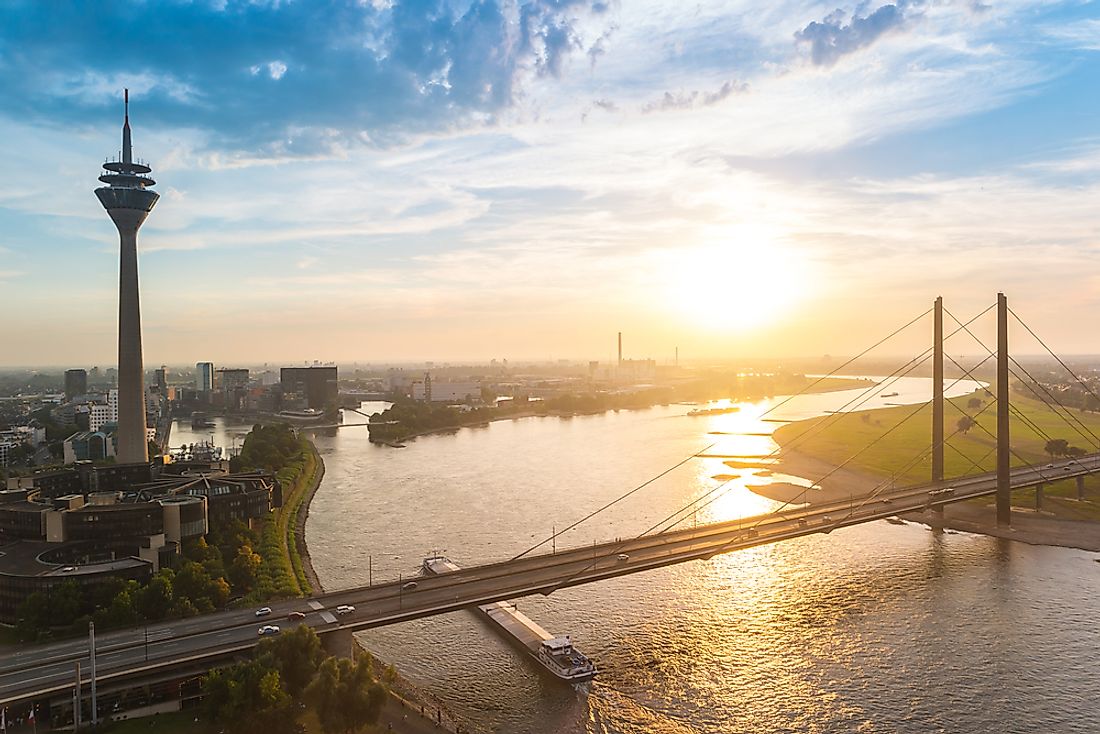 The economy of Germany is the largest in Europe and the 4th largest in terms of Gross Domestic Product (GDP) in the world. Its Gross Domestic Product (GDP) by the Purchasing Power Parity (PPP) measured in 2016 was $4.0 trillion. This has led to Germany being ranked the fastest growing economy among the G7 countries, overtaking the UK which previously held the position. The growth is attributed to an increase in government and consumer spending. The country also boasts a very low unemployment rate of only 3.9%. Germany's economic model is based on the social market economy. It is mainly driven by the iron and steel industry, motor vehicles, production machinery, trains, and information technology among other industries. The three wealthiest states in Germany in terms of GDP are North Rhine-Westphalia, Bavaria, and Badden-Wurttemberg.
The richest states in Germany
North Rhine – Westphalia
The state of North Rhine-Westphalia was famously known as the land of "coal and steel" in 1950s and 1960s. Presently, it is the most populated state in Germany with about 18 million inhabitants. It is the 4th largest German state with an area of 34,084 km2. The capital city of North Rhine-Westphalia is Düsseldorf. The economy of this state is mainly driven by industries. Out of the 100 German corporations, 37 are located in the North Rhine-Westphalia state including Deutsce Telekom, Metro AG, and RWE. Furthermore, over 11,000 foreign companies run their operations from North Rhine-Westphalia including Toyota, Vodafone, Sony, and LG Electronic. The GDP of North Rhine-Westphalia is €645.6 billion.
Bavaria
Bavaria is the largest German state with an area of 70,548km2. It is a free state whose capital and largest city is Munich. Bavaria is one of the largest economies in Europe. Many large companies have their headquarters in the state including BMW, MAN, Audi, Rhode & Schwarz, Puma, Adidas, and Siemens. The companies play a great role in employing the German citizens who live in the state of Bavaria. Bavaria has a GDP of €549.2 billion.
Badden-Wurttemberg
The state of Badden-Wurttemberg covers an area of 35,751 km2 and is the third largest German state in terms of both size and population. It is inhabited by slightly over 10.8 million people, with the capital city being Stuttgart. In spite of the state having few natural resources compared to other states, it is the 3rd wealthiest and most prosperous in Europe. The economy of Badden-Wurttemberg is dominated by small and medium sized enterprises. Moreover, the region is heavily industrialized with mechanical, optical, toy, clock making, and electronics industries. The GDP for Badden-Wurttemberg is €460.7 billion.
The future of the economy of Germany
Some of the German states such as Brandenburg, Thuringia, Saxony-Anhalt, Mecklenburg-Vorpommern, Saarland, and Bremen have very low GDPs. However, this has not deterred the general economic development of the German economy. The economy will continue to grow since its industries have found a niche in the world markets. Most of its products are exported and are popular for their excellent quality. Electronics and motor vehicles are imported by many countries and are very high quality. However, there is a need to remove barriers to entry so that the country's productivity, investment, and entrepreneurship are strengthened.
What is the Richest State in Germany?
The state of North Rhine-Westphalia was famously known as the land of "coal and steel" in 1950s and 1960s. Presently, it is the most populated state in Germany with about 18 million inhabitants. It has the largest GDP of any German state.
The Richest States in Germany
| Rank | State | GDP (Euro, billions) |
| --- | --- | --- |
| 1 | North Rhine-Westphalia | 645.6 |
| 2 | Bavaria | 549.2 |
| 3 | Baden-Wurttemberg | 460.7 |
| 4 | Hesse | 263.4 |
| 5 | Lower Saxony | 258.5 |
| 6 | Rhineland-Palatinate | 131.6 |
| 7 | Berlin | 124.2 |
| 8 | Saxony | 112.2 |
| 9 | Hamburg | 109.3 |
| 10 | Schleswig-Holstein | 85.6 |
| 11 | Brandenburg | 65.3 |
| 12 | Thuringia | 56.8 |
| 13 | Saxony-Anhalt | 56.2 |
| 14 | Mecklenburg-Vorpommern | 39.9 |
| 15 | Saarland | 35 |
| 16 | Bremen | 31.6 |
About the Author
Sharon is a Kenyan native with a wide range of interests. An accountant and financial analyst by profession, Sharon enjoys writing about world facts, the environment, society, politics, and more.
This page was last updated on August 1, 2017.
Citations
Your MLA Citation
Your APA Citation
Your Chicago Citation
Your Harvard Citation
Remember to italicize the title of this article in your Harvard citation.