The Richest And Poorest States In Germany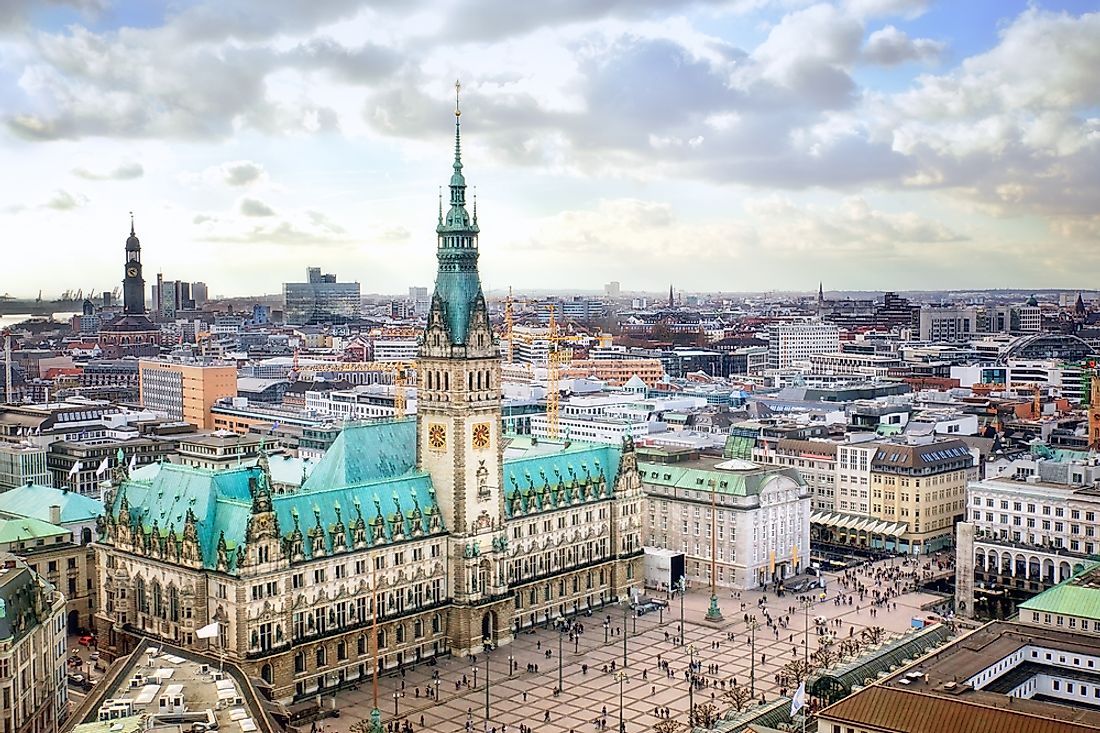 Germany is a federal republic situated in central Europe. The nation covers an extensive area of 357,104 square km, making it one of the largest European countries. Germany has the highest population among the European Union states with an estimated population of 82 million residents as of 2015. The country's constitution, adopted on May 24th, 1949, moved authority from the federal government to the individual states that make up the country. For four decades after World War II, Germany was divided into East Germany and West Germany. In 1989, East and West Germany unified after relentless protests, mainly in East Germany. Germany became a federation of 16 states after the unification of the two sides. While the state of North Rhine-Westphalia is Germany's richest state by Gross Domestic Product (GDP), Hamburg leads regarding GDP per capita. The state of Bremen had the lowest GDP, but the second-highest when looking at the GDP per capita.
Germany's economy is one of the world's largest economies. Its massive manufacturing and services industries drive the country's economy. Germany is third on the list of the world's biggest exporters and it is known for its high-quality exports. Its economy is projected to grow, driven by thriving motor and electronics industries. However, Germany needs to open up its economy to allow foreigners to invest in the country.
North Rhine-Westphalia
North Rhine-Westphalia has the highest population among German states at approximately 18 million residents. In 2015, its GDP was €645.6 billion, making it the wealthiest state in Germany. Out of the ten largest cities in Germany, four are situated in North Rhine-Westphalia. Düsseldorf is North Rhine-Westphalia's capital. The State was formed after the merger of two provinces, namely North Rhine and Westphalia. It was famous for steel and coal deposits in the 1950s and 1960s. Today, North Rhine-Westphalia has an extensive mechanical production industry. More than 37 major corporations conduct their operations from this state. It also has a thriving creative industry with designers and artists excelling in their fields.
Bavaria
Bavaria is Germany's largest state by land area, covering 70,548 square km. The state had the second-highest GDP in Germany at €549.2 billion in 2015. Bavaria is richer than many countries in the world. It has a large automobile and motorcycle industry with major manufacturers such as Allianz, Audi, and Grundig in the state. Additionally, world-famous companies such as Adidas, Puma, and BMW have their headquarters in Bavaria. Munich is Bavaria's largest city and its capital.
Bremen
Bremen is Germany's smallest state, occupying an area of 419 square km. The state is comprised of two cities: Bremerhaven and Bremen. The cities are in two different enclaves in the Northern region of Germany. The two cities lie on the banks of River Weser. Although Bremen is a large port city with advanced shipping facilities, it contributes the least GDP among German states. In 2015, the state had a GDP of €31.6 billion making it the poorest state in Germany. However, it ranks second for GDP per capita.
Saarland
Saarland State is situated in southwest Germany. Its capital city is Saarbrucken. Saarland has a thriving mining industry with rich coal deposits and iron ores. The state also has an agricultural sector that produces vegetables, grains, fruits, and dairy products. Most of the goods manufactured in Saarland are exported to France. Despite the state's growing economy, it is ranked as the second-poorest state in Germany after Bremen. In 2015, Saarland had a GDP of €35 billion.
The Richest And Poorest States In Germany
| Rank | States | GDP per capita (EUR€) | Rank | States | GDP (billion EUR€) | Share of total GDP (%) |
| --- | --- | --- | --- | --- | --- | --- |
| 1 | Hamburg | 61,729 | 1 | North Rhine-Westphalia | 645.590 | 21.3 |
| 2 | Bremen | 47,603 | 2 | Bavaria | 549.190 | 18.1 |
| 3 | Bavaria | 43,092 | 3 | Baden-Württemberg | 460.687 | 15.2 |
| 4 | Hesse | 43,073 | 4 | Hesse | 263.444 | 8.7 |
| 5 | Baden-Württemberg | 42,745 | 5 | Lower Saxony | 258.530 | 8.5 |
| 6 | North Rhine-Westphalia | 36,509 | 6 | Rhineland-Palatinate | 131.951 | 4.4 |
| 7 | Berlin | 35,627 | 7 | Berlin | 124.161 | 4.1 |
| 8 | Saarland | 35,409 | 8 | Saxony | 112.658 | 3.7 |
| 9 | Lower Saxony | 32,890 | 9 | Hamburg | 109.271 | 3.6 |
| 10 | Rhineland-Palatinate | 32,814 | 10 | Schleswig-Holstein | 85.610 | 2.8 |
| 11 | Schleswig-Holstein | 30,134 | 11 | Brandenburg | 65.294 | 2.2 |
| 12 | Saxony | 27,776 | 12 | Thuringia | 56.811 | 1.9 |
| 13 | Brandenburg | 26,493 | 13 | Saxony-Anhalt | 56.217 | 1.9 |
| 14 | Thuringia | 26,364 | 14 | Mecklenburg-Vorpommern | 39.869 | 1.3 |
| 15 | Saxony-Anhalt | 25,198 | 15 | Saarland | 35.028 | 1.2 |
| 16 | Mecklenburg-Vorpommern | 24,909 | 16 | Bremen | 31.590 | 1.0 |