Economics
The Richest Cities In Germany
Wolfsburg is the richest German city with the highest GDP per capita.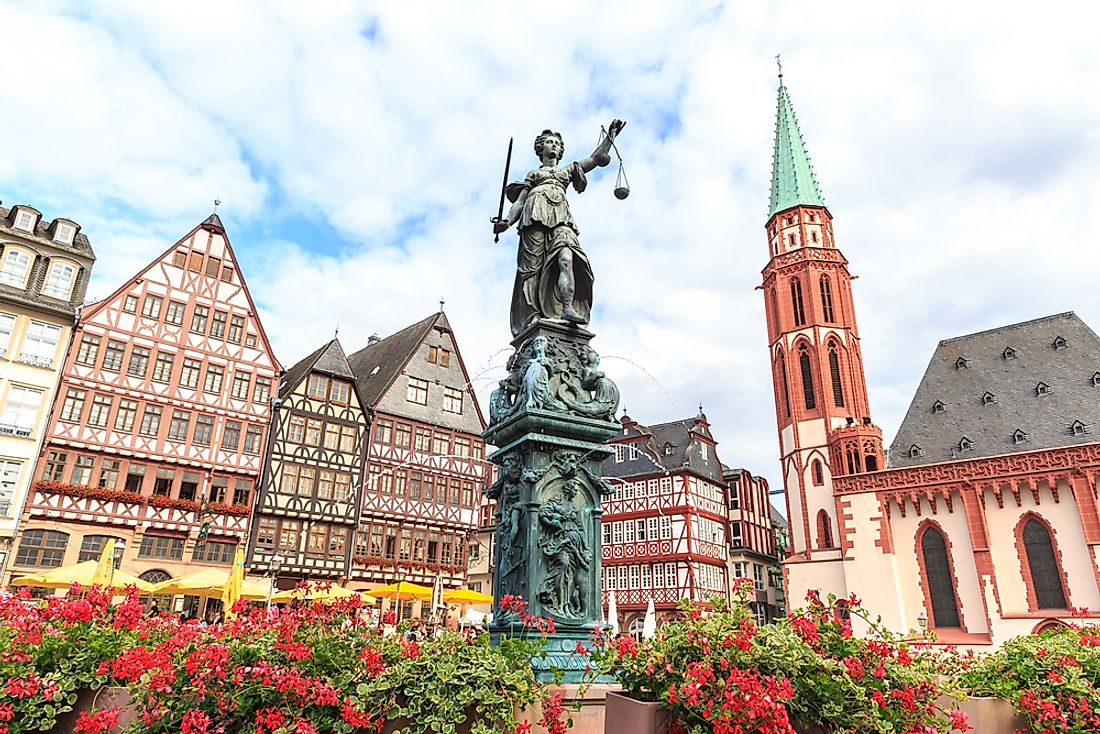 The Economy Of Germany
Germany has one of the most competitive and richest economies in Europe and the world. It is home to one of the richest metropolitan areas on the continent as well. This country is one of the biggest global exporters and in 2016, reported the largest positive trade balance of any country in the world. This article takes a closer look at the internal economy of Germany and its richest cities, according to gross domestic product (GDP) per capita.
The Richest Cities In Germany
1. Wolfsburg
Wolfsburg is both the 5th largest city in Germany and also the richest. The residents of this city earn a GDP per capita of approximately $128,000. The majority of its population of 124,045 works in the Volkswagen headquarters and car plant located here, the largest in the world. In fact, this city was founded specifically for Volkswagen production in 1938 and has continued growing in size and economic importance since then.
2. Frankfurt
The second richest city in Germany is FrankfUrt, which reports a GDP per capita of $92,248. It has a population size of 731,095, making it the 5th most populated city in the country. The economy here relies on financial services and serves as the financial center for Germany. The European Systemic Risk Board, the European Insurance and Occupational Pension Authority, the German Federal Bank, and the European Central Bank are all headquartered in this city as well
3. Schweinfurt
With a GDP per capita of $89,473, Schweinfurt is the third richest city in Germany. This city, which is located in the Bavaria region of the country, has a population size of nearly 52,000. Its economy relies on metals manufacturing and some of its most widely produced products are bicycles and ball bearings. Schweinfurt is considered one of the fastest growing economies in Germany due to its high-tech sector, which provides a large number of jobs and employment share in the market.
4. Ingolstadt
Ingolstadt, located along the Danube river in Bavaria, is the 4th richest city in this country. It has a GDP per capita of approximately $85,717 and a population size of over 132,000. A large percentage of the resident here are employed by one of several large businesses, including the Airbus aircraft manufacturer, the Audi car manufacturing headquarters, Saturn electronic store, and Media Markt electronic store. Of these organizations, Audi employs the largest number of people.
5. Regensburg
The 5th richest city in Germany is Regensburg, which has a GDP of $81,704 per capita. This city has a population size of 145,465 and is located in the southeastern region of Germany. Its economy is supported by the electrical engineering, industrial, and automotive industries. Additionally, tourism is a major contributor to the economy here, which supports a number of local businesses, including hotels and restaurants. Regensburg is also the headquarters location for a number of large, international organizations. Some of the largest employers of these corporations include General Electric, Toshiba, BMW, Siemens, and Schneider Electric.
These cities are just a few of the richest urban centers in Germany. A number of other cities have GDP of over $60,000 per capita. A more complete list can be found published below.
What is the Richest City in Germany?
Wolfsburg is both the 5th largest city in Germany and also the richest. The residents of this city earn a GDP per capita of approximately $128,000.
The Richest Cities In Germany
| Rank | German City | GDP per capita |
| --- | --- | --- |
| 1 | Wolfsburg | 92,594 |
| 2 | Frankfurt am Main | 82,675 |
| 3 | Schweinfurt | 78,382 |
| 4 | Ingolstadt | 75,092 |
| 5 | Regensburg | 71,576 |
| 6 | Düsseldorf | 66,936 |
| 7 | Ludwigshafen am Rhein | 66,892 |
| 8 | Erlangen | 65,799 |
| 9 | Stuttgart | 65,262 |
| 10 | Ulm | 64,163 |
| 11 | Coburg | 63,852 |
| 12 | Bonn | 62,858 |
| 13 | Aschaffenburg | 58,898 |
| 14 | München | 58,027 |
| 15 | Passau | 55,289 |
| 16 | Darmstadt | 55,121 |
| 17 | Koblenz | 54,876 |
| 18 | Wiesbaden | 54,514 |
| 19 | Hamburg | 54,099 |
| 20 | Mannheim | 52,588 |
About the Author
Amber is a freelance writer, English as a foreign language teacher, and Spanish-English translator. She lives with her husband and 3 cats.
This page was last updated on August 1, 2017.
Citations
Your MLA Citation
Your APA Citation
Your Chicago Citation
Your Harvard Citation
Remember to italicize the title of this article in your Harvard citation.