Society
The Oldest Newspapers Published In Europe
Relation aller Fürnemmen und gedenckwürdigen Historien is recognized as the world's first newspaper published by Johann Carolus.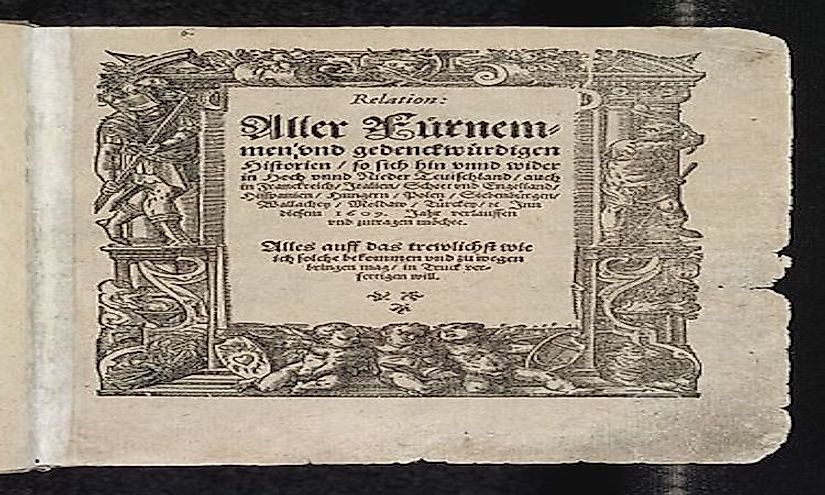 The Oldest Newspapers In Europe
A newspaper is a series of publications that contains news on current events, informative articles on politics, arts, sports among other things and advertising. The very first newspaper in Europe dates back to the 17th century when printed periodicals started to quickly substituted the practice of handwriting news sheets. The appearance of this new branch of media was perceived to be closely interrelated with the concurrent spread of the printing press from which the publishing press gets its name.
Relation aller Furnemmen und gedenckwurdigen Historien
It is recognized as the world's oldest newspaper and it was published by Johann Carolus, in Strasbourg which was a free imperial city under the Holy Roman Empire of the German nation. The World Association of Newspapers, in 2005, acknowledged that Carolus began printing the pamphlet in 1605 and not 1609 as it was earlier thought. The pamphlet was published regularly and at short intervals for its readers to keep up with ongoing news.
Courante uyt Italien, Duytslandt, &c.
The Courante uyt Italien, Duytslandt, &c. was the first Dutch newspaper published in 1618 in Amsterdam, in the Dutch Republic. It was a regular newspaper published on regular basis and can be considered as the first brandsheet since it was folio-size. The printer or publisher remains unknown, but other papers published later suggested that Joris Veseler was the printer. The only surviving copy of the newspaper's first issue can be found in the Kungliga Biblioteket in Stockholm, Sweden whole later issues can be found at the Koninklijke Bibliotheek in The Hague.
La Gazette
La Gazette was formerly known as Gazette de France was the first French weekly magazine published in France. La Gazette was founded by Theophraste Renaudot whose first edition was published in 1631. Over time La Gazette become the mouthpiece for the legitimists who were a royalist faction, the newspaper disappeared in 1915. Since France had no proper means of circulating news La Gazette immediately became the centre of France publication and a great way and good means of controlling the flow of information in a state that was highly centralized. La Gazette's main objective was to inform readers on events happening abroad and in the noble court mostly focusing on political and diplomatic affairs.
La Gazeta
La Gazeta is the official newspaper of the government of Spain whose publication is daily apart from Sundays. La Gazeta is published in Madrid, Spain in Spanish with the first issue being published in 1661. Content written in the La Gazeta is authorized and published by the Royal assent and approved by the Spanish Presidency office. La Gazeta's main publication includes decrees by the General Courts, the Parliaments of Spain which consists of Congress and Senate deputies and orders enacted by the Spanish Autonomous Communities. It also contains a comprehensive list of all laws that are passed in parliament.
Merkurisz Polski Ordynaryjny
Merkurisz Polski Ordynaryjny is known in English as the Polish mercury and was a Polish-Lithuanian Commonwealth publication, and first Polish newspaper whose first issue was printed in 1661 in Krakow and later in Warsaw. The newspaper was sponsored by the Court of King John II Casimir of Poland and Queen Marie Louise Gonzaga. The weekly newspaper mainly devoted to publishing monarchs' military campaigns, contemporary politics and European dynastic affairs. The newspaper promoted political reforms and strengthened monarchical power, and its death was associated with the King's failed political plans.
Other Old Newspapers In Europe
The initial idea of the creation of newspapers aside from being printed was and still is to meet four criteria. The first criteria is publicity which is the availability and accessibility to the general public, the second is periodicity which entails that a newspaper should be published at regular intervals, the third is currency which means the information should be up to date and the fourth is universality meaning it should cover a range of topics. Europe has had about 15 old newspapers that are known including the four mentioned above.
What is the Oldest Newspaper in Europe?
The oldest newspaper in Europe is the German Relation aller Fürnemmen und Gedenckwürdigen Historien, which dates back to 1605.
The Oldest Newspapers Published In Europe
| Rank | Date | Newspaper | Language | Place | Country/Region |
| --- | --- | --- | --- | --- | --- |
| 1 | 1605 | Relation aller Fürnemmen und gedenckwürdigen Historien | German | Strasbourg | Holy Roman Empire |
| 2 | 1609 | Avisa Relation oder Zeitung | German | Wolfenbüttel | Holy Roman Empire |
| 3 | 1610 | Name not given in source | German | Basel | Swiss Confederacy |
| 4 | 1615 | Name not given in source | German | Frankfurt | Holy Roman Empire |
| 5 | 1617 | Name not given in source | German | Berlin | Holy Roman Empire |
| 6 | 1618 | Courante uyt Italien, Duytslandt, &c. | Dutch | Amsterdam | Dutch Republic |
| 7 | 1620 | Nieuwe Tijdinghen | Dutch | Antwerp | Spanish Netherlands |
| 8 | 1631 | La Gazette | French | Paris | France |
| 9 | 1641 | Gazeta | Catalan | Barcelona | Spain |
| 10 | 1645 | Ordinari Post Tijdender | Swedish | Stockholm | Sweden |
| 11 | 1650 | Einkommende Zeitungen | German | Leipzig | Germany |
| 12 | 1656 | Weeckelycke Courante van Europa | Dutch | Haarlem | Dutch Republic |
| 13 | 1661 | La Gazeta | Spanish | Madrid | Kingdom of Spain |
| 14 | 1661 | Merkuriusz Polski Ordynaryjny | Polish | Kraków | Polish–Lithuanian Commonwealth |
| 15 | 1664 | Gazzetta di Mantova | Italian | Mantua | Duchy of Mantua, Holy Roman Empire |
About the Author
Benjamin Elisha Sawe holds a Bachelor of Arts in Economics and Statistics and an MBA in Strategic Management. He is a frequent World Atlas contributor. 
This page was last updated on April 25, 2017.
Citations
Your MLA Citation
Your APA Citation
Your Chicago Citation
Your Harvard Citation
Remember to italicize the title of this article in your Harvard citation.