Economics
The Most Profitable Companies Of South Korea
Samsung Electronics is South Korea's biggest company.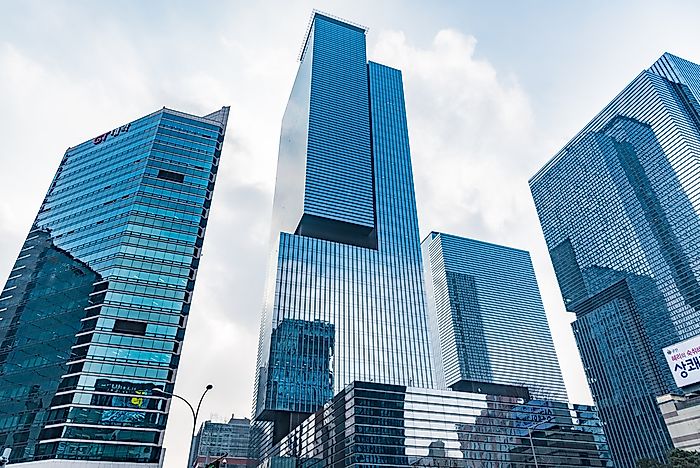 The Top 5 South Korean Companies By Profitability
1. Samsung Electronics

Samsung Electronics is one of the largest companies in the world and is South Korea's most profitable company generating revenues valued at $208.938 billion and profits totaling $ 27.245 billion. Samsung Electronics was founded on January 13th, 1969 as an electronics company which dealt primarily with the production of electronic appliances such as refrigerators, washing machines, and televisions. Samsung Electronics is synonymous with smartphones since the company began the production of smartphones. Currently, Samsung Electronics is the largest producer of smartphones, televisions, and semiconductor chips in the world. The total assets held by Samsung Electronics are valued at $202.876 billion.
2. SK Holdings
SK Holdings is a conglomerate based in South Korea and is made up of 95 affiliate and subsidiary companies. Also known as the SK Group, SK Holdings is one of the largest conglomerates in the country with an annual revenue of $102.122 billion and a net profit of $258.2 million. SK Holdings, which was formerly known as the Sunkyoung Group was founded on April 8th, 1953 by the late Chey John-Hyun. The conglomerate is involved in many industries which cut across most sectors of the South Korean economy which range from shipping to chemical production. However, the core business of SK Holdings is telecommunications as well as energy. The company has assets valued at $87,716 billion.
3. Hyundai Motor
Hyundai Motor Company is another top South Korean company based on profitability with the company's annual revenues reaching $79.766 billion and profits amounting to $7.804 billion. Hyundai Motor Company is involved in automobile production and is the world's third largest automobile manufacturer. The company's Ulsan production facility is one of the largest of its kind in the world with an annual production capacity of up to 1.6 million units. Hyundai Motor Company is also the largest automobile company in South Korea and was founded on December 29th, 1967 by Chung Ju-Yung.
4. POSCO
POSCO is a steel-manufacturing multinational company which is based in South Korea. The company is the largest steel producer in South Korea as well as in the world with an annual production capacity of about 21 million tons of steel. The company is also the most profitable in South Korea's steel production industry with the company posting annual profits of $1.257 billion. POSCO total assets are valued at $80.037 billion and annual revenues valued $56.520 billion. The company which has major operations in India and China was founded in April 1968 by the Korean Government.
5. LG Electronics
LG Electronics is a multinational electronics company based in Seoul, South Korea. The company is popularly known for the production of home appliances, an industry which LG Electronics has a significant market share. By 2011, LG Electronics was the second-largest producer of televisions in the world behind Samsung Electronics and has assets valued at $33.669 billion. LG Electronics is among the most profitable companies in South Korea with annual revenues of $53.118 billion and net profits totaling $161.5 million.
Future of the South Korean Economy
The economy of South Korea is expected to continue growing with the country investing heavily in technological advancements to lure more IT-based companies to set up shop in the country. The only point of concern that worries economists is the ongoing friction between South Korea and North Korea which threatens to escalate to become an armed conflict.
The Most Profitable Companies Of South Korea
| Rank | Name | Revenue (Mil. $) | Profit (Mil. $) | Assets (Mil. $) |
| --- | --- | --- | --- | --- |
| 1 | Samsung Electronics | 208,938 | 27,245 | 202,876 |
| 2 | SK Holdings | 102,122 | 258.2 | 87,716 |
| 3 | Hyundai Motor | 79,766 | 7,804 | 126,441 |
| 4 | POSCO | 56,520 | 1,257 | 80,037 |
| 5 | LG Electronics | 53,118 | 161.5 | 33,669 |
| 6 | Hyundai Heavy Industries | 49,507 | 254.6 | 50,421 |
| 7 | Korea Electric Power | 49,072 | 54.8 | 147,391 |
| 8 | Kia Motors | 43,486 | 3,487 | 34,289 |
| 9 | GS Caltex | 41,715 | 341.4 | 21,119 |
| 10 | Hanwha | 35,379 | 118.8 | 107,394 |
| 11 | Korea Gas | 34,774 | -183.4 | 41,382 |
| 12 | Hyundai Mobis | 31,244 | 3,126 | 32,629 |
| 13 | S-Oil | 28,467 | 264.6 | 11,297 |
| 14 | Samsung Life Insurance | 26,167 | 832.6 | 182,855 |
| 15 | Samsung C&T | 25,977 | 221.5 | 24,133 |
| 16 | Lotte Shopping | 25,774 | 720.3 | 36,933 |
| 17 | LG Display | 24,697 | 389.3 | 20,579 |