The Most Popular Mobile Messaging Apps Worldwide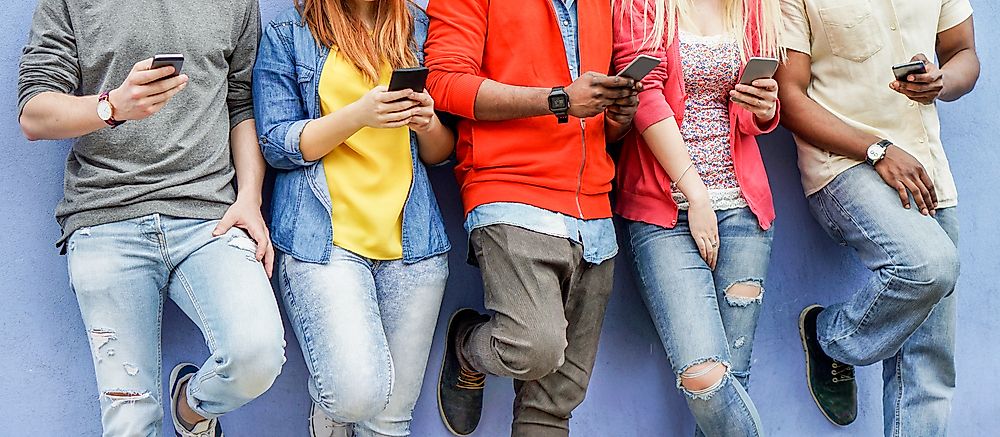 Mobile messaging apps are now more widely used than ever before. With the number of smartphone users growing rapidly throughout the world, newer apps have been developed to cater to the varying needs of the users. Mobile messaging apps allow users to instantly connect to other users in different parts of the world, and to share videos, images, files, and more. Video and voice call facilities are also offered by most of these apps. Although there are several established and new mobile messaging apps available today, the most popular ones are described below.
10. Telegram
Telegram, the 10th most popular mobile messaging app, is a cloud-based, non-profit instant messaging service. The app works both on smartphones and desktop systems. Text messages, videos, stickers, images, files of all types, and audio can be shared via this app. The messages are end-to-end-encrypted.
9. BlackBerry Messenger
The BlackBerry Messenger is a videotelephony app and instant messenger that is installed in BlackBerry devices. It allows exchanges of voice calls between BlackBerry, Android, Windows, and iOS mobile users. As of 2017, the BlackBerry Messenger has 100 million monthly active users.
8. LINE
The freeware app of LINE is used for instant communications on laptops, tablets, smartphones, desktops, and similar electronic devices. The users of this app can exchange images, text, audio, video on LINE. Video conferencing and VoIP conversations can also be conducted freely. The app was launched in 2011 in Japan by Line Corporation. As of 2017, LINE has 217 million monthly active users.
7. Viber
Viber was developed by Viber Media, an Israeli company and then taken over by Rakuten, a Japanese MNC. It is an instant messaging platform and a voice over IP application that in 2017 has over million monthly active users. The app allows instant messaging, image and video exchanges, file exchanges, etc. It was first launched on December 2, 2010, as an iPhone app in competition with Skype. In 2012, the growing popularity of the app led to the launch of versions of Viber for Android, BlackBerry and Windows Phone devices.
6. Snapchat
Snapchat, created by three Stanford University students and developed by Snap Inc., is a multimedia mobile application and image messaging app. It is the 6th most popular mobile messaging app with over 300 million monthly active users. It is different from many other similar purpose apps in that the messages and pictures posted on Snapchat become inaccessible after a short period of time. The temporary nature encourages a more natural flow of interaction.
5. Skype
Skype is another popular instant messaging app that also provides other services like video chatting, video conferencing, exchange of documents and images, etc. Skype was first launched in August 2003. Much of the service provided by Skype like Skype-to-Skype voice or video calls are free but if one wants to call a mobile phone or landline number then a subscription is needed. A webcam and microphone are required for video calling and voice calling on Skype.
4. WeChat
The original version of this mobile messaging app was first invented by Xiaolong Zhang of China and named "Weixin". It was part of a 2010 project started by the Tencent Guangzhou Research and Project center. By 2012, the app had become highly popular and had about 100 million users. It was then renamed as WeChat to appeal to the international community. As of 2017, WeChat is the third most popular mobile messaging app with a monthly active user count of 846 million. WeChat provides service ranging from text messaging, video conferencing, image and video sharing, online games, to making mobile payments via a digital wallet service.
3. QQ Mobile
The QQ mobile app or the Tencent QQ was developed by the Tencent Holdings Limited, a Chinese company. The QQ offers services ranging from group and voice chat to music, shopping, microblogging, and playing social games online. The software service has 877 million monthly active users.
2. Facebook Messenger
Facebook Messenger is also an equally popular mobile messaging app that was developed in 2008 by Facebook as Facebook Chat and further revamped in 2010. The app allows users to exchange messages, images, videos, audio, etc. It also allows video and voice calling. As of 2017, the Facebook Messenger app has over 1 billion active users.
1. WhatsApp
With over 1 billion monthly active users, WhatsApp is undoubtedly the most popular mobile messaging app worldwide. The freeware app is available on smartphones and uses the Internet and the user's standard cellular mobile number to make voice or video calls, exchange text messages, videos, images, documents, voice notes, etc. All data of this cross-platform instant messaging app are end-to-end encrypted. The service was initially released in January 2009 by California based WhatsApp Inc. and then acquired by Facebook on February 2014 for about $19.3 billion USD.
The Most Popular Mobile Messaging Apps Worldwide
| Rank | Mobile Messaging App | Monthly active users worldwide (in millions) |
| --- | --- | --- |
| 1 | WhatsApp | 1,000 |
| 2 | Facebook Messenger | 1,000 |
| 3 | QQ Mobile | 877 |
| 4 | WeChat | 846 |
| 5 | Skype | 300 |
| 6 | Snapchat | 300 |
| 7 | Viber | 249 |
| 8 | LINE | 217 |
| 9 | BlackBerry Messenger | 100 |
| 10 | Telegram | 100 |