Society
The Longest Ships Ever Built
With a length of 1,504.1 feet, the Oil tanker Seawise Giant is the longest ship ever built.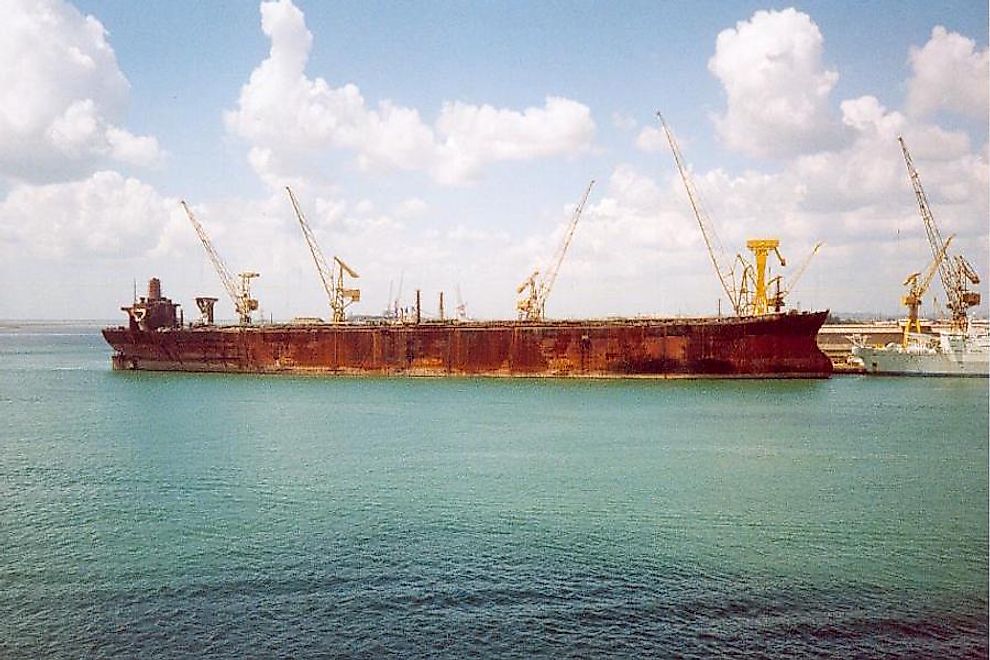 Many ships have been built over the ages including oil tankers, passenger ships, container ships, and other luxury ships (like the Titanic). Among them were the longest ships which included the Seawise Giant, Batillus, Esso Atlantic Esso Pacific, Barzan, Pioneering Spirit and Queen Mary among others. These ships have a great history and have helped in making strides within the shipping industry. The long ships encountered challenges such as taking too long to halt when at high speed and also great financing was needed for their maintenance. Nevertheless, they helped in driving the economies of their time.

1. The Seawise Giant
The Seawise Giant ship was an oil tanker which was 1504.1 feet long and 226 feet wide in size. It was twice the length of the famous Titanic ship and had a cargo capacity of just about 564,763 tons. The Seawise Giant ship traveled between the Middle East and the United States. It met its fate in the Iran-Iraq War in 1988 where it was bombed causing the largest ship ever built to sink to the bottom of the sea. At the end of the war, however, the shipwreck was bought by a Norwegian firm who repaired it and renamed it 'Happy Giant.' By the time the Seawise Giant was broken up into pieces, it had acquired three other names: 'Jahre Viking's,' 'Knock Nevis' and 'Mont.' It had also become inconvenient to keep it as it became difficult to sail and there were many changes in the oil market.
2. Batillus Class (4 ships)
The Batillus Ship was manufactured at a time when the world needed a transport medium for oil rather than depend on fixing pipes from one point to another. It was an oil tanker, which was 1359.0 feet long and had a tonnage of 553,662 deadweights. It had a speed of 16.7 knots and had 40 tanks built within it. The Batillus transported oil between the Persian Gulf and Northern Europe making a total of 30 voyages each year. However, between 1977 and 1980, the courses reduced to about 4 per year due to a depression in the oil market. Batillus made its last run in 1983 after which she was sold for less than US$ 8 million and scrapped in Taiwan in 1985.
3. Esso Atlantic And Esso Pacific
The Esso Atlantic and Esso Pacific were oil tankers just like the Batillus and the Seawise Giant ships. It was 1333.9 feet long and weighed about 508,628 deadweight tons when loaded to full capacity. They were owned by Esso International Shipping Company in the Bahamas and were later broken up in the year 2002.
4. Barzan
The Barzan is a container ship with a length of 1312 feet. It was built by Hyundai Samho, completed in 2015 and is currently in service. The Barzan has a weight of 199,714 tons which is only third of the weight of the Batillus and Seawise Giant ships. It is famous for its environmental friendliness as it has very low carbon emissions. Barzan cruises between Asia and Europe, mostly around North, Central and South China.
5. Pioneering Spirit
The Pioneering Spirit is a crane vessel which was built in-house by DSME shipyard in Korea. It is 1253 feet long and has two other barges built on it called the Iron Lady and the Bumblebee. The ship engages in offshore operations which involve complementing lift systems, removing topsides and straddling platforms. This ship is an inspiration of Pieter Schelte Heerema who was a pioneer of heavy lifting.
The Longest Ships Ever Built
| Rank | Name | Type | Overall Length | Status |
| --- | --- | --- | --- | --- |
| 1 | Seawise Giant | Oil tanker | 458.46 m (1,504.1 ft) | Broken up |
| 2 | Batillus class (4 ships) | Oil tanker | 414.22 m (1,359.0 ft) | Broken up |
| 3 | Esso Atlantic Esso Pacific | Oil tanker | 406.57 m (1,333.9 ft) | Broken up |
| 4 | Barzan | Container ship | 400 m (1,312 ft) | In service |
| 5 | Pioneering Spirit | Crane vessel | 382 m (1,253 ft) | In service |
| 6 | TI class (4 ships) | Oil tanker | 380 m (1,247 ft) | In service |
| 7 | Valemax (35 ships) | Bulk carrier | 360–362 m (1,181–1,188 ft) | In service |
| 8 | Oasis class (4 ships) | Cruise ship | 360–362.12 m (1,181–1,188 ft) | In service |
| 9 | Queen Mary 2 | Ocean liner | 345 m (1,132 ft) | In service |
| 10 | Q-Max (14 ships) | LNG carrier | 345 m (1,132 ft) | In service |
About the Author
John Misachi is a seasoned writer with 5+ years of experience. His favorite topics include finance, history, geography, agriculture, legal, and sports. 
This page was last updated on April 25, 2017.
Citations
Your MLA Citation
Your APA Citation
Your Chicago Citation
Your Harvard Citation
Remember to italicize the title of this article in your Harvard citation.