World Facts
The Longest Rivers In West Virginia
The Ohio River is the longest rive flowing through the US state of West Virginia.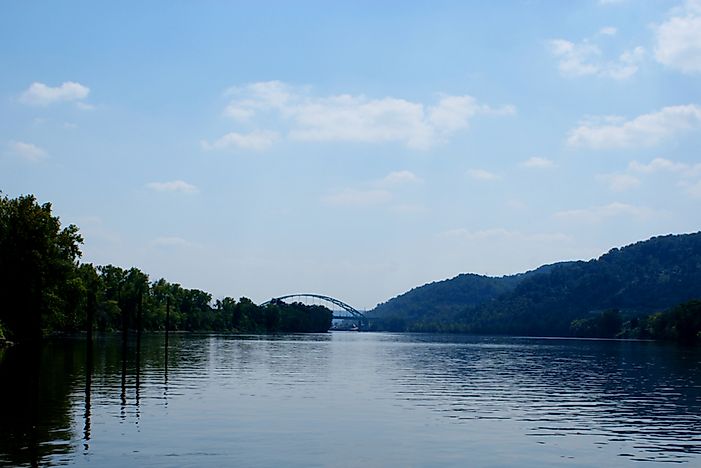 The state of West Virginia is commonly referred to as "The Mountain State". In addition, the state's motto, Montani Semper Liberi, is Latin for "Mountaineers Are Always Free". These two, the state's nickname and its motto, are derived from the state having, in most places, a high elevation and a rugged terrain, especially in the Allegheny Highlands. Because of the mountainous and hilly geographical setup of West Virginia, there are a number of rivers in the state.

Longest Rivers in West Virginia
The longest of these rivers are the Ohio River, which flows 1,579 km within West Virginia, New River at 510 km, Potomac River at 486 km, Greenbrier River at 278 km, Elk River at 277 km, Little Kanawha River at 272 km, Guyandotte River at 267 km, Tug Fork at 256 km, South Branch Potomac River at 224 km, and Tygart Valley River at 217 km.
Ohio River
The Ohio river passes through six US states including Pennsylvania, Ohio, West Virginia, Kentucky, Indiana, Illinois, and its drainage basin reaches 15 US states. The river flows for 1,579 km through the state of West Virginia and makes up the border between West Virginia and Ohio before meeting at the tri-state intersection of West Virginia, Ohio, and Pennsylvania.
New River
New River, is another river that flows through the state of West Virginia as well as the nearby states of North Carolina and Virginia. It is a Kanawha River tributary and part of the Ohio River watershed. Despite its name, New River is thought to be the oldest river in the United States of America as well as geologically one of the five oldest rivers in the world.
Elk River
Elk River is arguably one of West Virginia's most important rivers. It is an important water source, and a 2014 chemical spill on the river had an adverse effect on the residents of West Virginia. The spill, which was caused by a Freedom Industries factory, affected nine counties and led to the company being served with a $151 million class-action lawsuit.
White Water Rafting in West Virginia
A major activity at these rivers is whitewater rafting, with the Upper New River, the Lower New River, the Upper Gauley, the Lower Gauley, and the Shenandoah River offering the best capacities for whitewater rafting. The Upper New River is normally the recommended site for newcomers to whitewater rafting, since it is calm, and has only Class 1 and Class 2 rapids. The Lower New River, while generally calm for long periods, has Class 4 rapids at various points. The Upper Gauley, on the other hand, is considered one of the most exciting places in the world to engage in whitewater rafting. This is because it has non-stop Class 4 and Class 5 rapids that provide rafters with a continuous supply of excitement and exuberance. While the Lower Gauley is not as exciting as its namesake, it does offer class 3, class 4, and class 5 rapids which can only be attempted by a deft hand. Some rafters combine the Upper Gauley and Lower Gauley into one whitewater rafting experience because it provides the perfect balance of heart-defying action and serene calm.
The Longest Rivers In West Virginia
| Rank | River | Length of river |
| --- | --- | --- |
| 1 | Ohio River | 1,579 km |
| 2 | New River | 510 km |
| 3 | Potomac River | 486 km |
| 4 | Greenbrier River | 278 km |
| 5 | Elk River | 277 km |
| 6 | Little Kanawha River | 272 km |
| 7 | Guyandotte River | 267 km |
| 8 | Tug Fork | 256 km |
| 9 | South Branch Potomac River | 224 km |
| 10 | Tygart Valley River | 217 km |
This page was last updated on April 19, 2018.
Citations
Your MLA Citation
Your APA Citation
Your Chicago Citation
Your Harvard Citation
Remember to italicize the title of this article in your Harvard citation.