The Largest Stock Exchanges In Europe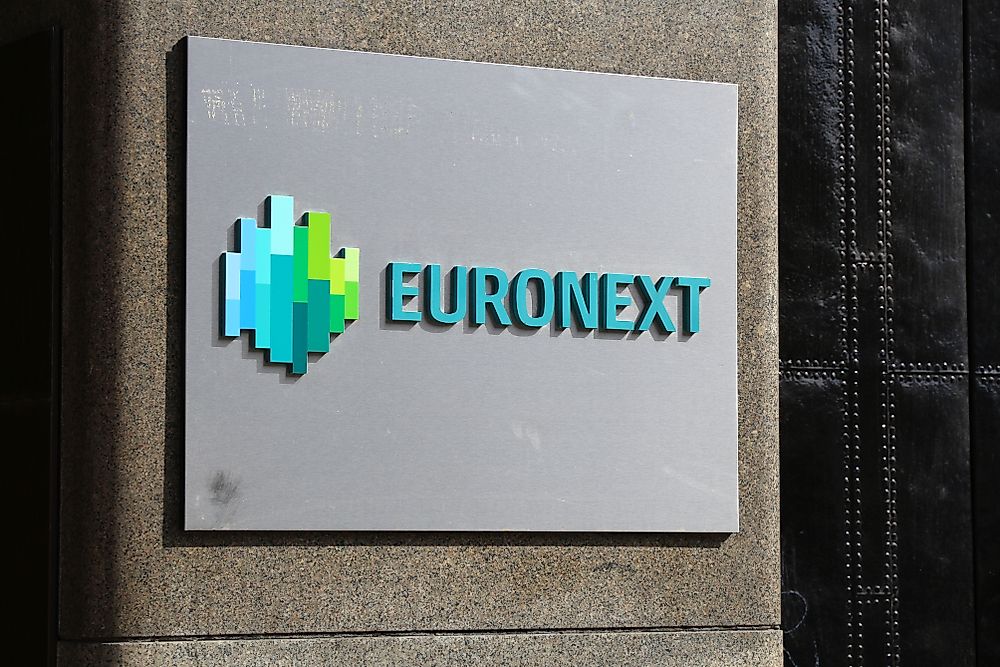 With the global stock looking ripe for a pull-back, Europe's market has been spared the euphoria and has shown some resilience in its correction. The fundamentals for equities rally in the continent are firmly in place with some of the region's economies like Germany enjoying an economic boom. European stock has remained relatively cheap compared to that of the US. There is also a striking difference in valuation measures between the US and the European stock. Here are the five largest stock exchanges in Europe by market capitalization.
Largest European Stock Exchanges by Market Capitalization
Euronext
Euronext stock exchange is seated in several cities in Europe including Brussels, London, Amsterdam, Paris, and Lisbon. As of 2017, it was the largest stock exchange in Europe with over 1,200 issuers, representing a market capitalization of $4.3 trillion. Euronext was established in 2000 by the merger of Amsterdam and Brussels Stock Exchanges and Paris Bourse. In 2007, it merged with NYSE Group to form the NYSE Euronext and completed the initial public offer in 2014 as a standalone company. It offers listing market data, settlement services, and market solution.
London Stock Exchange
London Stock Exchange is based in the City of London. It is the second largest stock exchange in Europe and among the largest in the world with a market capitalization of $4.2 trillion. London Stock Exchange is one of the oldest exchanges in the world, tracing its history to approximately 300 years ago. It was founded in 1801 and is part of the London Stock Exchange Group which was created in 2007 when LSE merged with Milan Stock Exchange. LSE runs several markets for listing that gives an opportunity for companies of various sizes to list. International companies are also allowed to list their products in London.
Deutsche Borse
Deutsche Borse Group is a marketplace where trading of shares and securities takes place. It grants companies access to global capital market and also provides transactional services. Deutsche Borse Group is a joint stock company which was established in 1993 and is based in Frankfurt. As of 2010, it had listed over 750 companies and boasts of $2.1 trillion in market capitalization.
SIX Swiss Exchange
SIX Swiss Exchange is based in Zurich and is the principal stock exchange of Switzerland. It also trades securities such as government bonds and stock options. SIX Swiss Exchange was the first in the world to incorporate an automated trading system. It is the joint owner of Eurex and is owned jointly by a network of 55 banks with all banks having equal voting right in decision making regarding its management and regulation of the exchange. With a market capitalization of $1.6 trillion, SIX Swiss Exchange is the 4th largest stock exchange in Europe.
Nasdaq Nordic
Nasdaq Nordic is a subsidiary of Nasdaq and operates marketplaces for securities in Baltic and Nordic countries. It operates two divisions; OMX Exchange operating stock exchanges in Baltic and Nordic countries, and OMX Technology which develops systems used by the OMX Exchange. Nasdaq Nordic is headquartered in Stockholm Sweden and has over 2,000 employees. It completes the list of the five largest stock exchanges with a market capitalization of $1.5 trillion.
What Is Market Capitalization?
Market cap is the value of a company traded at the stock market. It is calculated by multiplying the total number of shares by the current share price and is used by the investors to rank the size of the company. It could also be used as an indicator of public opinion on the net worth of a company.
The Largest Stock Exchanges in Europe
| Rank | Stock Exchange | Market Cap (Billions of US Dollars) |
| --- | --- | --- |
| 1 | Euronext | 4,388 |
| 2 | London Stock Exchange | 4,297 |
| 3 | Deutsche Borse | 2,181 |
| 4 | SIX Swiss Exchange | 1,649 |
| 5 | Nasdaq Nordic | 1,561 |