The Busiest Railway Stations in Europe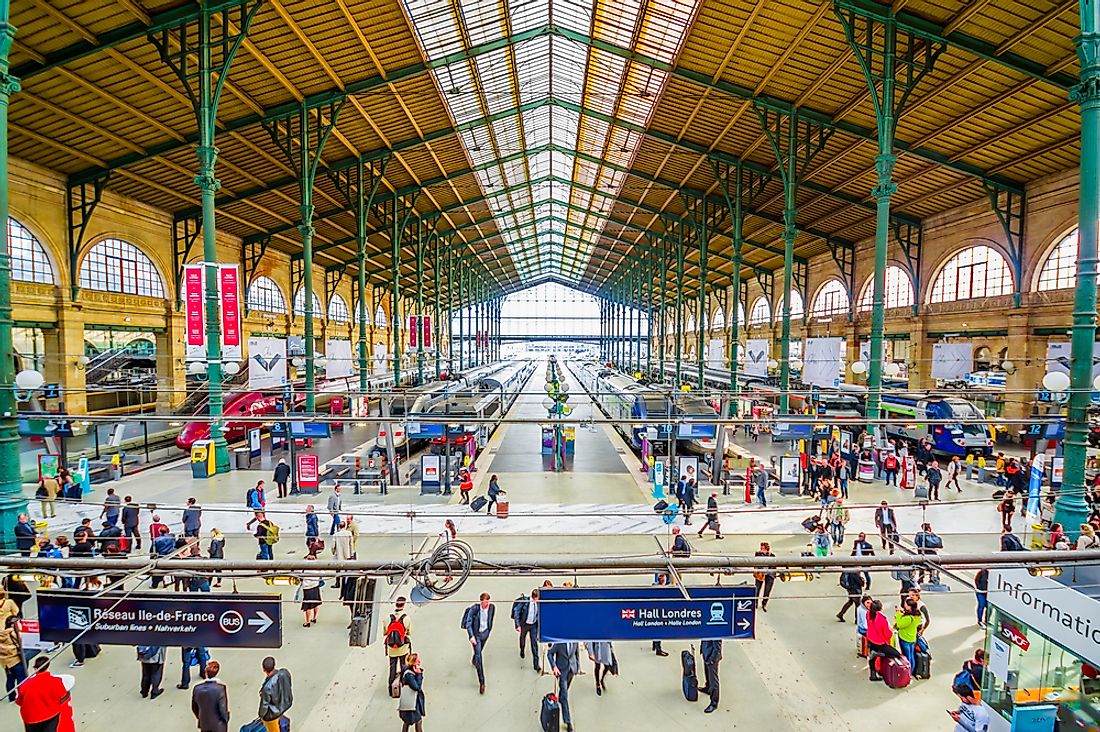 Most of Europe's Railway stations transport over 30 million passengers every year. These railway stations include Gare du Nord (France), Gare de Chätelet (France), Hamburg Hauptbahnhof (Germany), Frankfurt (Main) Hauptbahnhof (Germany), London Waterloo (United Kingdom), Amsterdam Centraal (Netherlands), Madrid Atocha (Spain), Zürich Hauptbahnhof (Switzerland), Roma Termini (Italy), and Miliano Centrale (Italy). Out of these railway stations, the busiest is Gare du Nord which is found in France. Zürich Hauptbahnhof which is located in Switzerland is Europe's busiest terminus on the basis of daily rail traffic.
The Busiest Railway Stations In Europe
Gare du Nord
Gare du Nord is the busiest railway station in Europe. It was built in Paris, France by the Bridge and Roadway Engineers in 1864. It has an annual passenger count of 214.2 persons and 31 rail tracks. In addition, Gare du Nord has traffic of 214 million people every year. It is owned by the Société nationale des chemins de fer français (SNCF) in France. The railway station provides transport to the Northern parts of France and to international destinations such as Germany, Netherlands, Belgium, and the United Kingdom. It partners with various urban transport lines like the RER, buses, and Paris Métro.
Gare de ChGare de Chätelet - Les Halles
It is the second busiest train station in Europe. It is situated in Paris, France and owned by the Régie Autonome des Transports Parisiens (RATP) Group. Gare de Chätelet is also the largest underground station worldwide and one of the major commuter train hubs in Paris. The railway station transports 750,000 people every weekday. It is connected to the Chätelet and Les Halles Metro Stations. The station is directly accessible from many railway station France and may serve 120 trains in an hour during peak hours. Gare de Chätelet has seven rail tracks and a passenger count of 179.9 yearly.
Hamburg Hauptbahnhof
Germany's Hamburg Hauptbahnhof is the main railway station for Hamburg City. Deutsche Bahn classifies it as a "category 1 railway station."This means that it is a traffic hub with permanent staff and a variety of railway related facilities. The train station also has a supermarket within the station used by the passengers. Being one of the largest train stations in Germany, it also connects Denmark with Central Europe. Hamburg Hauptbahnhof transports an average of 480,000 passengers daily. It is the third busiest railway station in Europe after Gare de Nord and Gare de Chätelet. The passenger count for Hamburg Hauptbahnhof is 175 while the rail tracks amount to 12 in number. The railway station is operated by the DB Station & Service AG.
Greatest Challenges Facing The Railway stations
The three busiest train stations are the Gare de Nord, Gare de Chätelet, and Hamburg Hauptbahnhof. In as much as these train stations have highly efficient operations, they face some limitations. The greatest of those challenges is the capacity challenge. The railway stations have difficulties managing the overcrowding that occurs at the stations. The large numbers caused by free flow of people limits the ability of the train stations to offer seamless journey experiences and a safe and secure environment for their customers.
The Busiest Railway Stations in Europe
| Rank | Station Name | Passenger Count (Per Year) | |
| --- | --- | --- | --- |
| 1 | Gare du Nord | 214.2 | |
| 2 | Gare de Châtelet - Les Halles | 179.9 | |
| 3 | Hamburg Hauptbahnhof | 175 | |
| 4 | Frankfurt (Main) Hauptbahnhof | 164.3 | |
| 5 | Roma Termini | 150 | |
| 6 | Zürich Hauptbahnhof | 144.6 | |
| 7 | München Hauptbahnhof | 127.8 | |
| 8 | Milano Centrale | 120 | |
| 9 | Berlin Hauptbahnhof | 110 | |
| 10 | Paris Saint-Lazare | 105.3 | |
| 11 | Utrecht Centraal | 104 | |
| 12 | Köln Hauptbahnhof | 102 | |
| 13 | Gare de Lyon | 101.2 | |
| 14 | London Waterloo | 99.1 | |
| 15 | Wien Mitte | 97.8 | |
| 16 | Amsterdam Centraal | 91.3 | |
| 17 | Düsseldorf Hauptbahnhof | 91.3 | |
| 18 | Hannover Hauptbahnhof | 91.2 | |
| 19 | Madrid Atocha | 88 | |
| 20 | Stuttgart Hauptbahnhof | 87.6 | |