Biggest Cities In Finland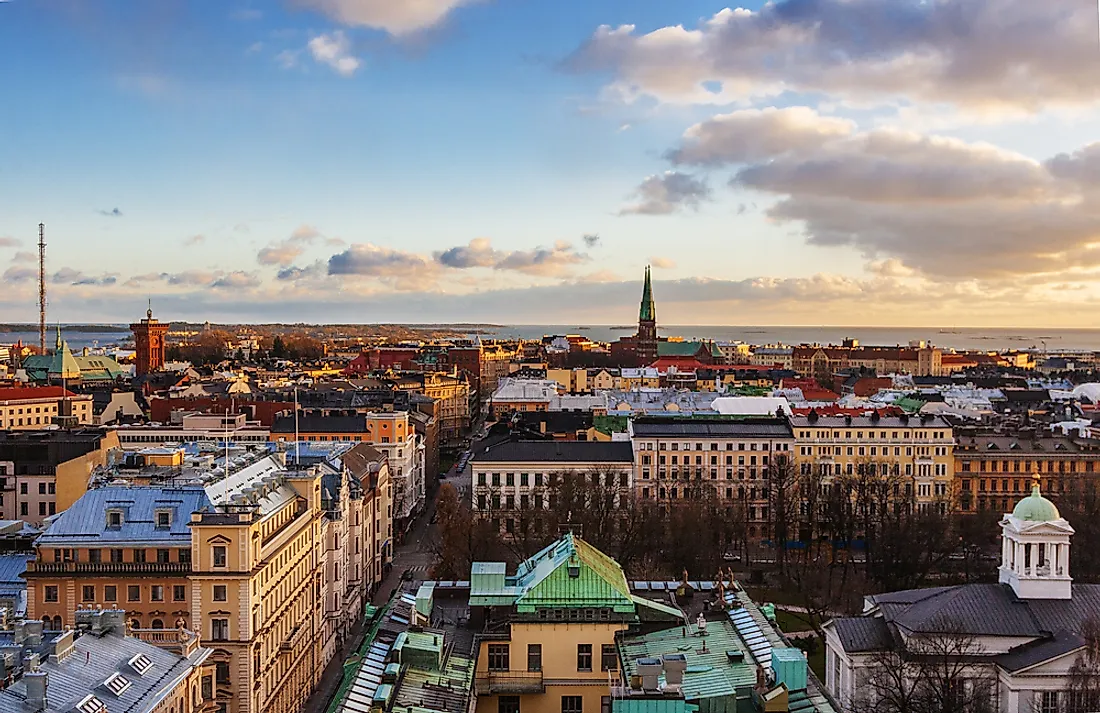 Finland is a northern European nation with a population of roughly 5.5 million as of 2014. The country is part of a peninsula that is bordered by the Gulf of Bothnia to the west and in the south lies the Gulf of Finland. Finland shares its land borders with Russia to the east, Norway to the north. Finland's cities are highly developed with excellent infrastructural facilities. Finnish citizens living in these cities enjoy high standards of living. Here we present five of the biggest cities in Finland.
The 5 Biggest Cities In Finland
Helsinki
Helsinki is Finland's biggest city as well as the nation's capital. The city is based on the shore of the Gulf of Finland in southern Finland. Helsinki has close historical connections with its neighboring cities of Talinn in Estonia, Saint Petersburg in Russia, and Stockholm in Sweden. Helsinki is a major political, cultural, financial, and educational center of Finland. The city has highly developed infrastructural facilities and its population enjoys a high standard of living. Helsinki was ranked as one of the top 10 cities in the world to live globally in a 2015 Liveability survey.
Espoo
Espoo is the second largest city in Finland. It has a population of 279,044 and is located adjacent to Helsinki. Espoo has a high tech industry and is also home to a university campus. 
Tampere
Located in Pirkanmaa, Southern Finland, Tampere ranks third among the biggest cities in Finland. Geographically, the city is located between the two lakes Pyhäjärvi and Näsijärvi. The rapids linking the two lakes of different elevations are an important source of hydroelectric power generation for the city. Mechanical engineering and automation, health and biotechnology, and information and communication technologies are the major industries operating in Tampere. Tampere has high levels of unemployment (about 20% as of 2016). There are four higher education institutes in the city. Tampere also has an active cultural life.
Vantaa 
Vantaa is the fourth largest city in Finland. It has a population of 223,027. Like Espoo, Vantaa is located nearby Helsinki in what is called the Finnish Capital Region. 
Oulu
Oulu ranks fifth among the biggest cities in Finland. It is located in the Northern Ostrobothnia region of Finland. It is the biggest city in Northern Finland and is the largest northernmost city outside of Russia. Oulu is also regarded as a "living lab" of Europe as residents here experiment with new technology at a community-wide scale.
The Biggest Cities In Finland
| Rank | City | Population |
| --- | --- | --- |
| 1 | Helsinki | 643,272 |
| 2 | Espoo | 279,044 |
| 3 | Tampere | 231,853 |
| 4 | Vantaa | 223,027 |
| 5 | Oulu | 201,810 |
| 6 | Turku | 189,669 |
| 7 | Jyvaskyla | 140,188 |
| 8 | Lahti | 119,573 |
| 9 | Kuopio | 118,209 |
| 10 | Pori | 84,587 |