If you've ever stumbled upon a travel blog, you have probably seen pictures of this breathtaking place. The gorgeous sandy beach is covered with extraordinary lights that glow beautifully at night. It is truly a sight to behold, and one of the many wondrous places our planet has to offer. This beach is located on Mudhdhoo Island in the Maldives, and it is also known as the Vaadhoo beach.
The glow you can see all over this beach at night is the result of a natural phenomenon that we refer to as bioluminescence. This means that a living organism creates the light you can see on this beach. This occurrence is often referred to as the Sea of Stars. 
Many believe that there are several marine creatures capable of producing beautiful lights, but the ones on this beach are caused by ostracod crustaceans that cover the beach. The lights produced by these organisms cover the entire beach, and it looks magical. People travel here from all over the world to experience it, and in this article, we will take a look at some of the more interesting facts about this place.
Bioluminescence And Its Beauty
Vaadhoo Beach is located on Mudhdhoo Island in the Maldives. Some people sometimes refer to the island itself as Vaadhoo, although the official name is Mudhdhoo. This is an incredibly small island, with about 500 people living on it. Still, despite its small size, it has managed to secure a place as one of the most famous tourist destinations in the world. Of course, this has everything to do with the Sea of Stars phenomenon. For many years people had no idea this island existed, and once its beauty was discovered, it became one of the most popular spots in the Maldives.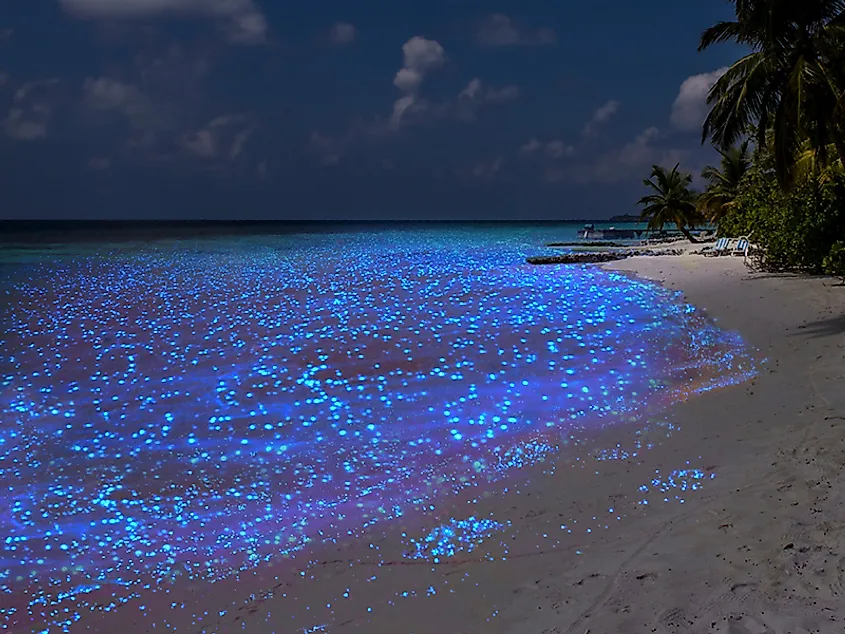 The glow itself is called bioluminescence, which means that living organisms create it. Many mistakenly believe that planktons or phytoplanktons create this glow, but that is not the case. The glow produced by phytoplanktons only lasts for less than a second, which would not be enough to create the type of lighting we can see on the beach.
The truth is, these lights are created by ostracod crustaceans, which can glow for several seconds, even minutes when placed in contact with water. There is a possibility that there are phytoplanktons there as well, but those that are responsible for the majority of the glow are the crustaceans. This glow is not easily forgotten, and people often describe it as if the stars came down upon the ocean, hence the name "Sea of Stars."
A Place Everyone Should Visit
The island of Mudhdhoo is easy to reach once you get to the Maldives; it is well connected to all of the other parts. It is 5 miles away from Male, the capital of Maldives, and since it became such a huge tourist attraction, it is no wonder that there are multiple ways to get there. A popular method is by renting a speedboat, and that trip lasts for about 15 minutes. Most recommend visiting the beach between June and October when the temperatures are the best, but also when this sight is the most common. 
There are many spots that you can explore if you ever decide to visit the Maldives, but the Sea of Stars is certainly one of the most beautiful ones. It is truly a natural wonder of our planet and one that should be experienced by anyone that can do so. Hopefully, this article gave you enough info to make the decision and go and visit this breathtaking place. We know that you will absolutely fall in love with Mudhdhoo Island and its magical beach.