Travel
The 10 Most Visited National Historic Sites In Canada
Canada's National Historic Sites are some of the country's most popular tourist destinations.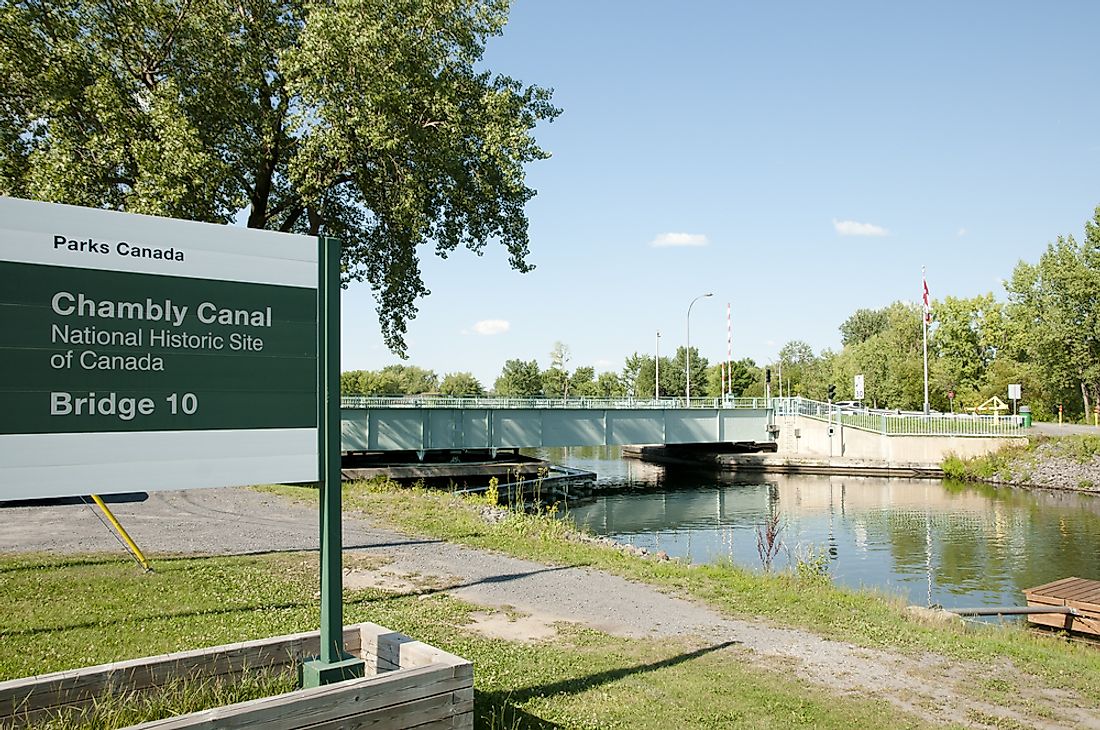 Canada has chosen several sites across the country as National Historic Sites to recognize the historical significance of these sites. As of October 2018, the country had 987 such sites located across the 13 provinces and territories. These sites are located in different settings ranging from rural to urban to wild. Parks Canada manages 171 of these sites. Over the years, these sites have developed as tourism hotspots and many of them attract millions of visitors each year. People visit them to learn about Canadian history and culture. The sites include archaeological sites, heritage houses, historic districts, and more. As per a report by Parks Canada, some of the most popular National Historic Sites managed by Parks Canada have been mentioned below.
Green Gables House
The Green Gables House and surrounding farmland are one of Canada's most famous literary landmarks. The Anne of Green Gables novel, written by Lucy Maud Montgomery, was set on this farm. The site is located in within the limits of the Prince Edward Island National Park. Both self-guided and guided tours of the house and its surroundings can be taken and Parks Canada interpretive staff are always there to help.
Cave and Basin
The ninth most popular National Historic Site, Cave and Basin was visited by 267,951 people in 2017-18. It is located in Banff, Alberta in the Canadian Rockies. As the name suggests, Cave and Basin include a cave and a geothermal heated sulfurous hot spring, one of the nine in the Sulphur Mountain. The site has an artificial tunnel that leads visitors to a natural grotto. Other tourist facilities include hiking and snowshoe trails, interpretive displays, and a restored swimming pool.
Sulphur Mountain Cosmic Ray Station
This National Historic Site of Canada is located on the top of the Sulphur Mountain in the country's most visited national park, Banff National Park in Alberta. Located at an elevation of 2,283 m, it is the highest of the nine sites constructed by Canada to study cosmic rays.
Chambly Canal
Canada's seventh most visited National Historic Site, the Chambly Canal, received 280,196 visitors in 2017-18. This waterway runs along the Richelieu River in Quebec. The construction of the canal began in 1831 and it was opened in 1843. At its peak, Chambly Canal was a major commercial trade route between Canada and the US. After trade dwindled following World War I, the commercial traffic has been largely replaced by recreational vessels.
Rogers Pass
Discovered in 1881 by Major Albert Bowman Rogers, the pass that is named after him immediately opened the Selkirk Mountains of British Columbia to tourism. Ever since the pass became accessible in 1886, camping, mountain climbing, and hiking attracting many visitors to the pass. Today, it is in the heart of Glacier National Park and is used by both the Trans-Canada Highway and the Canadian Pacific Railway.
Citadel Hill
The Citadel Hill in Halifax, Nova Scotia, is also among the 10 most popular National Historic Sites in the country. The first citadel at the site was built in 1749 and the present citadel dates to the mid-19th century. Although the citadel was damaged several times in the past, Parks Canada restored the fort to its original appearance in the Victorian era.
Lachine Canal
The Lachine Canal runs for a distance of 14.5 km from Montreal's Old Port to Lake Saint-Louis in Quebec. Attempts to construct a canal in the area were first made in 1689 to allow ships to bypass the dangerous Lachine Rapids. However, success was achieved much later when the actual construction of the Lachine Canal began in 1821. Its construction was completed on August 24, 1824, and the next year, it was opened for use. Today, this old canal is a popular recreational spot for pleasure boating. Rollerblading and bicycling along the banks of the canal are also popular activities.
Trent–Severn Waterway
With an attendance of 1,286,397 visitors in 2017-18, the Trent–Severn Waterway is Canada's third most visited National Historic Site. It is a 386 km long waterway connecting Lake Ontario to the Georgian Bay of Lake Huron. It stretches from Trenton to Port Severn in Ontario. The canal was built in stages with the first lock being constructed in 1833. The Trent–Severn Waterway is famous for its scenic, meandering route. Originally built to serve as a commercial waterway, today the Trent-Severn is one of Ontario's major tourist attractions.
Rideau Canal
The 202 km long Rideau Canal, also a UNESCO World Heritage Site, is a waterway connecting the Ottawa in Ontario with the Saint Lawrence River at Kingston. The canal is not any ordinary waterway but is associated with a lot of history. It was opened in 1832 to prepare Canada for a possible war with the US. Today, it is operated by Parks Canada. Tourists to the canal can enjoy pleasure boating and admire its original structures that are still intact. The Rideau Canal holds the record of being North America's oldest continuously operated canal system. The canal recorded a visitor attendance of 1,014,801 in 2017-18.
Ramparts of Quebec City
The Ramparts of Quebec City is the most visited Canadian National Historic Site with an attendance of 2,234,221 visitors in 2017-18. It refers to the only surviving fortified city in North America north of Mexico. The walls surround most of Old Quebec and together are part of the 1985-inscribed UNESCO World Heritage Site called the Historic District of Old Quebec. Prior to that, the fortifications were designated one of Canada's National Historic Sites in 1948. In 2017-18, 2,234,221 visitors were recorded in the area.
The 10 Most Visited National Historic Sites In Canada
| Rank | National Historic Site In Canada | Park Canada Attendance 2017-18 |
| --- | --- | --- |
| 1 | Ramparts of Quebec City | 2,234,221 |
| 2 | Rideau Canal | 1,014,801 |
| 3 | Trent–Severn Waterway | 1,286,397 |
| 4 | Lachine Canal | 925,688 |
| 5 | Citadel Hill | 583,212 |
| 6 | Rogers Pass | 538,592 |
| 7 | Chambly Canal | 280,196 |
| 8 | Sulphur Mountain Cosmic Ray Station | 271,257 |
| 9 | Cave and Basin | 267,951 |
| 10 | Green Gables House | 254,314 |
About the Author
Oishimaya is an Indian native, currently residing in Kolkata. She has earned her Ph.D. degree and is presently engaged in full-time freelance writing and editing. She is an avid reader and travel enthusiast and is sensitively aware of her surroundings, both locally and globally. She loves mingling with people of eclectic cultures and also participates in activities concerning wildlife conservation.
This page was last updated on July 17, 2019.
Citations
Your MLA Citation
Your APA Citation
Your Chicago Citation
Your Harvard Citation
Remember to italicize the title of this article in your Harvard citation.