Most Visited Sites In The U.S.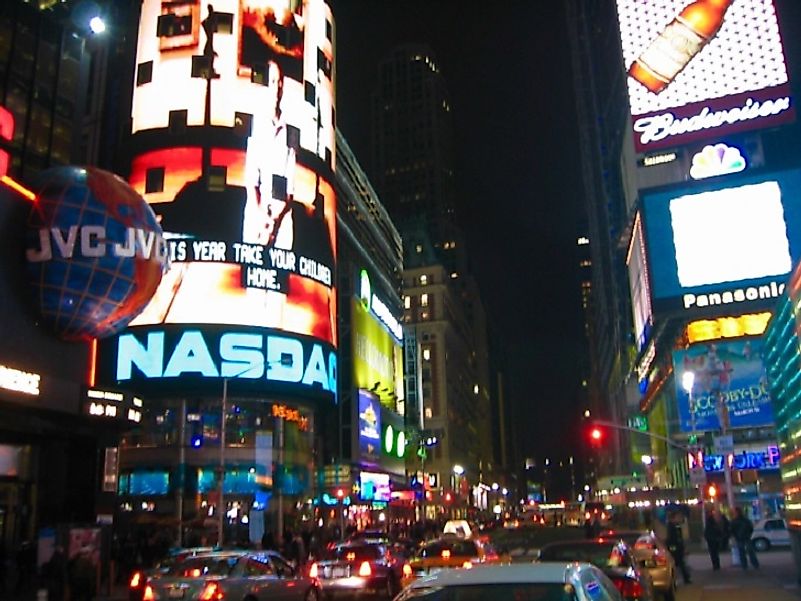 10. San Diego's Balboa Park, 13 million annual visitors
Located a short distance from the city of San Diego, California, Balboa Park is home to a number of attractions. These include a zoo, fifteen museums, award-winning gardens, restaurants, and play areas designed especially for children. The park also features a unique European-made carousel dating back to 1910, which comes complete with a rare brass ring game. Balboa Park's miniature railroad ride offers visitors a three-minute trek aboard a model G-16 train, which traverses a four-acre track running around the park. One of the most attended attractions at this California site is the famous San Diego Zoo. From the zoo's collection of over 4,000 animals, many of these are considered to be "Endangered" species. Among the animals that call the San Diego Zoo their homes are Giant pandas, who can even be seen live around the world via the Internet on the park's Panda Cam.
9. Faneuil Hall Marketplace, 15 million annual visitors
Built in 1742, Boston's Faneuil Hall Marketplace is a popular tourist attraction which merges history and commerce. Locals and visitors alike flock here to stroll through this vibrant, urban market space, whether to shop, dine, or be entertained. For those interested in picking up something new, they can browse through a diverse selection of merchandise, including official gear from the Harley-Davidson Store, bags from Boston Tote, and year round holiday fare at Christmas in Boston. Visitors can also dine at a variety of restaurants, including enjoying such New England delicacies as lobster and clam chowder at the Boston & Maine Fish Co., munching on cookies at The Chip Yard, or chugging a beer at Cheers, a replica of the drinking spot made famous on the beloved TV sitcom of the same name. Faneuil Marketplace is also well known for featuring an array of street performers and talented musicians.
8. Golden Gate Bridge, 15 million annual visitors
Spanning 4,200 feet, San Francisco's Golden Gate Bridge is one of the longest suspension bridges in the world. This impressive structure, which opened in 1937, holds the distinction of being named one of the Wonders of the Modern World. Besides its six traffic lanes, the massive bridge includes walkways on either side in order to accommodate both cyclists and pedestrians alongside its vehicular traffic. On the San Francisco side, visitors can stop in at the Bridge Pavilion and browse through its gift shop and tourist information center. As one of the most recognizable structures on the U.S. West Coast, Golden Gate Bridge is one of California's most photographed landmarks, and has been featured in a number of TV shows and movies.
7. Anahiem's Disneyland, 16 million annual visitors
There's no place quite like Disneyland, or at least that's how most visitors seem to feel about one of the most recognized amusement parks in the world. Situated in Anaheim, California, this modern day fantasy land was the brainchild of American filmmaker and animation icon Walt Disney. Indeed, it's hard to believe that this mega park all began with Disney's vision of a cartoon mouse named Mickey. Some of the most memorable and popular attractions at Disneyland include Space Mountain (an exciting roller coaster thrill ride), Sleeping Beauty's Castle, Pirates of the Caribbean, and Tarzan's Tree house. According to some estimates, Disneyland has played host to 650 million visitors since it first opened in 1955. The entire park complex, which operates on a year-round basis, also includes several resort hotels, as well as shopping and entertainment areas.
6. Disney's Magic Kingdom, 17 million annual visitors
The slogan for Florida's Disney's Magic Kingdom is "The Most Magical Place on Earth". Opened in 1971 as the second of Disney's American amusement parks, the Magic Kingdom consists of six themed lands. Namely, these are Liberty Square, Tomorrowland, Main Street U.S.A., Frontierland, Adventureland, and Fantasyland. Popular rides in the park include the Astro Orbiter, Big Thunder Mountain Railroad, Haunted Mansion, Jungle Cruise, Prince Charming Regal Carousel, Tom Sawyer Island, and Splash Mountain, just to name a few. The Magic Kingdom is merely but one part of a sprawling vacation resort which is geared to appeal to every member of the family, regardless of age or interest. Other attractions there include the Animal Kingdom Park, Disney's Hollywood Studios, Epcot Center, and several water parks, as well as a number of themed hotels.
5. NY Grand Central Station, 22 million annual visitors
One of the most visited sites in New York City is its Grand Central Station. This enormous commuter train station occupies an area measuring some 48 acres, and includes 44 platforms and 67 rail tracks. One of the reasons behind the popularity of this historic attraction is its distinctive architectural elements, including its huge inner concourse. Grand Central Station began operations in 1871, and underwent renovations in 1913, and then again from 1994 to 2000. Along with being a New York landmark, the busy train station has earned the status of being named a U.S. National Historic Landmark, as well as appearing on the country's National Register of Historic Places.
4. The Vegas Strip, 30 million annual visitors
The Vegas Strip, located on Las Vegas Boulevard South in Clark County, Nevada, isn't situated in the city's core, but rather just south of its city limits. This popular party destination, which measures just over four miles in length, is known for the its abundance of hotels and casinos. Among the many attractions which lure gamblers and tourists into the area include such major casinos as the Mirage, Caesar's Palace, and The Venetian, along with other entertainment hot spots, such as the T-Mobile Arena and the Las Vegas Festival Grounds. For those in the mood for shopping, the strip is home to the city's only Barney's New York department store, the luxurious, high-end Crystal's at CityCenter, and the Bonanza Gift shop, which features over 4,000 square feet of commercial retail space.
3. D.C. Union Station, 37 million annual visitors
The U.S. capital of Washington, D.C. is home to Union Station, one of the nation's busiest and most popular attractions. Ever since it opened in 1907, this historic landmark has served as a transportation hub for much of the country's East Coast rail traffic. Along with serving as the headquarters for Amtrak, the multi-leveled Union Station also features an array of stores, over 35 restaurants, and an outdoor market, as well as 100,000 square feet of office space. Whether just passing through en route to another destination or staying in the nation's capital for an extended vacation, Union Station will prove to be well worth a visit. It's estimated that around 100,000 people visit the station every day.
2. Central Park, 40 million annual visitors
New York City's Central Park is a natural oasis amid the hustle and bustle of the metropolis that surrounds it. Among the many attractions at the park include a sculpture of Alice in Wonderland, a 3,500-year-old obelisk which is sometimes referred to as Cleopatra's Needle, five visitor centers, the miniature Belvedere Castle, and Strawberry Fields. The latter is a tribute to the slain musical icon and former Beatles, John Lennon, who was murdered in New York City in 1980. Central Park is also home to a zoo which opened in 1984. Animals who call this zoo home include sea lions, penguins, goats, and a variety of birds. Another warm weather attraction in the park is its six-acre Conservatory Garden, which is subdivided into different sections featuring either English, French, or Italian formal ornamental styles.
1. Times Square, 42 million annual visitors
New York City's Times Square surpasses all other American attractions to rank as the most visited site in the country. Located at the intersection of Broadway and Seventh Avenue, this urban attraction has earned itself the nickname of the "Crossroads of the World". For many rising stars, this location is "the place" to see and be seen. Besides Times Square's varied array of businesses, theaters, hotels, and office buildings, this Manhattan hub is famous for its congested mix of neon illumination, and flashing signs and screens. Times Square is one of the most recognizable places in the world, and as such has been featured in countless films and TV shows. No doubt the most attended event which takes place in Times Square is its annual New Years Eve Ball Drop, which itself attracts about a million people every year alone, all of whom gather together in celebration of the promise that each New Year proffers in the "city that never sleeps".