World Facts
The 10 Longest Rivers in Massachusetts
The Connecticut River is the longest river in the state of Massachusetts.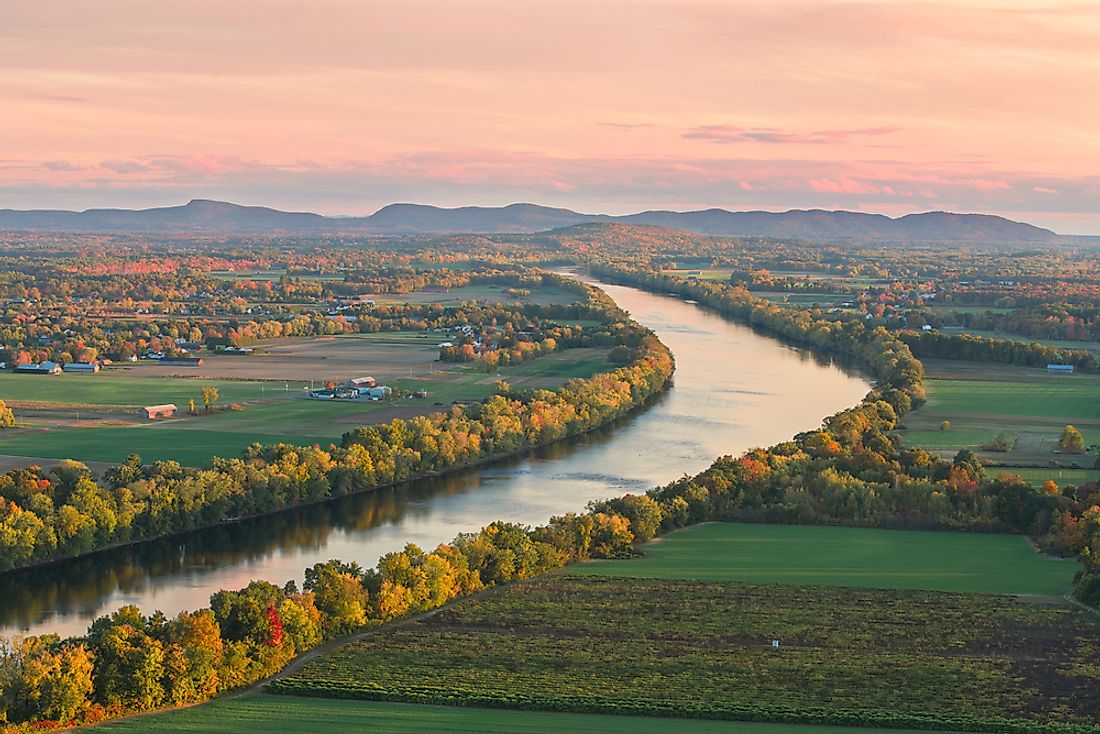 Massachusetts is the seventh smallest state in the United States and the most densely populated in the New England area. Massachusetts is surrounded by New York, Vermont, New Hampshire, Rhode Island, Connecticut, and the Atlantic Ocean. Massachusetts has hundreds of rivers which have helped sustain the agricultural and the fishing industries in the state. All the rivers which pass through Massachusetts empty into the Atlantic Ocean.
Longest Rivers in Massachusetts
1) Connecticut River
Connecticut River rises from the border between Quebec, Canada, and the United States and then empties into the Long Island Sound. The 406 mile long river is the longest in the New England area, and it flows through four states. It drains an area of about 11,260 square miles. Its watershed includes one Canadian province and 5 American states. Connecticut River has 148 tributaries which include 38 main rivers and some ponds and lakes. Some of its major branches are Farmington, Westfield, Chicopee, Millers, Ashuelot, Ammonoosuc and Passumpsic rivers.
2) Housatonic River
The 139 mile long Housatonic River is in Connecticut and Massachusetts. The river drains an area of approximately 1,950 square miles in Connecticut. Its watershed is in New York, Massachusetts, and Connecticut. The river rises from Berkshire Mountains and then flows into the Long Island Sound through Milford and Stratford.
3) Merrimack River
Merrimack River originates from the confluence of Winnipesaukee and Pemigewasset rivers in New Hampshire and then flows to Newburyport, Massachusetts where it empties into the Atlantic Ocean. The 117 mile long river is on the northeastern parts of the country. The river is a crucial regional focus for Massachusetts and New Hampshire. It drains an area of about 5,010 square miles in northeast Massachusetts and southern New Hampshire.
4) Charles River
River Charles is an 80 mile long-river which originates from Hopkinton in Massachusetts. It then flows through 23 cities before emptying into the Atlantic Ocean. Over eighty streams feed River Charles among other principal aquifers. Charles River drains from an area of about 308 square miles.
5) Deerfield River
Deerfield River is a 76 mile long river which runs from southern Vermont to the River Connecticut through northwestern Massachusetts. Deerfield is the second longest branch of Connecticut River which is only 2.1 miles shorter than River Westfield. It merges with Connecticut River in Greenfield near Turners Falls. It is one of the most commonly used rivers in the United States with a dam installed after every seven miles of its length.
6) Hoosic River
Hoosic River is one of the branches of River Hudson which is in the northeastern parts of the country. Its watershed is created by its branches which originate from the Taconic Mountains, Green mountains, and Berkshire hills. The 76.3 mile long river rises from the Cheshire Reservoir and then flows through numerous towns like Williamstown, Adams, Cheshire, Petersburg, and Hoosick before merging with River Hudson near the City of Troy.
7) Quinebaug River
Quinebaug River is a 69 mile long river in Eastern Connecticut and Massachusetts whose watershed extends into Rhode Island. The river rises from East Brimfield dam in Sturbridge and flows through Jewett city, Canterbury, Plainfield, Danielson, and Putnam before emptying into the Aspinook pond. It drains from an area of about 850 square miles of a densely forested region with over 29 streams.
Other Rivers in Massachusetts
Massachusetts has some of the longest rivers in the New England region with the 48 mile long Blackstone River ranking tenth. Blackstone River drains from a 540 square mile watershed. The eighth longest river in the state is Westfield River. The 61miles long Westfield River is one of the primary branches of Connecticut River. The 52.1 mile long Millers River is the ninth longest river in Massachusetts. Millers River rises from Ashburnham and merges with Connecticut River near Miller's fall.
The 10 Longest Rivers in Massachusetts
| Rank | River | Length (miles) | Length (km) |
| --- | --- | --- | --- |
| 1 | Connecticut River | 407 | 655 |
| 2 | Housatonic River | 139 | 224 |
| 3 | Merrimack River | 117 | 188 |
| 4 | Charles River | 80 | 130 |
| 5 | Deerfield River | 76 | 122 |
| 6 | Hoosic River | 76 | 122 |
| 7 | Quinebaug River | 69 | 111 |
| 8 | Westfield River | 61 | 98 |
| 9 | Millers River | 52 | 84 |
| 10 | Blackstone River | 48 | 77 |
This page was last updated on July 27, 2018.
Citations
Your MLA Citation
Your APA Citation
Your Chicago Citation
Your Harvard Citation
Remember to italicize the title of this article in your Harvard citation.