World Facts
The 10 Largest Lakes In Lithuania
Lake Drūkšiai is Lithuania's biggest lake, covering an area of 44.8 square kilometers.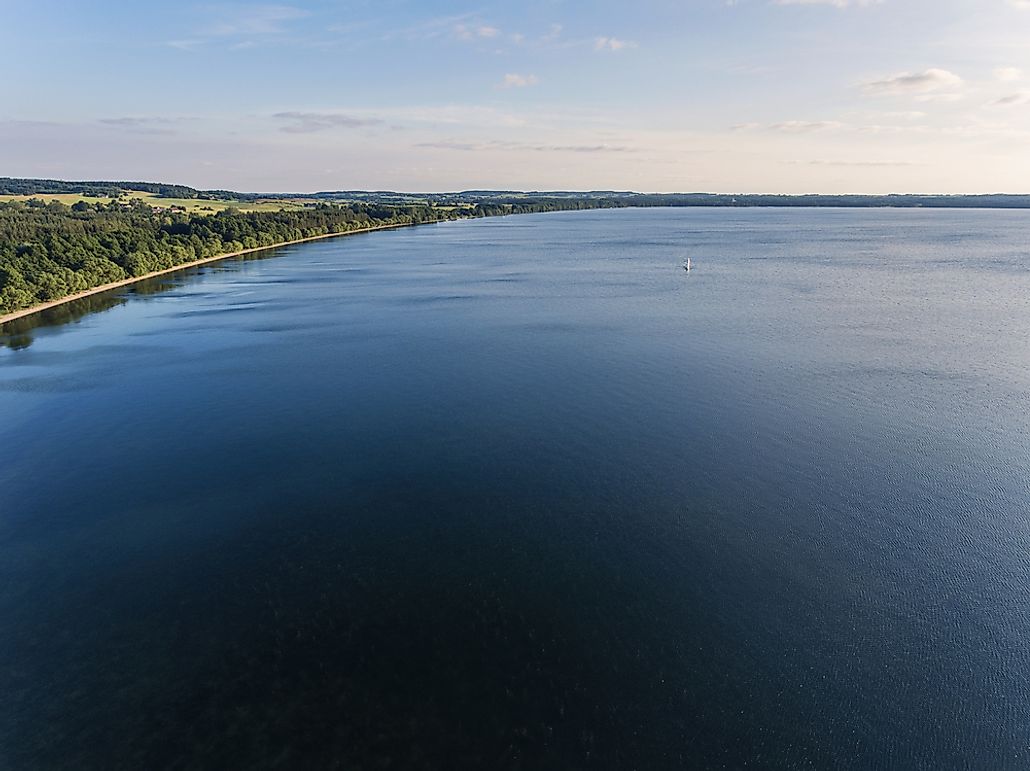 Lithuania is a country in Europe's Baltic region. Situated on the edge of the North European Plain and shaped by glaciers from the last ice age, the country's landscape features moderate lowlands and highlands. Lithuania contains about 6,000 lakes, which cover a combined area of approximately 950 km2 and account for about 1.5% of the country's total area. Most of these lakes are concentrated in the Baltic Highlands, near Lithuania's border with Poland, Belarus, and Latvia. About 1,200 of Lithuania's lakes are supported only by groundwater, while others are fed and drained by rivers and streams. Most of the country's lakes were formed by the retreat of the Wisconsin glacier thousands of years ago.
1. Lake Drūkšiai
Lake Drūkšiai is the largest lake in Lithuania, occupying an area of 44.8 km2 and reaching a maximum depth of 33.3 m. The lake is located in the northeastern part of the country, and also extends into the Vitebsk Voblast, which is a region of Belarus. Six small rivers supply water to the lake, while one dammed river drains it.
2. Lake Dysnai
With an area of 24.39 km2, Lake Dysnai is Lithuania's second biggest lake. Located in the Ignalina District Municipality, it is one of Lithuania's shallowest lakes, as it has an average depth of only 3 m and a maximum depth of 6 m. The Dysna River flows through Lake Dysnai, and serves as its primary outflow.
3. Lake Dusia
Lake Dusia is the third biggest lake in Lithuania in terms of surface area, and the biggest in Southern Lithuania. The lake is located in the Lazdijai District Municipality and covers an area of 23.34 km2. The Sutrė River is Lake Dusia's primary inflow, and Spernia is its primary outflow. The lake has an average depth of 14.6 m and reaches a maximum depth of 32.4 m. During the winter, the lake remains covered in thick ice. However, approximately 18 species of fish inhabit Lake Dusia.
4. Lake Vištytis
Located on the border between Lithuania and Russia, Lake Vištytis is the fourth largest lake in Lithuania, as it covers an area of 17.9 km2. Several rivers drain into the lake, while the Pissa River is its primary outflow. The Lithuanian side of the lake and its surrounding area are protected as part of Vištytis Regional Park. Since the lake forms part of an international border, going beyond Lithuania's side of the lake is considered an illegal border crossing and can result in sanctions from border guards.
5. Lake Sartai
Lake Sartai occupies an area of 13.32 km2 in northeastern Lithuania and ranks as the country's fifth largest lake. The Šventoji River passes through the lake, acting as its primary inflow and outflow. Lake Sartai has a maximum depth of 20.9 m.
The Largest Artificial Lake in Lithuania
While the lakes listed above are natural bodies of water, the Kaunas Reservoir is Lithuania's largest artificial lake. In fact, it is bigger than all of the country's natural lakes, encompassing an area of 63.5 km2. The Kaunas Reservoir was created in 1959 by damming the Nemunas River, and the Kaunas Hydroelectric Power Plant is part of the damming project.
List of the 10 Largest Lakes in Lithuania by Surface Area
| Rank | Lake | Area (km²) | Depth (m) |
| --- | --- | --- | --- |
| 1 | Lake Drūkšiai | 44.8 | 33.3 |
| 2 | Lake Dysnai | 24.39 | 6.0 |
| 3 | Lake Dusia | 23.34 | 31.7 |
| 4 | Lake Vištytis | 17.9 | 52 |
| 5 | Lake Sartai | 13.31 | 20.9 |
| 6 | Lake Luodis | 13.02 | 18.4 |
| 7 | Lake Metelys | 12.86 | 15.0 |
| 8 | Lake Avilys | 12.58 | 13.5 |
| 9 | Lake Plateliai | 12.04 | 46.0 |
| 10 | Lake Rėkyva | 11.84 | 4.5 |
About the Author
Oishimaya is an Indian native, currently residing in Kolkata. She has earned her Ph.D. degree and is presently engaged in full-time freelance writing and editing. She is an avid reader and travel enthusiast and is sensitively aware of her surroundings, both locally and globally. She loves mingling with people of eclectic cultures and also participates in activities concerning wildlife conservation.
This page was last updated on April 10, 2019.
Citations
Your MLA Citation
Your APA Citation
Your Chicago Citation
Your Harvard Citation
Remember to italicize the title of this article in your Harvard citation.