World Facts
The 10 Largest Cities In Borneo
Samarinda is the largest city in Borneo.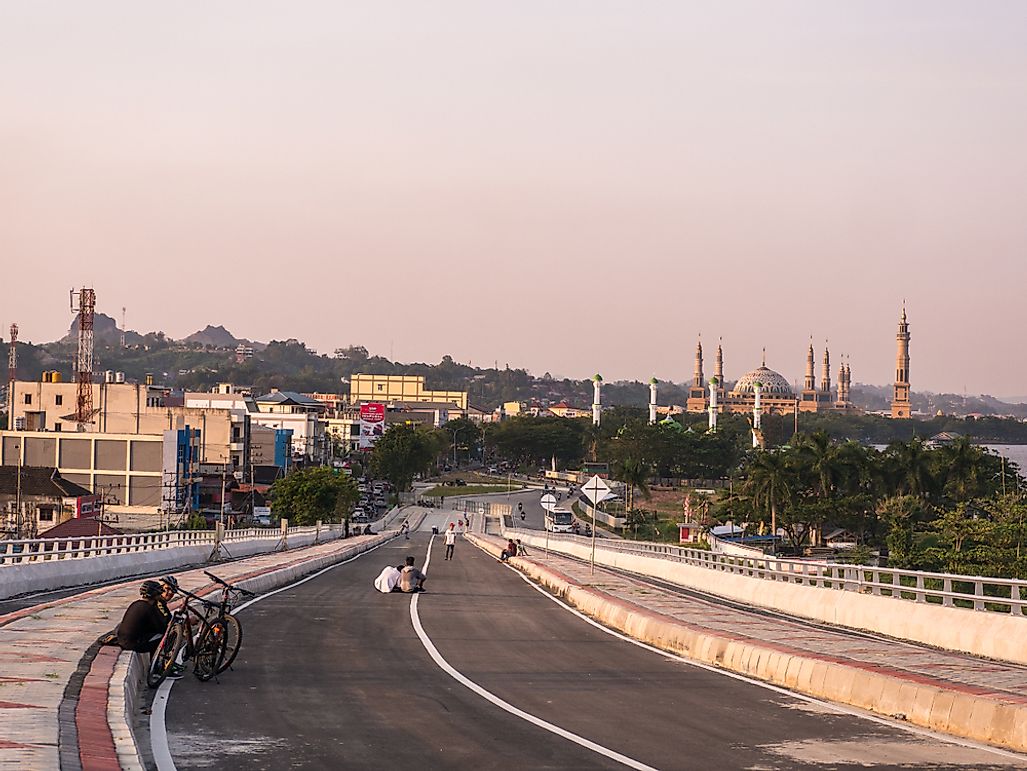 The island of Borneo in the Pacific Ocean is part of Southeast Asia. It is politically divided between the countries of Indonesia, Malaysia, and Brunei. As of 2014, Borneo had a total population of around 21.3 million inhabitants. Most of the largest urban centers of Borneo are located along its coasts. Below is a list of the largest cities in Borneo.
The Five Biggest Cities In Borneo
1. Samarinda
Located on the banks of the Mahakam River, Samarinda is the most populous city in Borneo. It is the capital of East Kalimantan, a province of Indonesia. It has a population of around 727,500 individuals and an area of 718 square km.
2. Banjarmasin
The second biggest city in Borneo, Banjarmasin is part of the South Kalimantan province of Indonesia. It hosts a population of 625,481 people. The city is located on a delta island near the confluence of two rivers, the Martapura, and the Barito. The transport and communication sector are the primary economic sectors of the city's economy. A deepwater port and the Syamsudin Noor Airport serves Banjarmasin. Waterways snake through the city in many areas. Small rowboats are often used to move through these waterways. Several houses in the city are built on stilts. The Sabilal Muhtadin Mosque is one of the major landmarks of Banjarmasin. The city is also famous as a hub of gem trading.
3. Kuching
Borneo's third biggest city, Kuching, is located in the Malaysian state of Sarawak where it is the most populous city. It has a population of 617,886 individuals. Kuching is located on the banks of the Sarawak River where it occupies an area of 431 square km. The city is a major gateway for travelers to other parts of Borneo and is also noted as a major food destination. There are many tourist attractions in and around the city like the Kuching Cat Museum, The Astana, Kuching Wetlands National Park, Bako National Park, etc.
4. Balikpapan
With a population of 557,579 individuals, Balikpapan is Borneo's third most populated city. It is part of the Indonesian East Kalimantan province and is located on the island's east coast. Balikpapan is a seaport city with two harbors. It is also served by the Sultan Aji Muhammad Sulaiman Airport. The city is surrounded by rainforest and is home to many wildlife conservation organizations.
5. Pontianak
Pontianak is the fifth largest city in Borneo. It serves as the capital of the West Kalimantan province of Indonesia. The city is home to a diversity of ethnic groups like the Malay, Chinese, and Dayak peoples. These people have contributed to the rich culture of this city. Pontianak has a strong transport network that connects it to other Indonesian cities as well as some Malaysian cities.
The 10 Largest Cities In Borneo
| Rank | City/Town | Population | Country |
| --- | --- | --- | --- |
| 1 | Samarinda, East Kalimantan | 7,27,500 | Indonesia |
| 2 | Banjarmasin, South Kalimantan | 6,25,481 | Indonesia |
| 3 | Kuching, Sarawak | 6,17,886 | Malaysia |
| 4 | Balikpapan, East Kalimantan | 5,57,579 | Indonesia |
| 5 | Pontianak, West Kalimantan | 5,54,764 | Indonesia |
| 6 | Kota Kinabalu, Sabah | 4,62,963 | Malaysia |
| 7 | Tawau, Sabah | 4,12,375 | Malaysia |
| 8 | Sandakan, Sabah | 4,09,056 | Malaysia |
| 9 | Miri, Sarawak | 3,00,543 | Malaysia |
| 10 | Bandar Seri Begawan, Brunei-Muara | 3,00,000 | Brunei |
About the Author
Oishimaya is an Indian native, currently residing in Kolkata. She has earned her Ph.D. degree and is presently engaged in full-time freelance writing and editing. She is an avid reader and travel enthusiast and is sensitively aware of her surroundings, both locally and globally. She loves mingling with people of eclectic cultures and also participates in activities concerning wildlife conservation.
This page was last updated on April 23, 2019.
Citations
Your MLA Citation
Your APA Citation
Your Chicago Citation
Your Harvard Citation
Remember to italicize the title of this article in your Harvard citation.