World Facts
The 10 Biggest Cities In Utah
Salt Lake City is Utah's biggest city.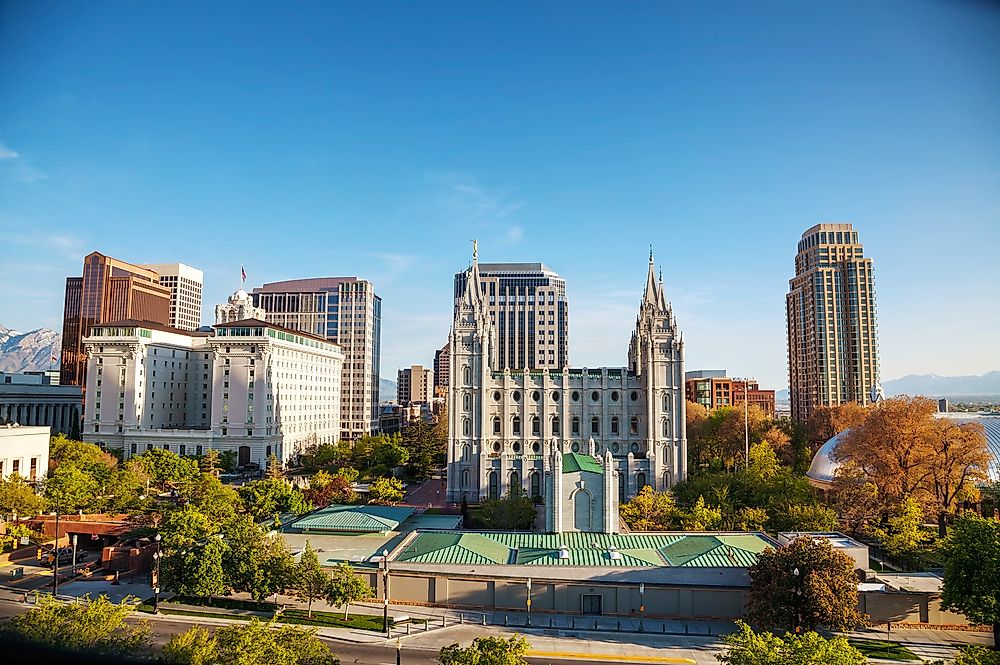 Utah is a US state located in the Western region of the country. With a population of around 3,101,833 individuals, it is the country's 31st most populous state. It has an area of 219,887 square km that makes it the 13th most extensive US state. Utah has 243 incorporated municipalities. A municipality in Utah is designated as a town if it has a population of below 1,000 people and a city if its population is 1000 and over. 88.2% of the state's population lives in its municipalities. The Wasatch Front counties of the state have the highest population concentration. These counties include Davis, Salt Lake, Utah, and Weber.
The Five Most Populated Cities In Utah
1. Salt Lake City
Salt Lake City is Utah's capital and most populous city. It is located in Salt Lake County and had a population of 186,440 in 2010. The world headquarters of the LDS Church is located in this city. It was established in 1847 by Brigham Young and other adherents of the LSD Church (the Pioneers). They built the city as a safe refuge to escape religious persecution in the mid-western US. The Great Salt Lake is located nearby. Today, the Salt Lake City is a major tourist spot in the US. It offers many outdoor recreation activities to its tourists. The 2002 Winter Olympics was hosted here. The city is also the national hub of industrial banking.
2. West Valley City
With a population of 129,480, West Valley City is Utah's second most populous city. It is a suburb of Salt Lake City and is located in the Salt Lake Valley's northwest side. The Jordan River borders the city to the east while the Oquirrh Mountains forms the western border. The West Valley City was established in 1980. The USANA Amphitheatre and the Maverik Center are located here.
3. Provo
Provo, the third most populous city in Utah, is home to 112,488 individuals. It is located along the Wasatch Front to the south of Salt Lake City. Provo serves as the Utah County's county seat. The Brigham Young University is located in Provo. The city is an important area for technology development in the state. It was entitled among the "Best Small And Medium-Size Cities For Jobs" by the Forbes in 2015.
5. West Jordan
West Jordan, the fourth biggest city in Utah, had a population of 103,712 individuals in 2010. It is also located in Salt Lake County and is one of the suburbs of Salt Lake City. It stretches from the western bank of the Jordan River to the eastern foothills of the Oquirrh Mountains. It is one of Utah's fastest-growing cities. West Jordan has a mixed economy.
6. Orem
Orem, a city in Utah County, is home to a population of 88,328 individuals. It is the fifth largest city in Utah. Orem was rated by Forbes as the "5th best place to raise a family". A wide variety of businesses and stores operate in the city.
The Smallest Municipality In Utah
Scofield, a town in Carbon County, is Utah's smallest municipality. It had a population of only 23 in 2010. It is frequently associated with the 1900 mine disaster. It was a thriving coal mining town in the past.
The 10 Biggest Cities In Utah
| Rank | City | County | Population (2010 Census) |
| --- | --- | --- | --- |
| 1 | Salt Lake City | Salt Lake | 1,86,440 |
| 2 | West Valley City | Salt Lake | 1,29,480 |
| 3 | Provo | Utah | 1,12,488 |
| 4 | West Jordan | Salt Lake | 1,03,712 |
| 5 | Orem | Utah | 88,328 |
| 6 | Sandy | Salt Lake | 87,461 |
| 7 | Ogden | Weber | 82,825 |
| 8 | St. George | Washington | 72,897 |
| 9 | Layton | Davis | 67,311 |
| 10 | Millcreek | Salt Lake | 62,139 |
About the Author
Oishimaya is an Indian native, currently residing in Kolkata. She has earned her Ph.D. degree and is presently engaged in full-time freelance writing and editing. She is an avid reader and travel enthusiast and is sensitively aware of her surroundings, both locally and globally. She loves mingling with people of eclectic cultures and also participates in activities concerning wildlife conservation.
This page was last updated on January 28, 2019.
Citations
Your MLA Citation
Your APA Citation
Your Chicago Citation
Your Harvard Citation
Remember to italicize the title of this article in your Harvard citation.