World Facts
The 10 Biggest Cities In Missouri
Kansas City is the most populated city in Missouri.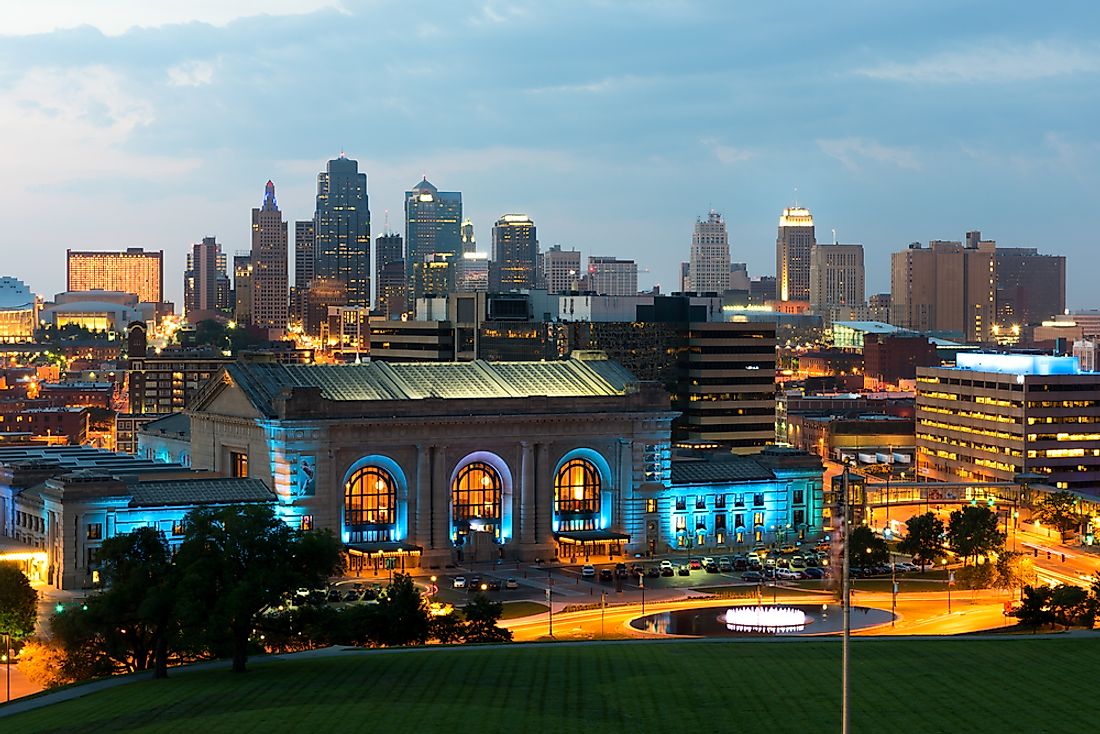 The US state of Missouri is located in the Midwestern part of the country. With a population of around 6,113,532 individuals, Missouri is the country's 18th most populous state. It has an area of 180,560 square km that makes it the 21st largest US state by land area. Missouri is divided into 114 counties and only one independent city, St. Louis.
There are three types of cities in Missouri. These are the Class 3 and Class 4 cities, and those under constitutional charters. If the population of a municipality varies between 500 and 2,999 it is called a Class 4 city. Municipalities with a population between 3,000 and 29,999 are Class 3 cities. Those under constitution charters can operate under any form of government. Villages in the state have a population below 500.
The Five Most Populated Cities In Missouri
1. Kansas City
With a population of 459,787 people, Kansas City is the largest city in Missouri. It is the country's 37th biggest city. It was established as a port city on the Missouri River in the 1830s. It is located at the confluence of the Kansas and Missouri Rivers. Kansas City extends across several counties. Most of its total area of 826.3 square km lies in Jackson County. Small portions of the city spill into Platte, Clay, and Cass counties. Kansas City is famous for its culture, especially jazz music. It is also known for its craft breweries and distinctive barbecue style.
2. St. Louis
With a population of 319,294, St. Louis is the second most populated city in Missouri. Located on the western bank of the Mississippi River, St. Louis is a major port and an independent city (not a part of any county). The St. Louis metropolitan area is the state's biggest metropolitan area. St. Louis was founded as a fur post in 1764 by French fur traders and is named after the French monarch, Louis IX. Today, the city's economy depends on tourism, service, manufacturing, and trade.
3. Springfield
Springfield, the county seat of Greene County, is Missouri's third largest city. It houses a population of 159,498 individuals. The city is home to three major universities including the Missouri State University. The healthcare industry and universities are the major employers in the city.
4. Independence
The city of Independence is the state's fourth largest city. It had a population of 116,830 in 2010. It is the county seat of the Jackson County and a satellite city of Kansas City. Independence was the hometown of the former US President H.S. Truman who is buried here with his wife. The Temple Lot, the first site dedicated to temple construction for the Latter Day Saints religious movement, is also located here.
5. Columbia
With a population of 108,500 individuals, Columbia is Missouri's fifth biggest city. It is located in the Boone County where it is the county seat. Columbia was established in 1821. It is home to the University of Missouri and several other prestigious institutions of higher learning. It also houses the offices of several reputed companies.
The Capital City Of Missouri Is Not Its Largest City
Jefferson City is the capital of Missouri. However, it is not the largest city of the state but its 15th most populous city. Jefferson City was home to a population of around 43,079 individuals as per the 2010 census.
The 10 Biggest Cities In Missouri
| Rank | City | Population (2010 census) | County |
| --- | --- | --- | --- |
| 1 | Kansas City | 459,787 | Jackson, Platte, Cass, Clay |
| 2 | St. Louis | 319,294 | none (independent city) |
| 3 | Springfield | 159,498 | Greene |
| 4 | Independence | 116,830 | Jackson |
| 5 | Columbia | 108,500 | Boone |
| 6 | Lee's Summit | 91,364 | Jackson |
| 7 | O'Fallon | 79,329 | St. Charles |
| 8 | St. Joseph | 76,780 | Buchanan |
| 9 | St. Charles | 65,794 | St. Charles |
| 10 | St. Peters | 52,575 | St. Charles |
About the Author
Oishimaya is an Indian native, currently residing in Kolkata. She has earned her Ph.D. degree and is presently engaged in full-time freelance writing and editing. She is an avid reader and travel enthusiast and is sensitively aware of her surroundings, both locally and globally. She loves mingling with people of eclectic cultures and also participates in activities concerning wildlife conservation.
This page was last updated on January 14, 2019.
Citations
Your MLA Citation
Your APA Citation
Your Chicago Citation
Your Harvard Citation
Remember to italicize the title of this article in your Harvard citation.