Society
German Speaking Countries
German is not only the official language of Germany but is also formally recognized as official or co-official languages in some other parts of the world.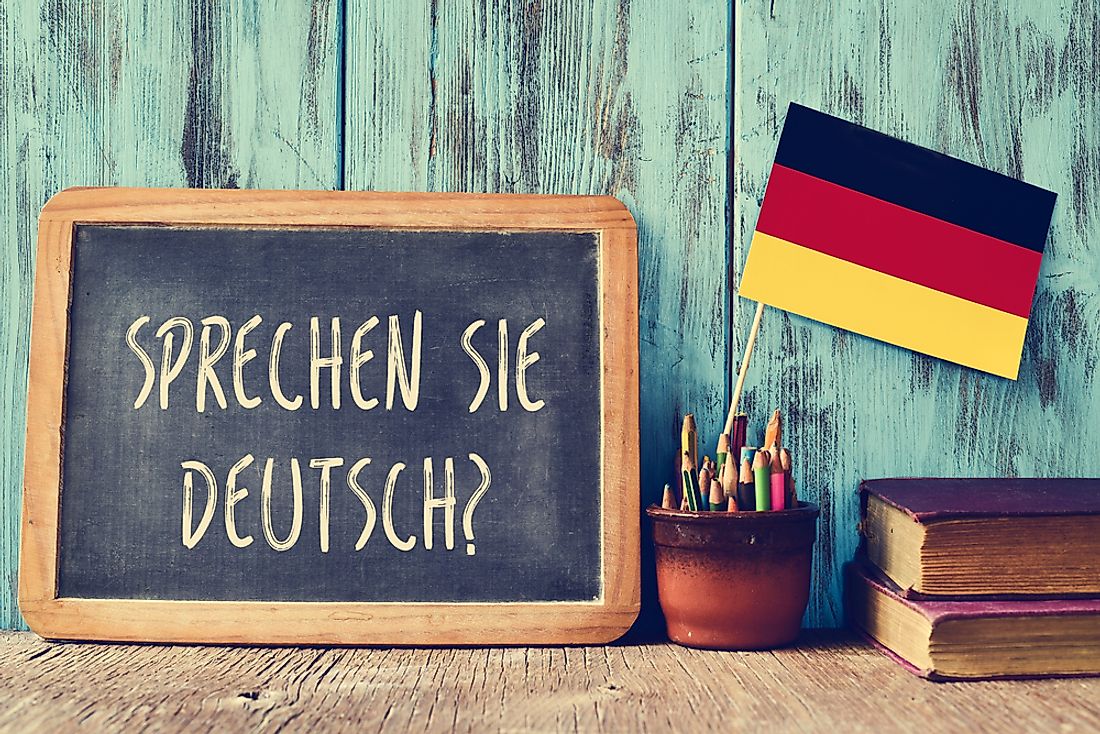 The German Language
The German language belongs to the Indo-European family and is considered a Germanic language. It is the second most widely spoken Germanic language (after English) and has between 90 and 95 million native language speakers and between 10 and 15 million second language speakers. The majority of these individuals live in Germany (78.3%), followed by Austria (8.4%), Switzerland (5.6%), other countries (7.3%), and Italy (.4%). It is the official language of 6 sovereign nations and of 6 dependent regions. These countries and 1 of the regions make up the Council for German Orthography, which regulates the written rules of the language. Below is a look at some of the countries and territories where German is an official language (outside of Germany).
Belgium

One of the official languages of Belgium is German, which has the third largest German-speaking population outside of Germany. Despite its distinction as an official language, it is considered one of the least common in the country with only approximately 73,000 native speakers and over 2.47 million second language speakers. The native German speakers in Belgium belong to the German-speaking Community, one of the federal communities located within the country. This 330-square mile area is found within the Liege province of Wallonia, which was once part of both the German Empire and Nazi Germany. Schools in this community provide instruction in German and as an official language, German translators are available during sessions of Parliament for anyone in need.
Switzerland
Switzerland has also recognized German as one of its official languages (along with French and Italian) and has the second largest German-speaking language outside of Germany. Here, over 5.32 million individuals (or 64.6% of the population) report speaking German as a native language and another 395,000 (or 5%) report using it as a second language. This percentage of native speakers has decreased since 1950, when it was reported at 72.1% of the population. Most of these native speakers live throughout the northwestern, eastern, central, and Alps areas of the country. In 17 of the cantons of Switzerland (like provinces), German is the only official language. The German spoken in this country is typically referred to as Swiss German, considered an Alemannic dialect. In the Samnaun municipality, however, the German is considered a Bavarian dialect.
Austria
The largest population of German-speaking individuals living outside of Germany can be found in Austria, where German is the official language. Here, nearly 8 million individuals (93% of the population) speak it as their native language and another 516,000 can speak German as their second language. The variety of German spoken in this country is known as Austrian German or Austrian High German. Other German dialects spoken throughout Austria include Alemannic and Austro-Bavarian. The standard version of the language, however, is used as the primary mode of communication in business affairs, educational curriculums, media publications, and government announcements. German was established as an official language during the middle of the 18th-century when Empress Maria Theresa of the Habsburg Empire made basic education a requirement for the multilingual citizens. Since this language was already widely used in written communication throughout the region, the ruler decided it would be best to establish it as the language of public education.
Territories And Countries Where German Is An Official Language
| Rank | Country | Population 2014/2015 | Speakers (native) | Speakers (second) |
| --- | --- | --- | --- | --- |
| 1 | Germany | 81,083,600 | 74,430,000 (91.8%) | 5,600,000 (6.9%) |
| 2 | Belgium | 11,245,629 | 73,000 (0.6%) | 2,472,746 (22%) |
| 3 | Austria | 8,602,112 | 7,999,964 (93%) | 516,000 (6%) |
| 4 | Switzerland | 8,256,000 | 5,329,393 (64.6%) | 395,000 (5%) |
| 5 | Luxembourg | 562,958 | 11,000 (2%) | 380,000 (67.5%) |
| 6 | Liechtenstein | 37,370 | 32,075 (85.8%) | 5,200 (13.9%) |
| | Region | Country | Population 2006/2011 | Native speakers |
| 1 | Autonomous Province of South Tyrol | Italy | 511,750 | 354,643 (69.3%) |
| 2 | Opole Voivodeship (28 communes) Silesian Voivodeship (3 communes) | Poland | 250,000 | ~50,000 (~20%) |
| 3 | Espírito Santo (5 municipalities) Santa Catarina (2 municipalities) Rio Grande do Sul (2 municipalities) | Brazil | 205,000 | N/A |
About the Author
Amber is a freelance writer, English as a foreign language teacher, and Spanish-English translator. She lives with her husband and 3 cats.
This page was last updated on June 12, 2018.
Citations
Your MLA Citation
Your APA Citation
Your Chicago Citation
Your Harvard Citation
Remember to italicize the title of this article in your Harvard citation.