Did You Know That King George I of Great Britain Was German?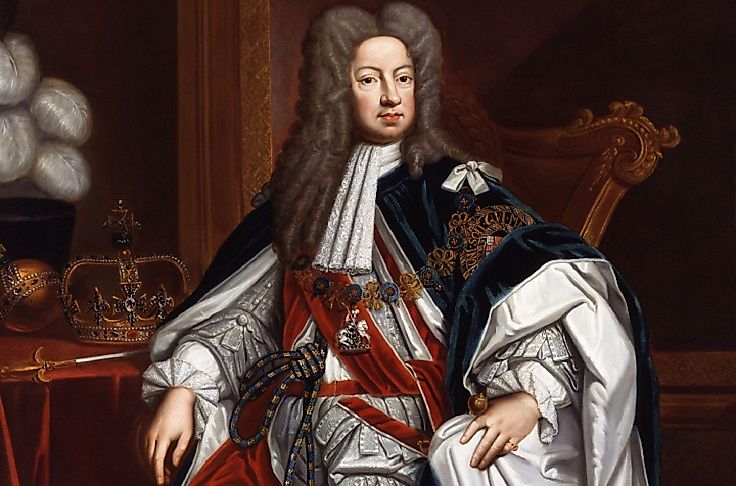 King George I of Great Britain Was a German?
George I was born Georg Ludwig on May 28th, 1660 in Hanover, Germany to Ernest Augustus and Sophia of the Palatine (granddaughter of the English King James I). Ernest Augustus was an Elector of Hanover, and the office passed to George upon his father's death in 1698. Despite becoming King of England in 1714, he remained Elector of Hanover until the time of his death.
A German Heir to the English Throne
In 1682, George had married his cousin Sophia Dorothea of Celle, but divorced her twelve years later on charges of adultery. He imprisoned her in the castle of Ahlden, where she grew old and died. Henry VIII of England had divorced the Church of England from Roman Catholicism in the previous century and, in 1701, the English Parliament passed the Act of Settlement, which was designed to ensure a succession of Protestant monarchs. This made George third in line to the throne of England after Princess Anne and his mother, Sophia. It was a different matter that the rules of inheritance put 57 persons closer to the throne than George, but let it not be said that George did not earn his place. During the Spanish War of Succession from 1701 to 1714, George fought against the French with great distinction. The year coincided with the death of Queen Anne, who had ascended to the English throne in 1702. George's mother had also died two months prior, and had made him as the heir to the throne.
An Unpopular, Yet Dilligent, King
The Tories would have preferred the exiled Roman Catholic James Edward, but George was crowned King of England with the support of the Whig party. However, George's reputation had preceded him, and there were dark rumors regarding his treatment of his wife. To his credit, he successfully suppressed the Jacobite rebellions of 1715 and 1719 meant to restore the Stuarts to the throne, yet remained unpopular among his subjects in England. To exacerbate the public's ill will further, George I had two German mistresses who were reviled for their greed.
George I did make sincere efforts to fulfill his obligations as king. He could not speak English very well, and communicated with his predominantly Whig ministers in French. However, he was indirectly responsible for the decline of the Cabinet, which had largely run the government during the reign of Queen Anne. He stopped attending Cabinet meetings, and instead undercut its power and met with his ministers in private.
Though his shrewd diplomatic skills enabled him to forge a strategic alliance with France from 1717 to 1718, he could not always get his way in domestic affairs. He had to deal with formidable ministers, like Sir Robert Walpole and Viscount Charles Townshend, who refused to mold English policy according to George's Hanoverian interests. The ministers soon resigned in protest, and joined George's son and heir apparent to form a firm opposition within the Whig party. George I detested his son, and he supposedly believed the future George II was not his own child.
Later Years and Legacy
As political contingencies go, Walpole, Townshend, and the son of George I, George II, had reconciled with the king by 1720. In the same year, the South Sea Company suffered a huge financial setback. Investigations revealed a scandal, in which George and his German mistresses were apparently involved in transactions of questionable legality with the Company. It was only Walpole's ingenuity in the House of Commons that saved the king from public disgrace around the world. In return, George I was subsequently forced to give Walpole and Townshend considerable leeway in their policy-making agendas, and soon came to rely upon their judgement. George I died of a stroke on June 11th, 1727 in his birthplace, Hanover. Apart from George II, the late king also left behind a daughter, Sophia Dorothea, who went on to marry Frederick William I of Prussia and became the mother of Frederick the Great.