Tallest Mountains In Italy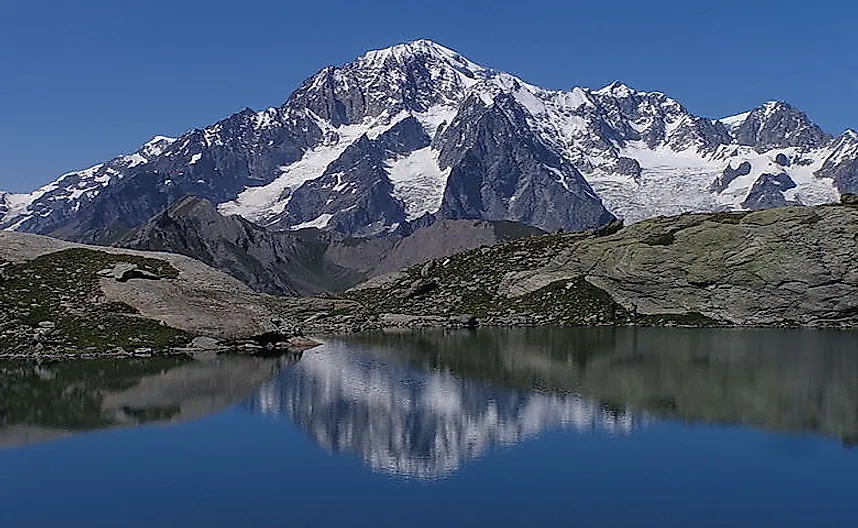 Italy is one of the European Union countries located bordered by the Mediterranean Sea. The country shares its land border with San Marino, France, Switzerland, Austria, and Slovenia. Italy's total area is 116,347 square miles of which 2784 square miles is water. The country has a total population of 66 million inhabitants, the third most populous country in the EU. Italy's climate is highly diverse ranging from humid subtropical to humid continental with hot summer and harsh winter. The country experiences considerable seismic and volcanic activities since the country is at the meeting point of African and Eurasian Plates. The highest elevation in Italy is Monte Bianco at 15,782ft. Italy's tallest mountains are;
Monte Bianco
Bianco meaning "White Mountain" is the highest mountain in Italy with an elevation of 4,808 meters. The mountain, also known as Mont Blanc, is in the Graian Alps Range on the Watershed Line between Ferret and Veny Valleys. Monte Bianco is popular for snowboarding, hiking, mountaineering, and skiing. The mountain was first ascended in 1786 by Jacques Balmat and Michel Paccard. Currently, the mountain is climbed by over 20,000 mountaineers. The summit has provided perfect sites for the filming of television programs including Malabar Princess, Storm over Monte Bianco, and La Roue. The mountain is being considered a World Heritage Site because of its cultural importance. Temperature change and heat waves have had an impact on most climbing routes across the mountain and also causing the landslides which are dangerous to climbers.
Lyskamm
Lyskamm is a mountain within the Pennine Alp lying on the border of Italy and Switzerland. The mountain, also called Silberbast meaning "Silver Blast," is 4,527 meters above the sea level. Lyskamm is sometimes considered part of the Monta Rosa group due to its modest prominence. The mountain is composed of two summits; Western Lyskamm and Eastern Lyskamm separated by just a 1km long ridge. Lyskamm Mountain has several cornices lying on the ridge and also the frequent avalanches. The northern part of the mountain is an ice-covered wall rising to 1,100 meters while the southern side rises slightly above the glacier. The mountain is famous for mountaineering and hiking with the climbing routes accessed from Gnifetti Hut or Monte Rosa Hut.
Monte Cervino
Monte Cervino, also called Matterhorn, is a mountain in the Alps bordering Italy and Switzerland. The mountain is a huge symmetrical pyramidal peak within the Monte Rosa area. The pyramidal shape has four faces facing the four compass directions. The faces are prone to banner cloud formation giving the mountain a wonderful panoramic view. The summit of Monte Cervino Mountain is 4,478m high. The mountain has two summits; the Swiss and Italian Summit which are almost of the same height. Monte Cervino is very isolated and is exposed to rapid weather changes. The base of the mountain is composed of gneiss rocks. The mountain is rich in history, making it one of the major tourist attraction sites in Italy. Monte Cervino mountain area is serviced by railway and cable car facilities making the summit areas easily accessible.
Conclusion
Italy's other tall mountains include Grandes Jorasses (4,208m), Dent d'Herens (4,174m), Breithorn (4,164m), Gran Paradiso (4,061m), Piz Zupo (3,996m), Grivola (3,969m), and Aiguille de Tre la Tete (3,930m). These mountains form the Alpine mountain mass consisting of some of the highest peaks in Italy.
Tallest Mountains In Italy
| Rank | Tallest Mountains in Italy | Elevation |
| --- | --- | --- |
| 1 | Monte Bianco | 4,808 meters |
| 2 | Lyskamm | 4,527 meters |
| 3 | Monte Cervino | 4,478 meters |
| 4 | Grandes Jorasses | 4,208 meters |
| 5 | Dent d'Herens | 4,174 meters |
| 6 | Breithorn | 4,164 meters |
| 7 | Gran Paradiso | 4,061 meters |
| 8 | Piz Zupo | 3,996 meters |
| 9 | Grivola | 3,969 meters |
| 10 | Aiguille de Tre la Tete | 3,930 meters |