Society
Tallest Buildings In Houston
Completed in 1982, the 75-story JP Morgan Chase Tower, which stands 1,002 feet tall, is the tallest building in Houston, Texas, U.S.A.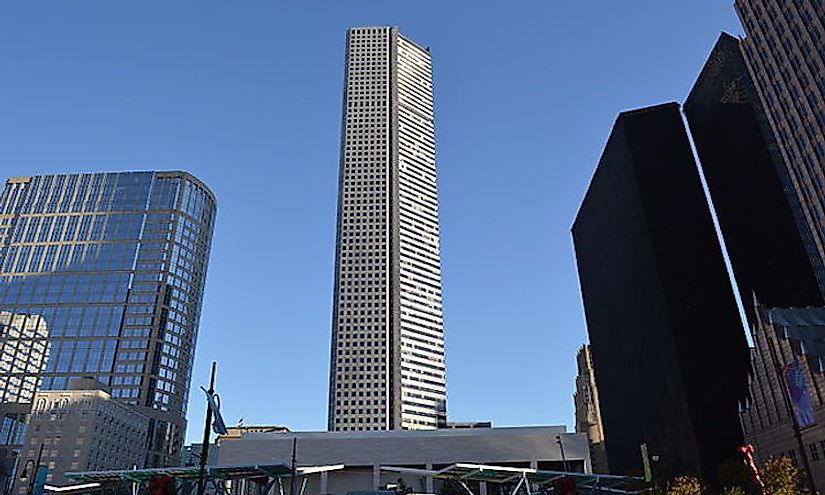 Tall Buildings In Houston
Houston, located in the US state of Texas, is a large city with numerous buildings and varied styles of architecture. Many skyscrapers come together to create the unique downtown Houston skyline. The first tall building in the city, now named Franklin Tower, was finished in 1904 and stood at 8 stories. Houston architects have come a long way since then. Buildings gradually grew taller and between 1963 and the 1980's, the city saw 38 of its 45 tallest buildings constructed. This article looks at the top 5 tallest buildings in Houston.
1. JPMorgan Chase Tower
The JPMorgan Chase Tower looms over the city at 1,002 feet in height. With 75 stories, this is the tallest building in Texas, the 15th tallest building in the US, and the tallest 5-sided building in the world. Originally planned for 80 stories, the architects were forced to change the design when the Federal Aviation Administration (FAA) suggested the height was a risk for aircraft of the nearby airport. Completed in 1981, the building houses offices and retail space today. Prime Asset Management owns the company and JPMorgan Chase only leases one office on the bottom floor. On its 60th floor is the Sky Lobby which visitors could once come to for views of downtown. It was closed to the public in June of 2016.
2. Wells Fargo Bank Plaza
The Wells Fargo Bank Plaza ranks second among the tallest buildings in Houston. It was completed in 1983 and stands at 992 feet. It holds the distinction of being the second tallest building in Texas and the tallest all-glass building in the western hemisphere. Some of the biggest tenants are PricewaterhouseCoopers, which leases 260,000 square feet, and Targa Resources, which originally leased 101,600 square feet and now occupies floors 43 through 46. The building has 71 stories above ground and 4 stories below. It is connected to the Houston tunnel system, underground sidewalks that connect a large number of downtown buildings.
3. Williams Tower
Williams Tower is 901 feet tall, has 64 stories, and was completed in 1983. Unlike the previously mentioned buildings, this tower is not located in the downtown area, but rather in the Uptown District. It is the tallest building in Houston outside of downtown. John Burgee Architects and Philip Johnson, of Morris Architects, designed the structure in a postmodern architectural style. The cost to build was around $300 million. The design is actually two buildings on top of each other. The bottom half is made up of 40 floors, and the top half holds the remaining 24 floors. Each tower has an independent elevator system. When finished, it was named for its largest tenant, the Transco Energy Corporation. Today, that enterprise is called Williams Companies, reflected in the current building name, and it occupies the majority of the lower 40 floors.
4. Bank Of America Center
The Bank of America Center, ranking 4th among the tallest buildings in Houston, was completed in 1983, reaches 780 feet in height, and has 56 floors. This tower was built over the site of the Western Union building which proved challenging for construction efforts. The crew could not relocate the telegraph lines, and instead, the new building had to merge with the previous structure. This skyscraper has an interesting design. Three gabled rooflines, each one progressively higher and deeper, mark its appearance. It is owned by M-M Properties and a General Electric Pension Trust affiliate.
5. Heritage Plaza
Heritage Plaza, located downtown, stands at 762 feet and has 53 floors. Construction of this building was finished in 1987. During the 1980's, Texas experienced a real estate, banking, and oil crisis that slowed down real estate development for a number of years. Heritage Plaza was the last tall building constructed downtown and was the last tall skyscraper built until 2002 when the 1500 Louisiana Street building was completed. A majority of its office space was empty until 1989 when Texaco leased 550,000 square feet. In 2001, ChevronTexaco housed its headquarters here. Its top floors are constructed of granite, sit atop all-glass lower levels, and resemble a Mayan pyramid.
What is the Tallest Building in Houston?
Completed in 1982, the 75-story JP Morgan Chase Tower, which stands 1,002 feet tall, is the tallest building in Houston, Texas, U.S.A.
Tallest Buildings In Houston
| Rank | Name | Height (in feet) |
| --- | --- | --- |
| 1 | JPMorgan Chase Tower | 1,002 |
| 2 | Wells Fargo Bank Plaza | 992 |
| 3 | Williams Tower | 901 |
| 4 | Bank of America Center | 780 |
| 5 | Heritage Plaza | 762 |
| 6 | Enterprise Plaza | 756 |
| 7 | Centerpoint Energy Plaza | 741 |
| 8 | 1600 Smith Street | 732 |
| 9 | Fulbright Tower | 725 |
| 10 | One Shell Plaza | 714 |
| 11 | 1400 Smith Street | 691 |
| 12 | Three Allen Center | 685 |
| 13 | One Houston Center | 678 |
| 14 | First City Tower | 662 |
| 15 | BG Group Place | 630 |
| 16 | San Felipe Plaza | 625 |
| 17 | Exxon Building | 607 |
| 18 | 1500 Louisiana Street | 600 |
| 19 | America Tower | 591 |
| 20 | Two Houston Center | 579 |
About the Author
Amber is a freelance writer, English as a foreign language teacher, and Spanish-English translator. She lives with her husband and 3 cats.
This page was last updated on April 25, 2017.
Citations
Your MLA Citation
Your APA Citation
Your Chicago Citation
Your Harvard Citation
Remember to italicize the title of this article in your Harvard citation.