Society
Tallest Buildings In Europe
The East Tower of the Federation Complex located in Moscow, Russia is the tallest building in the European continent.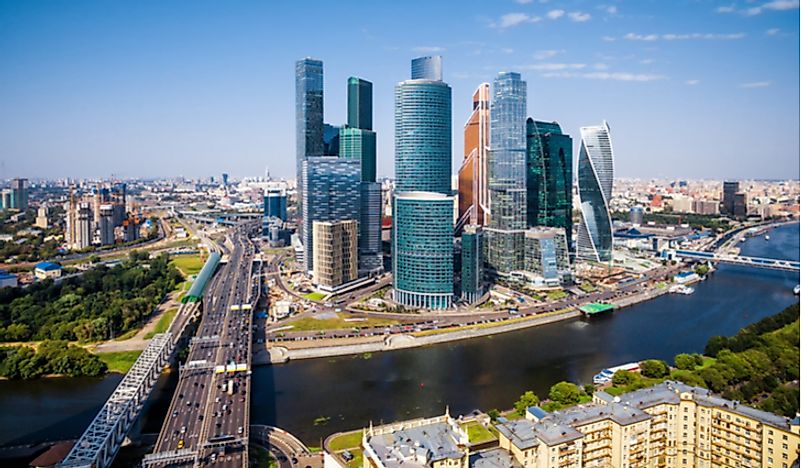 The largest skyscraper in Europe is the Lakhta Center in Moscow, Russia. In fact, the majority of Europe's tallest buildings can be found in Moscow. For decades, Europe was without skyscrapers, except in some major cities like London, Paris, Frankfurt, Moscow, Istanbul, and Warsaw. However, recent years have seen growth in the construction industry, with more cities building skyscrapers including cities like Barcelona, Brussels, Manchester, Milan, Birmingham, Madrid, and Naples. Cities having more than ten tall buildings of over 100 meters include Moscow, Istanbul, Paris, Ankara, Frankfurt, Benidorm, Warsaw, Rotterdam, Milan, Madrid, Kiev, Barcelona, Berlin, and Naples.
However, when it comes to the tallest buildings on the continent, Moscow is home to the majority of them. The top five tallest buildings in Europe are outlined below, as per data from the Council on Tall Buildings and Urban Habitat.
5. Neva Towers (Russia) 345 m
The Neva Towers are twin skyscrapers found in Moscow, Russia. Construction was started in 2013 and the buildings are expected to be finished sometime in 2020. The total cost estimate is projected to be around 1 billion.
4. OKO (Russia) 354.2 m
OKO is a 354.2 meter skyscraper found in Moscow. It serves as an office building, hotel, and a private residence. 12 stories of the building are taken up by vehicular parking. It is in the postmodern architectural style.
3. Federation Tower (Russia) 373.7 m
At 373.7 m, the Eastern Tower of Federation Tower in Moscow, Russia, is the third tallest building in Europe. Construction of the skyscraper commenced in 2003, with an interruption midway, resuming in 2011, with completion in 2016, overtaking the OKO as the tallest building in Europe. A brainchild of Sergei Tchoban and Peter Schweger, the building was constructed by the AEON Corporation who owns the building. It comprises of two towers, the 97 story Tower East and the 65 story Tower West. It is intended to have offices, apartments, and hotel suites with sky bridges between the two towers which house restaurants and cafes. It attracts sightseers, lovers of extreme sports, and is used as a filming site.
2. One Tower (Russia) 405.3 m
When it is completed in the early 2020s, One Tower will be the second tallest building in Russia. It is found in Moscow.
1. Lakhta Tower (Russia) 462
Lakhta Tower is the tallest building in Europe, with a total height of 462 meters. It is found in St. Petersburg and serves as the headquarters of a Russian natural gas company. Aside from offices, the building also contains a fitness center and a conference center. The construction of the building was controversial as it was said to contradict the historic character of St. Petersburg's core.
What is the Tallest Building in Europe?
The East Tower of the Federation Complex located in Moscow, Russia is the tallest building in the European continent. It stands at a height of 373.1 meters.
Tallest Buildings In Europe
| Rank | Building | Country | Height (meters) |
| --- | --- | --- | --- |
| 1 | Lakhta Center | Russia | 462 |
| 2 | One Tower | Russia | 405.3 |
| 3 | Federation Tower | Russia | 373.7 |
| 4 | OKO | Russia | 354.2 |
| 5 | Neva Towers 2 | Russia | 345 |
| 6 | Mercurcy City Tower | Russia | 338.8 |
| 7 | Varso Tower | Poland | 310 |
| 8 | Eurasia Tower | Russia | 308.9 |
| 9 | The Shard | United Kingdom | 306 |
| 10 | Capital City Moscow Tower | Russia | 297 |
About the Author
Benjamin Elisha Sawe holds a Bachelor of Arts in Economics and Statistics and an MBA in Strategic Management. He is a frequent World Atlas contributor. 
This page was last updated on September 17, 2019.
Citations
Your MLA Citation
Your APA Citation
Your Chicago Citation
Your Harvard Citation
Remember to italicize the title of this article in your Harvard citation.