Society
The Tallest Buildings In Australia
Australia has more skyscrapers per capita than any other country in the world that has a population of more than five million people.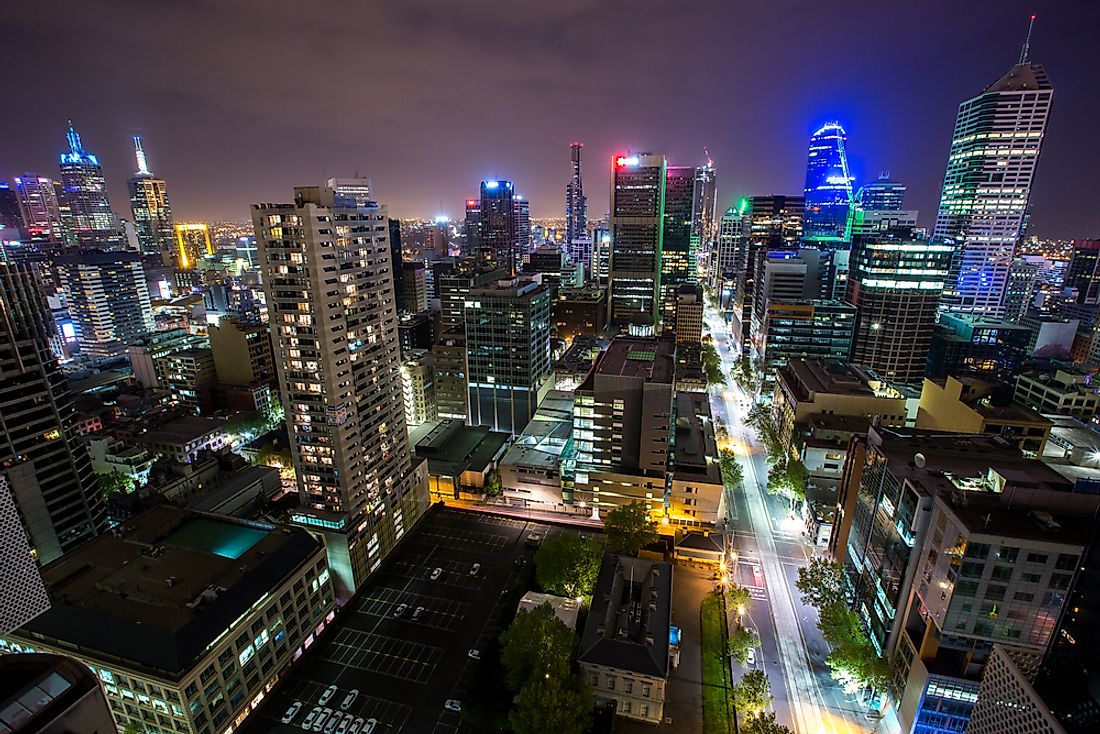 Australia holds the record as the country with more skyscrapers per person than any other country. The country was among the first countries in the world to participate in the skyscraper boom along with the US and Canada. The first skyscraper in the country was the APA building which was completed in 1889 and was among the world's tallest buildings at the time. Modern skyscraper in Australia exceeding 150 meters was Australia Square Tower in Sydney, and its construction came to completion in 1967. Most of the tallest buildings in Australia are in the states of New South Wales, Victoria, and Queensland, though there are some few in the western part of the country.
Tallest Buildings In Australia
1. Q1 Tower, Gold Coast - 322.5 m/1058 feet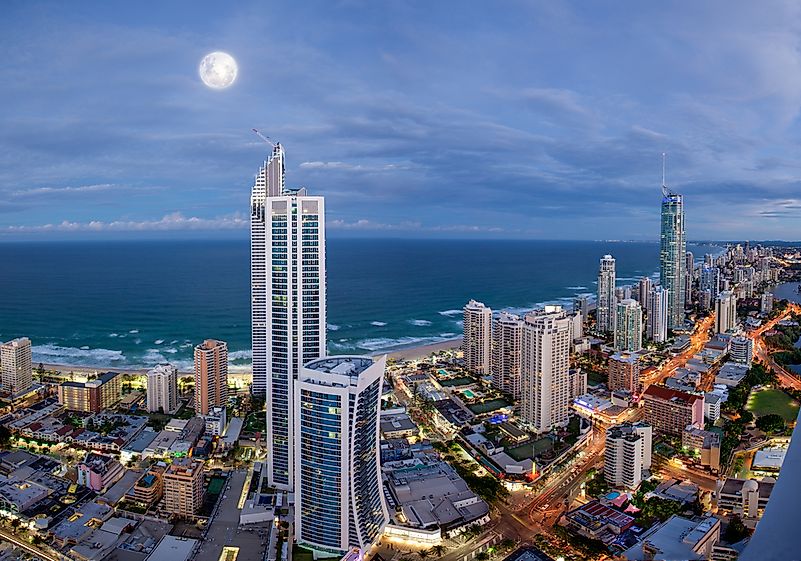 In Gold Coast, Queensland, standing at 322.5 meters (1058 feet) is the tallest building Australia, the Q1 Tower. With 78 stories, it is also the tallest building in the southern hemisphere and among the ten tallest residential buildings in the world. Its construction started in 2002 and covered a period of three years to completion and was officially opened in November 2005. The total cost of the building was AUD$255 million. The building was the world's tallest residential building until 2011 when the record was taken by Marina Torch building in Dubai. Q1 offers Australia's only beachside observation on both floor 77 and 78. 
2. Eureka Tower, Melbourne - 297.3 m/975 feet
Eureka Tower in Melbourne is the second tallest building in Australia. It is found in Melbourne. It has 91 stories in total and measures a total of 297.3 m (975 feet). Construction started in 2002 and took four years to complete. The building got its name from The Eureka Stockade of 1854. It has an observation deck where tourists can come and view the city. Within the building are 556 apartments in 84 floors. In 2007 Eureka Skydeck 88 was opened, and it features a three-metre glass cube that can carry a group of people to a height of 300 meters above the ground. The building also holds an annual stair climb and a record was set on climbing 1642 stairs in seven minutes. 
3. Aurora Melbourne Central - 270.5 m/887 feet 
Aurora Melbourne Central is the newest entry on this list. It is a residential tower that topped out in 2019. The tower is planned to host a total of 941 residential units. The building had been under construction since 2015. 
4. 120 Collins Street, Melbourne - 260 m/853 feet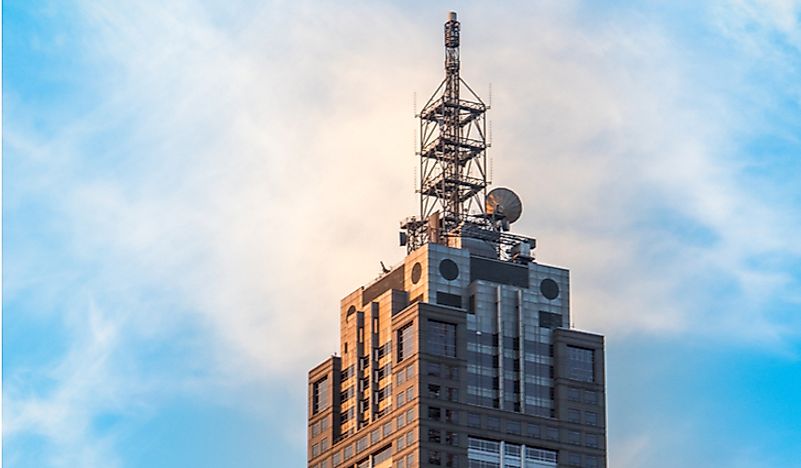 Editorial credit: Daniel De Petro / Shutterstock.com.
120 Collins Street Melbourne ranks fourth among the tallest buildings in Australia. The construction of the building was begun in 1989 and completed in 1991 and has a height of 260 m (853 feet), the building has 52 floors, comprising of 50 levels of office space. When it was completed, it was Australia's tallest office building. Its central mast, setbacks and granites façade draw their inspiration from New York's Empire State building. It has panoramic views of the city and acts as a premium landmark. It offers luxurious boutiques and easy access to retail facilities. 
5. 101 Collins Street, Melbourne - 260 m/853 feet 
The building is only five meters shorter than 120 Collins Street building standing at 260 meters (853 feet), and the construction was completed in 1991. It is 57-storey and at its completion in 1991 it was the fifth tallest building in Australia. Moreover, it is a good tourist attraction as people find its entry foyer spectacular and the artwork elegant. The architect who designed the building was Denton Corker Marshall, and the Foyer was designed by John Burgee a New York architect. The constructor was Grocon, and it was the first skyscraper granite building in Australia. The building is among the cleanest especially in reducing footprint and has four star NABERS energy rating.
Tallest Buildings In Australia
| Rank | Building Name | City | Height (meters/feet) |
| --- | --- | --- | --- |
| 1 | Q1 | Gold Coast | 322.5/1058 |
| 2 | Eureka Tower | Melbourne | 297.3/975 |
| 3 | Aurora Melbourne Central | Melbourne | 270.5/887 |
| 4 | Brisbane Skytower | Brisbane | 269.5/884 |
| 5 | 120 Collins Street | Melbourne | 260/853 |
| 6 | 101 Collins Street | Melbourne | 260/853 |
| 7 | 1 William Street | Brisbane | 259.8/852 |
| 8 | Prima Pearl | Melbourne | 254/833 |
| 9 | Rialto Towers | Melbourne | 251.1/824 |
| 10 | Infinity Tower | Brisbane | 249/817 |
| 11 | Central Park | Perth | 249/817 |
About the Author
Benjamin Elisha Sawe holds a Bachelor of Arts in Economics and Statistics and an MBA in Strategic Management. He is a frequent World Atlas contributor. 
This page was last updated on October 30, 2019.
Citations
Your MLA Citation
Your APA Citation
Your Chicago Citation
Your Harvard Citation
Remember to italicize the title of this article in your Harvard citation.