Politics
Rutherford B. Hayes, 19th President Of The United States
Labor strikes and the end of the Reconstruction Era dominated the national spotlight during the Hayes administration.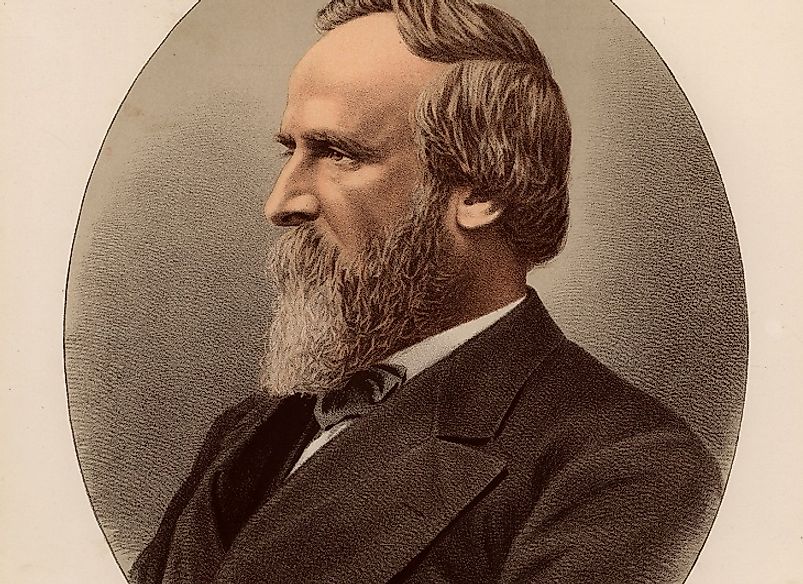 The U.S. Presidency, Then And Now
November 8, 2016, will no doubt be a very significant day for the United State's citizens. The country will not only get their 45th president but might get the first woman president if the former first lady, Hillary Clinton, a Democrats' candidate clinches the presidency. Hillary Clinton and Donald Trump, a self-made Republican Billionaire, are the two top contenders having attained requirements for their respective party nominations. The two hope that their respective delegates will endorse them in the upcoming Delegate conference. Just like in the previous elections' 2016 election has drawn a lot of interest from almost all countries in the world. The past elections have provided 44 presidents who left their mark in the history of US. One of such man is Rutherford B Hayes. But who was he?

Rutherford's Early Life
Perhaps the only president to have won a fiercely contested and disputed presidential election in the history of US became the 19th president of the US on March 4, 1877. He was born in 1822 to Rutherford Jr and Sophia, but his father died a few weeks before his birth. His uncle, Sardis became a father figure for most of his life. Rutherford was admitted to the local schools in Delaware, Ohio and in 1836 he joined the Methodist Norwalk Seminary but later moved to a preparatory school where he specialized in ancient Greek and Latin. In 1842, he graduated from Kenyon College with the highest honor, and he was given an opportunity to address the graduating class. In 1843, Rutherford joined Harvard School where he studied law. He graduated in 1845 and was admitted to the bar the same year. He later opened his law firm in Fremont. In 1851 Rutherford engaged her soon to be wife Lucy and a year later they got married and got three sons within the first five years of their marriage.
Entering Politics
In 1862 Hayes was elected to the House of Representative through the Republican Party. Though he was an army officer, he wrote letters to his would-be voters as his way of campaigning. He was again re-elected to the house of representative in 1866. In the election of 1867, the Ohio voters considered him as the best Governor. During his term as Ohio governor, Hayes was actively involved in establishing the school for the deaf and reformation of girls' schools. He served Ohio for two terms then retired from politics. His retirement would not last long. His success in Ohio convinced the Republicans that he was the right person for the presidency. In 1876 his party nominated him as the flag bearer with William A Wheeler as his Vice. When the elections were held on November 8, 1867, Democrat candidate appeared to have won the race with three states to go. Both Republican and Democrats claimed victory in those states. The result was decided through negotiations.
Legacy
Hayes is the only known president to have been sworn into office a day before the inauguration day on March 3, 1877. Immediately after his election, Rutherford ordered the withdrawal of federal troops in South Carolina. He also ended the Reconstruction.
Who Was Rutherford B. Hayes?
Rutherford B. Hayes was the 19th president of the United States. He served between 1877 and 1881.
Rutherford B. Hayes, 19th President Of The United States
| Party Affiliation | Republican |
| --- | --- |
| Birthplace | Delaware, Ohio |
| Date of Birth | October 4th, 1822 |
| Date of Death | January 17th, 1893 |
| Start of Term | March 4th, 1877 |
| End of Term | March 4th, 1881 |
| Vice President | William A. Wheeler |
| Major Conflicts Involved In | Ongoing conflicts with Native Americans. |
| Preceded by | Ulysses S. Grant |
| Succeeded by | James A. Garfield |
| First Lady | Lucy Webb Hayes |
About the Author
Benjamin Elisha Sawe holds a Bachelor of Arts in Economics and Statistics and an MBA in Strategic Management. He is a frequent World Atlas contributor. 
This page was last updated on April 25, 2017.
Citations
Your MLA Citation
Your APA Citation
Your Chicago Citation
Your Harvard Citation
Remember to italicize the title of this article in your Harvard citation.