List of Mexican Presidents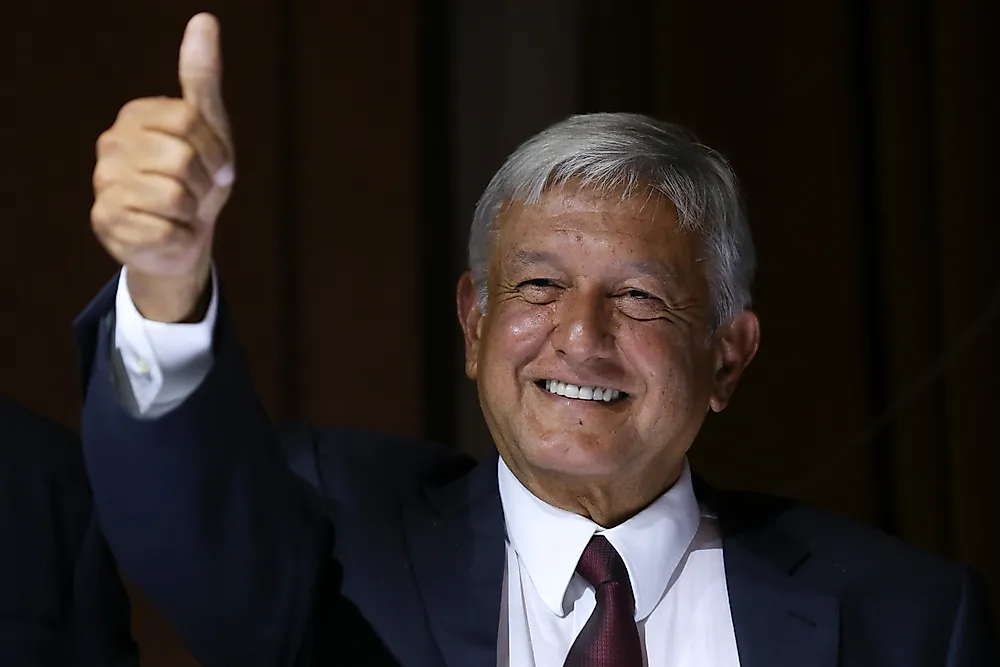 The United States of Mexico is a federation with a presidential system of government with three levels of government. These are the constituent state governments, the Federation union, and the local municipalities. The president, who is elected by the popular vote, is both the head of state and government and also the Commander-in-Chief of the Military forces. He or she can exercise the executive powers by appointing the Cabinet, the Attorney General, Chief of Police of the Federal District, the Secretaries of State, and the Ambassadors. The president also enforces the law and has the power to veto laws. He or she is also in charge of the international relation where he negotiates for treaties. The current President of Mexico is Andrés Manuel López Obrador. Some of Mexico's presidents in recent generations are looked at below.
Lázaro Cárdenas
Lázaro Cárdenas was the first president of modern-day Mexico. He became the president of Mexico on December 1, 1934. Upon taking over as the president, he ordered for his salary to be reduced by half. He never used armored vehicle or bodyguards to protect himself, gaining him a great deal of respect. He made policies that were largely focused on agrarian and industrial workers. President Cárdenas' government also introduced land reforms whereby large commercial lands were distributed to the working class. He also enacted laws that granted workers the right to strike and to work for eight hours a day and pushed for women suffrage both in the work force and political representation. Lázaro Cárdenas handed over the presidency at the end of his term on December 1, 1940, but continued to be involved in the country's affairs.
Manuel Ávila Camacho
Manuel Ávila Camacho was picked by Cardenas to run as his successor in the 1940 Mexican Presidential Election. He successfully won the election and took the oath of office on December 1, 1940. Avila's leadership was marked by the end to the long-standing conflict between the Roman Catholic Church in Mexico and the state. Through Mexican Social Security Institute, Avila protected the rights of workers. He also negotiated for a rent freeze among low-income earners, reduced illiteracy, and promoted electoral reforms. However, his industrial policy benefited only the privileged in the country. His foreign policies were affected by the World War II. Manuel Ávila Camacho retired at the end of his term on November 30, 1946. He died in 1955.
Miguel Alemán Valdés
Miguel Alemán Valdés succeeded Avila on December 1, 1946, after winning the 1946 Mexican Presidential Election. He oversaw Mexico's rapid industrialization through improvement of infrastructures such as railway network and highways. He also improved the education sector by building schools and University. President Valdes played a critical role in the development of the city of Acapulco. His foreign policies were particularly favourable for the US where he managed to secure major loans and grants for developmental projects. He handed over the presidency on November 30, 1952, at the end of his term but remained active in politics
Presidents Of Mexico In The Modern Era
| Presidents of Mexico Since 1934 | Term in Office |
| --- | --- |
| Lázaro Cárdenas | 1934-1940 |
| Manuel Ávila Camacho | 1940-1946 |
| Miguel Alemán Valdés | 1946-1952 |
| Adolfo Ruiz Cortines | 1952-1958 |
| Adolfo López Mateos | 1958-1964 |
| Gustavo Díaz Ordaz | 1964-1970 |
| Luis Echeverría | 1970-1976 |
| José López Portillo | 1976-1982 |
| Miguel de la Madrid | 1982-1988 |
| Carlos Salinas de Gortari | 1988-1994 |
| Ernesto Zedillo | 1994-2000 |
| Vicente Fox | 2000-2006 |
| Felipe Calderón | 2006-2012 |
| Enrique Peña Nieto | 2012-2018 |
| Andrés Manuel López Obrador | Incumbent |