List of Presidents of Azerbaijan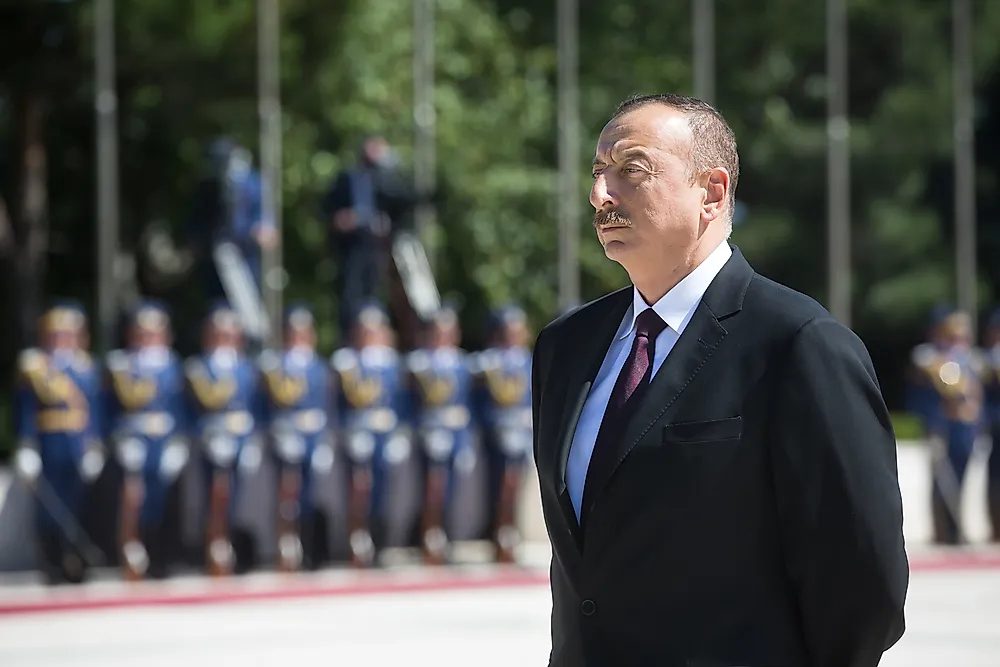 When the Soviet Union fell in 1991, Azerbaijan became an independent republic. In that time it has had four presidents. The first two were ousted through coups and dissensions, and the last two are father and son respectively.
Presidents of Azerbaijan Since 1991
Ayaz Mutallibov – 1991-1992
Ayaz Mutallibov was the last leader of Soviet Azerbaijan and the first leader of independent Azerbaijan. Born on May 12th, 1938, Mutallibov was president of independent Azerbaijan from October 1991 but was overthrown on May 15, 1992, by the Azerbaijan Popular Front. Mutallibov was born in Baku on May 12th, 1938. On September 8th, 1991, he was elected president in single candidate national elections, and on October 18th, 1991 the Azerbaijan SSR Supreme Council declared the country independent from the Soviet Union. After being overthrown he exiled to Moscow in 1992.
Abulfaz Elchibey – 1992-1993
Born on 7th June 1938, Abulfaz Elchibey was independent Azerbaijan's first democratically elected president. His term lasted from 16th June 1992 to 15 June 1993, when he was overthrown by successor Heydar Aliyev. Elchibey grew up in the mountains of Nakhichevan, the autonomous Soviet Republic, and after early schooling there went to Baku to study Arabic at Azerbaijan State University. After working as a translator in Egypt, he returned to Baku and lectured at a University from 1969 to 1974. When national elections were held on June 7th, 1992, Elchibey defeated seven other candidates taking 54 percent of the votes. In his tenure, he managed to have the Soviets fully withdraw their army from Azerbaijan, the first of former Soviet republics to achieve that. Elchibey's government also established the national Caspian Navy and reached an agreement with Russia to receive a quarter of the Baku-based Soviet Caspian Navy. After his presidency, Elchibey went to exile to Nakhichevan until 1997 and became a critic of President Aliyev's autocracy. In the year 2000, he was diagnosed with prostate cancer and died on August 22 same year in Ankara, Turkey.
Heydar Aliyev – 1993-2003
Heydar Aliyev was the third president of post-Soviet Azerbaijan from October 1993 to October 2003. He was born on May 10th, 1923 in Nakhchivan town. After graduating from Nakhchivan Pedagogical School in 1939, he studied architecture at the Industrial Institute of Azerbaijan. Aliyev also graduated from Azerbaijan State University in 1957, where he had studied history. By 1967 he had risen to be chairman of the State Committee of Security, and earned lieutenant general rank. In 1969 Aliyev was appointed by Leonid Brezhnev as First Secretary of the Central Committee of the Communist Party of Azerbaijan and became head of Azerbaijan Republic. By 1987 he had held influential posts within the communist party in Azerbaijan, even for five years being deputy chairman of the Supreme Soviet of the USSR. Aliyev resigned in October 1987 due to allegations of corruption made against him by Mikhael Gorbachev.
Ilham Aliyev 2003 – Present
Ilham Aliyev, the fourth president of Azerbaijan, was born in Baku on December 24th, 1961. He succeeded his father Heydar Aliyev on 31st October 2003 as president. After high school studies in Baku, Ilham enrolled in 1977 at the Moscow State University of International Relations (MSUIR) and graduated in 1982. Ilham pursued his postgraduate studies at the same university. From 1997 he has also served as the President of the National Olympic Committee of Azerbaijan. In 1999, Ilham was elected deputy chairman of the New Azerbaijan Party, and first deputy chairman in 2001. On August 4th, 2003, Ilham became Azerbaijan's Prime Minister by election through parliament.
Azerbaijan System of Governance
In Azerbaijan, the president though largely ceremonial is the head of state. But much of the country is run actively by the Prime Minister. Since 1991 all of the four presidents of Azerbaijan have been Muslims.
Presidents Of Azerbaijan Since 1991
| Presidents of Azerbaijan Since 1991 | Term in Office |
| --- | --- |
| Ayaz Mutallibov | 1991-1992 |
| Abulfaz Elchibey | 1992-1993 |
| Heydar Aliyev | 1993-2003 |
| Ilham Aliyev (Incumbent) | 2003-Present |