Openly LGBT Members Of Congress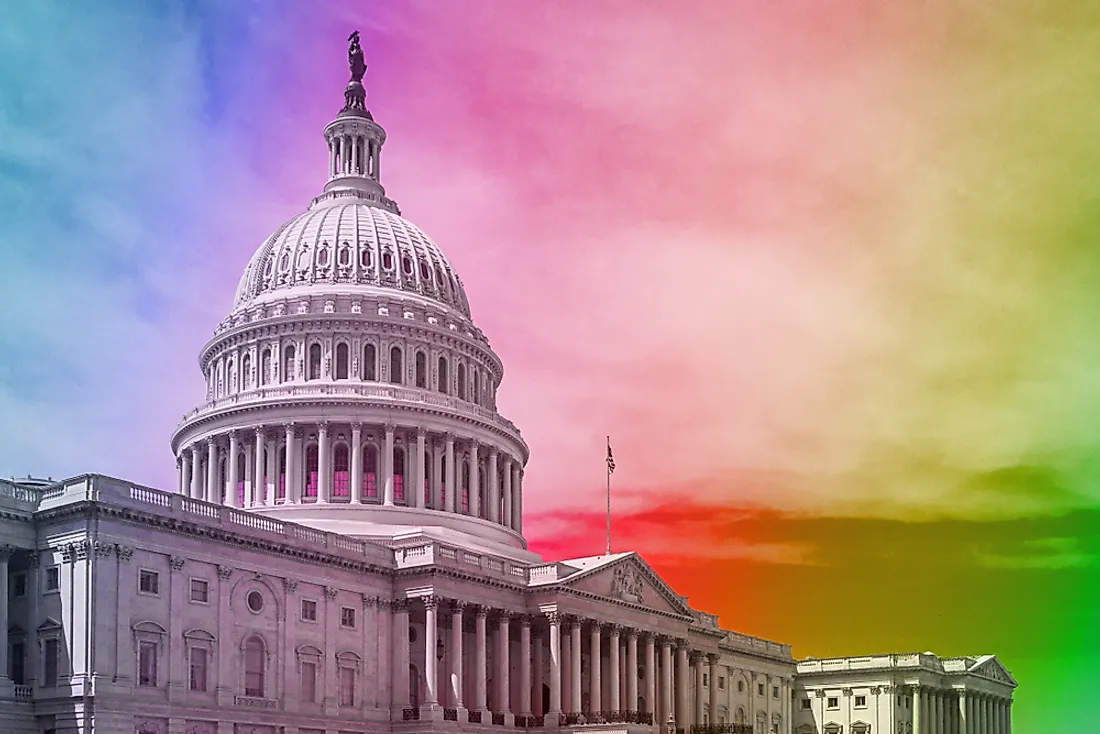 The US Congress is composed of men, women, and people of various ethnic backgrounds and religions all elected to represent constituents from around the country. For many years, however, having a sexual orientation other than heterosexual was seen to be incompatible with the opportunity to hold public office. Slowly, however, times (and laws) have changed, and many brave Congress members proudly stand in support of gay rights. Here is a list of openly LGBT members who have served in the U.S. Congress, both in the past and in the present. 
Democrats
Barney Frank
During his time as a representative for New Jersey, Frank was known for being pro-choice as well as an advocate for civil rights, and a staunch supporter of Israel. Frank came out in 1987, becoming the first member of Congress to do so voluntarily. In 2012, a year before retiring Frank married his partner, James Ready.
David Cicilline
Prior to being elected to Congress Cicilline was known for being the first openly gay mayor of a US state capital (Providence, Rhode Island). Throughout his career, Cicilline has concentrated on issues such as job creation, seniors, the anti-gun coalition, and Medicare.
Gerry Studds
Born in New York State, Stubbs was involved in a 1983 scandal in which he was censured for having a sexual relationship with a 17-year-old male page. It was during the investigation into this matter that Studds publicly came out. He married his partner in 2004 but died just two years later.
Harris Wofford
This New York Congress member was rumored to have been up for consideration as Bill Clinton's running mate in the 1992 election. Although Wofford was married to a woman from 1948-1992 in 2016, he announced plans to marry his same-sex partner. While in office Wofford was interested in issues relating to health care and the economy.
Jared Polis
According to The Huffington Post, this Colorado representative has the distinction of being the first openly gay parent in Congress. He and his partner have two children. Polis actively supports civil rights, education, as well as gay and lesbian issues.
Kyrsten Sinema
This Arizona representative has been acknowledged as being the first openly bisexual member of Congress. She has described herself as having bipartisan political views and as a non-theist in terms of religion.
Mark Pocan
Born in Wisconsin, Pocan has been referred to as being a progressive Democrat. He serves on several government committees which focus on issues such as the budget, education, and workforce. In 2006 Pocan legally married his partner in Canada.
Mark Takano
This California representative has the distinction of being the first openly gay Asian Congress member. Takano serves on committees for veterans' affairs, education, and the workforce.
Mike Michaud
Born in Maine, Michaud came out in 2013. His political interests focus on issues pertaining to veterans and the environment.
Sean Patrick Maloney
Although Maloney was born in Canada, he was elected as a member of Congress for New York. While in office, he has been a member of numerous committees focusing on agriculture, transportation, and infrastructure. Maloney and his partner married in 2014 and have three kids.
Tammy Baldwin
As a liberal representative for Wisconsin Baldwin has served on a variety of government committees on subjects such as aging, the budget, homeland security, and healthcare.
Republicans
Jim Kolbe
Born in Illinois, Kolbe was married to his wife from 1977 to 1992 but subsequently wed his male partner in 2013. In politics, he is known as a moderate Republican and came out after endorsing the Defense of Marriage Act in 1996.
Jon Hinson
While serving as a representative for Mississippi, Hinson resigned from Congress in 1981 after being arrested for performing same-sex sexual acts. It was later revealed that in 1976 Hinson had also been charged with what the Associated Press referred to as an "obscene act." After divorcing his wife Hinson became a gay activist and passed away from AIDS at the age of 53.
Michael Huffington
This Texas Congress member was married to The Huffington Post's Adrianna Huffington from 1996 to 1997. He came out as being bisexual in 1998 and supported same-sex marriage rights in 2013.
Robert Bauman
As a representative for Maryland Bauman was known for his strong conservative beliefs and founded the Young Americans for Freedom and the American Conservative Union. After a 1980 arrest for soliciting a male prostitute Bauman lost his bid for re-election.
Steve Gunderson
This Wisconsin Congress member was publicly outed in 1994. Two years later he was the only Republican to vote against the Defense of Marriage Act
Stewart McKinney
McKinney became known for his 1986 McKinney-Vento Homeless Assistance Act. Although he was married to a woman, it's widely assumed that the Connecticut representative was bisexual and died of AIDS in 1987.
Openly LGBT Members Of U.S. Congress, Past And Present
| Name | Party | Start of Term |
| --- | --- | --- |
| Kyrsten Sinema | Democratic | 2019 |
| Angie Craig | Democratic | 2019 |
| Sharice Davids | Democratic | 2019 |
| Katie Hill | Democratic | 2019 |
| Chris Pappas | Democratic | 2019 |
| Sean Maloney | Democratic | 2013 |
| Mark Pocan | Democratic | 2013 |
| Mark Takano | Democratic | 2013 |
| David Cicilline | Democratic | 2011 |
| Jared Polis | Democratic | 2009 |
| Mike Michaud | Democratic | 2003 |
| Tammy Baldwin | Democratic | 1999 |
| Mark Foley | Republican | 1995 |
| Michael Huffington | Republican | 1993 |
| Harris Wofford | Democratic | 1991 |
| Jim Kolbe | Republican | 1985 |
| Barney Frank | Democratic | 1981 |
| Steve Gunderson | Republican | 1981 |
| Jon Hinson | Republican | 1979 |
| Robert Bauman | Republican | 1973 |
| Barbara Jordan | Democratic | 1973 |
| Gerry Studds | Democratic | 1973 |
| Stewart McKinney | Republican | 1971 |