Society
Oldest Synagogues In The United States
With one of the largest Jewish populations in the world, the U.S. has a strong legacy of Jewish places of worship.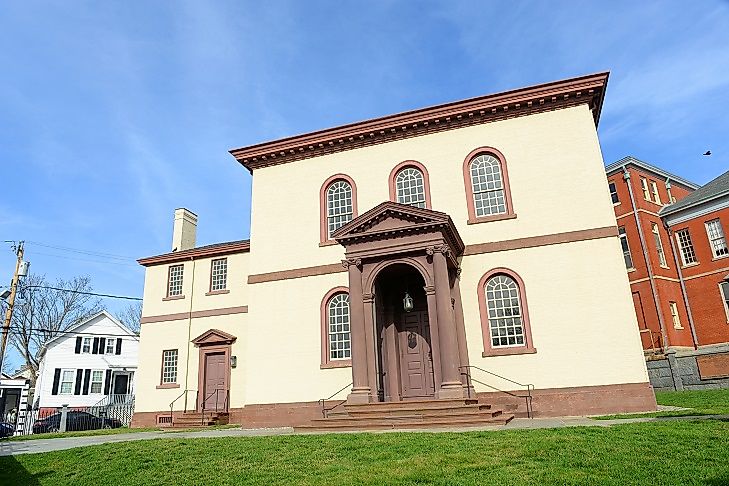 Synagogues are traditional Jewish places of worship spread across the world. They are not only places of worship for the Jewish people but also a place of central gathering for life cycle events and Torah study. The synagogues have acted as good tourist attraction sites especially in the US. There are several old synagogues across the US playing a significant role in the Jewish community. These synagogues are either old regarding the buildings or regarding congregation. Some of the old synagogues have been converted for other purposes while others have remained to be places of worship. Some of the oldest synagogues in the U.S are briefly discussed below.
Touro, Newport, Rhode Island
Touro in Newport is the oldest American synagogue in existence today. Newport, Rhodes Island first received a Jewish resident in the 17th Century from Barbados. They formed a congregation called Nephuse Israel. By 1700, Newport had become prominent taking a leading role in trade. By 1758 the Jewish population had grown thus the need for a place to worship. In 1759 the construction of Jewish Synagogue begun, this construction work began with Harrison, a British American captain. The building was completed in 1763. The interior of Touro is flanked by twelve columns that support the balcony. These 12 columns signify the twelve tribes of Israel. The synagogue has remained a place of worship but has also served as a tourist attraction site
Kahal Kadosh Beth Elohim, Charleston, South Carolina
This historic landmark is the US second oldest synagogue that is still in use today by the American Reformed Judaism movement. The name Kahal Kadosh Beth Elohim means Holy congregation in the House of God. This group began in 1749 but by the end of the 18th Century, the congregation had grown with a membership of around 500. In 1840 a synagogue was built in Charleston on the site of the first synagogue that was destroyed in 1838. This synagogue that was designed by Cyrus L Warner, New York Architects and built by David Lopez, a member of the congregation and has rich ornamentation adopted from the Greek temple. There is large marble tablet above the entrance proclaiming "Hear oh Israel the Lord our God is the Sole Eternal being." The synagogue has continued to serve both as a place of worship and a museum for tourists.
Lloyd Street, Baltimore, Maryland
Lloyd Street Synagogue is a popular Hebrew synagogue in Maryland built in 1845 by the Baltimore Hebrew Congregation. It is the third oldest that is still standing and in use in the US. It was designed by Robert Cary Long, a Baltimore architect, and later enlarged by William H. in 1861 but maintaining its original classical style. In 1889 the synagogue transitioned in its use, being converted into a Catholic church. The building is currently a museum under the Save America's Treasures program.
Angel Orensanz, New York City, New York
Angel Orensanz, formerly known as Anshe Chesed Synagogue is the oldest surviving synagogue in New York. Built in 1849 by Anshe Chesed Congregation, it was the largest synagogue in the US at the time of its building. The building was designed by Alexander Saeltzer but purchased by Angel Orensanza, a Spanish painter in 1986. He turned it into an art gallery and performance center naming it Angel Orensanz Foundation Center for Art
Rodeph Shalom-Chasam Sopher, New York City, New York
Also known as the Congregation Chasam Sopher Synagogue is in Manhattan, New York. It was built in 1852 by the Jewish migrants from Europe. The building is not far from the Angel Orensaz Center, and it is still in use today. The building is a red brick Romanesque and considered one of the most beautiful religious buildings in New York that have not only served as a place of worship but also a site for tourists.
Significance to American Jewish Culture
The United States department of art and culture has continued to put in efforts in preserving these old synagogues as a source of heritage, culture, and history. Also, these synagogues are still significant and popular among Jewish Congregations.
Oldest Synagogues In The United States
| Rank | Oldest Synagogues In The U.S.A. | Year Established |
| --- | --- | --- |
| 1 | Touro, Newport, Rhode Island | 1759 |
| 2 | Kahal Kadosh Beth Elohim, Charleston, South Carolina | 1840 |
| 3 | Lloyd Street, Baltimore, Maryland | 1845 |
| 4 | Angel Orensanz, New York City, New York | 1849 |
| 5 | Rodeph Sholom-Chasam Sopher, New York City, New York | 1852 |
| 6 | Beth Israel, Honesdale, Pennsylvania | 1856 |
| 7 | Sherith Israel, Cincinnati, Ohio | 1860 |
| 8 | Shaarei Shamayim, Madison, Wisconsin | 1863 |
| 9 | Talmud Torah Adereth El, New York City, New York | 1863 |
| 10 | Plum Street Temple, Cincinnati, Ohio | 1866 |
About the Author
Benjamin Elisha Sawe holds a Bachelor of Arts in Economics and Statistics and an MBA in Strategic Management. He is a frequent World Atlas contributor. 
This page was last updated on April 25, 2017.
Citations
Your MLA Citation
Your APA Citation
Your Chicago Citation
Your Harvard Citation
Remember to italicize the title of this article in your Harvard citation.