Environment
Malaysia's Top National Parks
Taman Negara near Kuala Tembeling is home to one of the oldest broad-leaved forests on earth.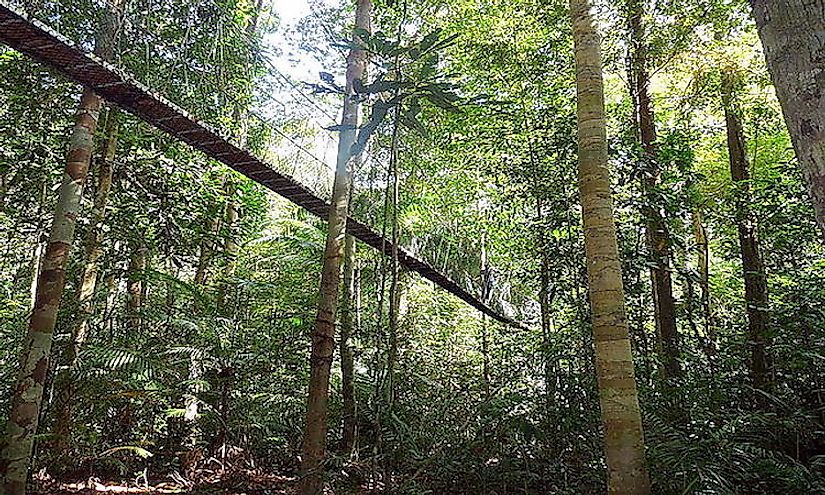 Malaysia is a country located in the southeastern part of Asia consisting of thirteen states and three federal territories. It covers a total area of 127,720 square miles making the 66th largest country by land area and the 44th most populous country in the world. It is a multi-ethnic and multi-cultural country which was colonized by the British but more than half the population is ethnically Malay. According to the Malaysian constitution, it declares Islamic the state religion, however, non-Muslims are given the freedom of worship. The country is headed by a king who is elected for a five-year term. There are several national parks in the country, some of them are discussed below.
Malaysia's Top National Parks
Pulong Tau National Park
Pulong Tau National Park, located in Sarawak, Malaysia on the island of Borneo was proposed for its development and creation in 1984 which was effected fourteen years later in 1998. The total area proposed was significantly reduced from 635 square miles to 246 square miles but in 2008, the total area proposed was approved. The animal and plant lives found here vary from each other because of factors such as altitude, topography, and the soil type whereas in some cases, some animals are endemic to this ecoregion.
Taman Negara National Park
Taman Negara National Park found near the Kuala Tembeling city. It is made up of three states. Pahang, which is the largest with an area of 950 square miles, second is Kelantan which is approximately 402 square miles, and the smallest is Terengganu with an Area of 325 square miles. The total area is approximately 1,677 square miles. It was established in the year 1938 and has developed over time into an ecotourism destination with several biological and geological attractions like the rare mammals, birds, and some fish.
Croker Range National Park
Croker Range National Park is located in Sabah near the Kota Kinabalu city. The park was established in 1984. It covers an area of 540 square miles consisting of hills and montane forests. The park is a source of water for streams that supply water to the towns and communities in the region. Croker Range National Park contains approximately five species of primates with various adaptation to the region. The Fauna and Flora found in the park are endemic to the region.
Endau-Rompin National Park
Endau-Rompin National Park is a protected tropical rainforest found around the Johor and Pahang region. It has an estimated area of 336 square miles,making it the second largest national park after the Taman Negara in the Peninsular Malaysia. It is known to have been named after the rivers flowing through the park, river Endau, and River Rompin. It was founded in 1892 as a forest reserve but in 1980, the national parks act was passed that led to increased disputes that prevented the creation of the national park at that time.
Kinabalu Park
Kinabalu Park is located on the coastal side of Sabah, Malaysia.It was founded in 1851 by Hugh Low and in 1964, it was designated as a national park. It is a biodiverse park which is home to more than 4,500 species of flora and fauna making it the most popular tourist attraction site in the region.In 2000, it was inscribed as a heritage site by UNESCO, making it the first heritage site in Malaysia.
Environmental Threats
Just like other Natural environments globally, the parks in Malaysia are threatened by human activities. Deforestation and poaching is the major threat to these parks. Human encroachment has led to increased conflicts between human and animals and animals have bore more consequences of the conflict. Global warming is also a threat as animals are forced to adapt to new climatic changes.
Which Is The Oldest National Park In Malaysia?
The Taman Negara National Park is Malaysia's oldest national park. It was established in 1938/1939 as the King George V National Park. It occupies an area of 4,343 square kilometers. This national park has one of the planet's most ancient deciduous rainforests that is over 130 million years old.
| | |
| --- | --- |
| Top National Parks of Malaysia | Area |
| Bako National Park | 10 square miles |
| Batang Ai National Park | 9 square miles |
| Crocker Range Park | 540 square miles |
| Endau-Rompin National Park | 336 square miles |
| Gunung Ledang National Park | 41 square miles |
| Gunung Mulu National Park | 79 square miles |
| Kinabalu Park | 291 square miles |
| Kuching Wetlands National Park | 26 square miles |
| Lambir Hills National Park | 27 square miles |
| Loagan Bunut National Park | 39 square miles |
| Maludam National Park | 167 square miles |
| Niah National Park | 12 square miles |
| Penang National Park | 9.9 square miles |
| Pulau Tiga Park | 61 square miles |
| Pulong Tau National Park | 635 square miles |
| Similajau National Park | 35 square miles |
| Taman Negara National Park | 1,677 square miles |
| Tanjung Datu National Park | 5 square miles |
| Tawau Hills Park | 108 square miles |
| Tun Sakaran Marine Park | 39 square miles |
| Tunku Abdul Rahman Park | 19 square miles |
| Turtle Islands National Park | 7 square miles |
This page was last updated on April 25, 2017.
Citations
Your MLA Citation
Your APA Citation
Your Chicago Citation
Your Harvard Citation
Remember to italicize the title of this article in your Harvard citation.