Kazakhstan's Top National Parks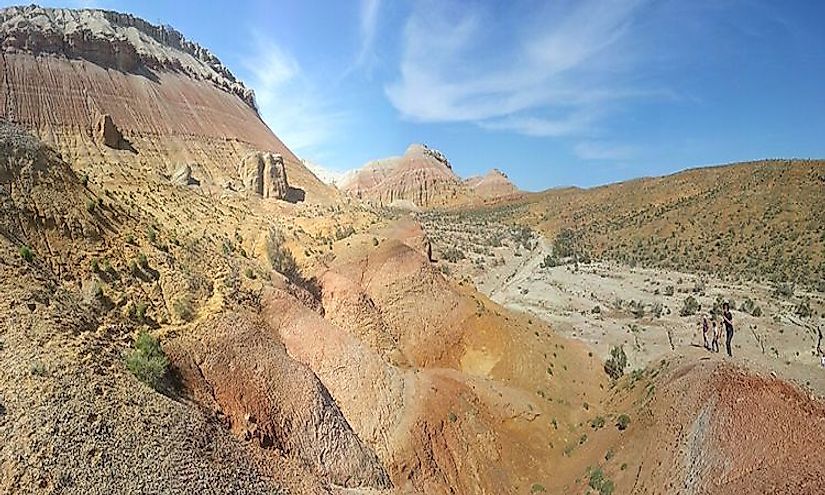 The protected areas in Kazakhstan are well known the world over for their natural beauty and ecological significance. Kazakhstan is the ninth largest country in the world and it borders China, Russia, Turkmenistan, and Uzbekistan. The country is almost entirely flat except for mountains in its eastern and southern borders, and it has coastlines along the Aral and the Caspian Sea.
Kazakhstan's Top National Parks
Altyn-Emel National Park
The Altyn-Emel National Park occupies an area of 1,776 square miles. The Park was established in 1996 in the valley of the Ili River. The park encompasses various landscapes, from mountains to sand-desert and it has a rocky terrain. The Singing sand dune, which is 150 m high and 1.5 km long, is a major attraction in the park. During the dry season, the dune produces low vibrating sounds. The park's archaeology significance is represented by the Terekty petroglyphs, where rock paintings and stone carvings have been preserved. The Besshatyr is a complex of burial mounds from ancient civilizations. Also notable are the Atkau and Katutau Mountains.
The park boasts over 600 floral species, of which 29 are endemic. The flora includes saxaul shrub, tulips, wormwood and Asiatic poplar. Mammals in the park include the rare snow leopard, Central Asian otter, stone marten, Central Asian wild ass, the rare Persian gazelle, Bukhara deer and Przewalski horse. The Ili River and Kapchagai human-made lake are home to abundant fish species such as catfish, European carp, and Zander. The park has a continental climate, with freezing winters and hot summers. There are 19 cordons stationed in and around the park, and they facilitate regular control by the park inspectors and monitoring of tourism activities. The park remains well protected from poaching and logging.
Bayanaul National Park
Located in the south of Pavlodar Province, Bayanaul National Park stretches for 264 Square miles. The park was the first national park, established in 1985. Multiple bizarre rocks and stones, formed through wind and soil erosion, dot the park's landscape. The park is characterized by many mountains and four freshwater lakes, namely: Sabyndykol, Jasybay, Toraygir, and Byrzhankol.
Bayanaul National Park consists of four types of vegetation including forest, forest steppe, meadow, and steppe. The dominant trees are pine, birch, alder, and aspen along with shrubs such as currants and raspberries. Fauna species include the endangered argali, European badger, roe deer and birds such as cranes and swans. The Park has a continental climate with yearly precipitation is recorded at 340 mm and average annual temperatures of 3.2 degrees Celsius.
Burabay National Park
Burabay National Park occupies an area of 322 square miles in the Burabay District of Kazakhstan. The park is characterized by mountain peaks rising over Lake Burabay, numerous lakes, pine and birch forests, and cliffs. Vegetation is comprised of forest, steppe, marsh and meadow. The forests are home to roe deer, lynx, wolves, wild boars, badgers, mountain hares, foxes, and weasels.
Average annual rainfall is recorded at 300 mm and snow cover is about 25-35 thick during the winter. The average temperature in July is +19 degrees Celsius and -16 degrees Celsius in January. The park is a legally protected nature reserve and it is under the direct jurisdiction of the country's President.
Ile-Alatau National Park
Ile-Alatau National Park, founded in 1996, is situated near Almaty City and covers 772 square miles. The park covers landscapes such as forests, glaciers, lakes, alpine meadows, and rivers. Flora in the park includes Apple sievers, Albert's iris, currants, wormseed orange, raspberry, apricot, maple, and Caucasian carcass. About 300 bird and animal species have been recorded and include snow leopard, mountain goat, Central Asian lynx, Tian Shan Martens, the bluebird of happiness, Himalayan griffon, and saker falcon. Climate varies between zones, with the high mountainous zone receiving the highest annual rainfall of more than 600 mm. The park is well protected, and it is dotted with hiking trails.
Karkaraly National Park
The Karkaraly National Park is situated in Karaganda region, and it covers 433 square miles. The park consists of the Karkaraly and Kent Mountains, granite hills, pine, birch and aspen forests, archaeological sites and lakes. The climate is continental and is characterized by harsh winters and cool summers and abrupt changes in temperatures. Flora of the park includes bluegrass Karkaraly, thin mustache, red fescue, blue anemone, St. John'e wort, everlasting sand, thin poppy and Kyrgyz birch. The park's 46 mammal species include red deer, argali, red fox, wolf, Siberian deer, elk, and wild boar. Bird species include the protected imperial eagle, golden eagle, Dalmatian pelican, swan goose and saker falcon. The park is adequately protected, and tourism and economic activities are strictly monitored.
Tourism In Kazakhstan
Kazakhstan is a top destination in Central Asia for nature-based tourism. With 106 protected nature reserves, the country pride in flora and fauna diversity and spectacular landscapes and scenery. Mountain hiking, skiing, trekking, and water sports are popular tourist activities in the country.
Kazakhstan's Top National Parks
| | |
| --- | --- |
| Kazakhstan's Top National Parks | Area |
| Altyn-Emel National Park | 1,776 square miles |
| Bayanaul National Park | 264 square miles |
| Burabay National Park | 322 square miles |
| Ile-Alatau National Park | 772 square miles |
| Karkaraly National Park | 433 square miles |