Environment
Papua New Guinea's Top National Parks And Protected Areas
Tonda, Papua New Guinea's largest protected area, is one of the most ecologically significant wetlands on earth.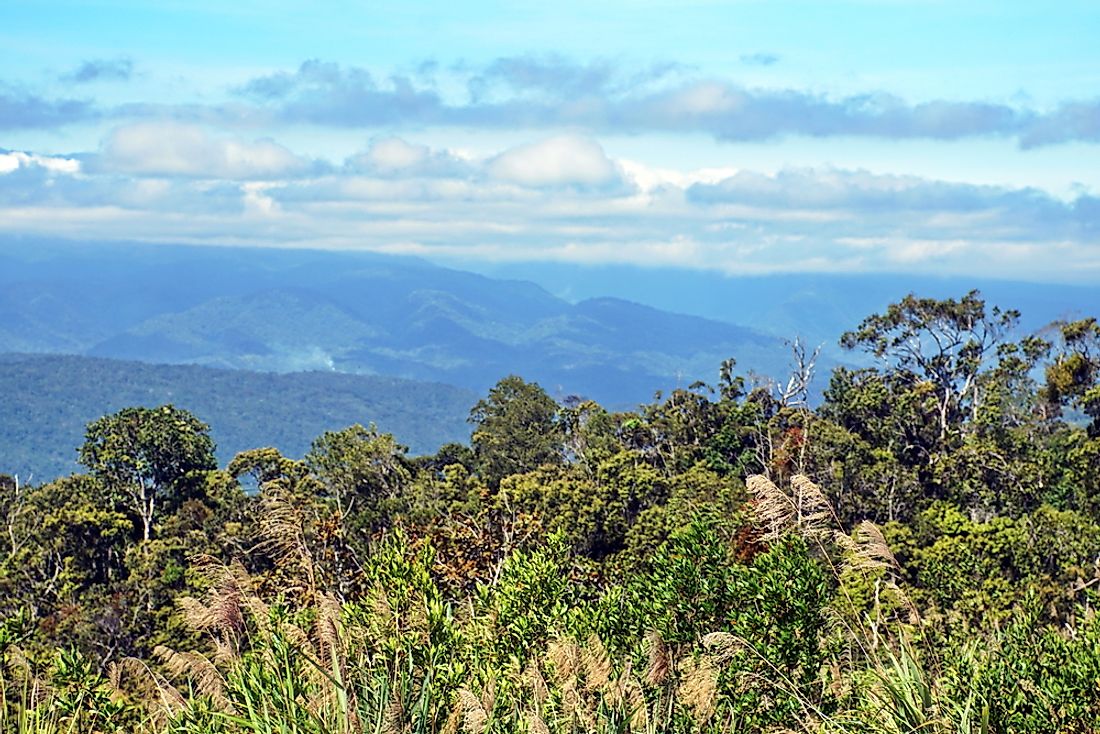 Papua is part of the island of New Guinea. Although the human population here is low, the levels of biodiversity are quite high, allowing conservation efforts to be put in place. It is home to approximately 190 species of mammals including kangaroos, wallabies, and rodents. It also boasts of being home to both the world's largest pigeons and the smallest parrots and frogs. There are also more than 2,000 species of orchids and 2,000 fern species growing in the country.
Papua New Guinea's Top National Parks And Protected Areas
Bagiai National Park
Bagiai wildlife management area derives its name from the volcanic mountain therein and covers a total of 53 square miles, which is slightly half of the total area of the Karkar Island on which it is found. The management area includes Karkar's eastern and central parts, the coastal reefs and small offshore islands of Tuale and Mungamek. The offshore islands are a breeding nest for seabirds and turtles. Its interior is mountainous and reaches an altitude of 1,840 m above sea level. The legislation restricts the use of guns on the wildlife except when killing pigs that attack their farmlands and birds of prey attacking poultry. Only the traditional landowners can hunt in the areas and only by using traditional methods of hunting and fishing.
Cape Wom International Memorial Park
The Cape wom international memorial park covers 0.4 square miles located 14 kilometers west of Wewak. It is a site of wartime airstrip where the Japanese surrendered to Australians. There are five memorial flagpoles and a white triangular concrete calm with a brass plaque on the spot where the Japanese lieutenant general Adachi, commander of the Japanese 18th Army, signed the surrender documents and handed his sword to the Australian major general Robertson on September 13, 1945. It also preserves the remnants of the Japanese troops who died on the spot, including two Japanese guns displayed along the several field guns. The park hosts war relics, with walking tracks, picnic tables and washrooms, and BBQ shelters. It is mainly a research and educational resource center and has provisions for outdoor activities. Its terrain is quite bushy and untrodden.
Maza National Park
Maza wildlife management area is an area covering 711 square miles of the sea and coral reefs off the coast to the east of Tonda. Established in 1796, the main aim of the park was to protect the dugong and marine turtles. It is a community-run and managed wildlife protected area, and there are restrictions on using modern hunting and fishing methods. The sale of the dugong meat is restricted around the region.
Tonda National Park
Tonda, Papua New Guinea's largest protected area, is one of the most ecologically significant wetlands on earth. Located in the western province, Tonda Wildlife Management area covers a total of 2,278 square miles. It has a flat terrain located at less than 45 meters above sea level. It includes mangrove swamps, Monson forests, grassland, and swamps. Most trees belong to the acacia and melaleuca groups, and most grasses are phragmites and pseudorabies. Over 220 species of birds are found in the area, both endemic and migratory water birds, birds-of-paradise, and Brolga. It also includes 56 species of fish, 50 species of mammals, including the rare spectacled hare-wallaby, chestnut dunnart, and false water rats. The reptiles found in the areas include the saltwater crocodiles and New Guinea crocodile. The area and its biodiversity face threats of poaching from the neighboring Indonesian people, and the harvesting pressure from the local merchants who sell the resources to people of the other side of the border. The area is protected by legislation that illegalizes hunting primarily by non-customary land owners. The Ramsar conservation listed it as a wetland of international importance in 1993, and 2006 it became a world heritage site.
Conservation Initiatives To Save The Flora And Fauna Of The Country
Most wildlife management areas of Papua were set up by traditional customaries including Tonda, Maza, and Bagiai, which were later incorporated into the national management zones and protected areas. Most of the species found in Papua are endemic and rare to New Guinea. Some of the top protected areas in Papua include Lake Lavu, Long Island, Pokili and McAda, Mount Gahavisuka and Namanatabu Historic Reserve. As much the region is making efforts to conserve wildlife, there still exist threats such as logging of the lowland forest and illegal hunting of the fauna species.
Which Is The Largest Protected Area In Papua New Guinea?
The Tonda Wildlife Management Area is Papua New Guinea's most extensive protected area. It occupies an area of 2,300 square miles. It is a wetland of international importance that is located in the Western Province's south-western corner. 56 fish species and 50 mammalian species have been recorded here along with several reptilian, amphibian, and avian species.
Papua New Guinea's Top National Parks And Protected Areas
| Papua New Guinea's Top National Parks | Area (Miles Squared) |
| --- | --- |
| Tonda | 2,278 |
| Maza | 711.0 |
| Kamiali | 181.0 |
| Long Island | 162.0 |
| Ranba | 162.0 |
| Bagiai | 53.0 |
| Siwi Utame | 48.0 |
| Pokili | 38.0 |
| Crown Island | 23.0 |
| Ndrolowa | 23.0 |
| Lake Lavu | 10.0 |
| McAdam | 8.0 |
| Varirata | 4.0 |
| Baiyer River | 3.0 |
| Sawataetae | 3.0 |
| Cape Wom International Memorial Park | 0.4 |
| Mount Gahavisuka | 0.3 |
| Namanatabu Historic Reserve | 0.1 |
| Nuserang | 0.1 |
| Sinub Island | 0.1 |
About the Author
Benjamin Elisha Sawe holds a Bachelor of Arts in Economics and Statistics and an MBA in Strategic Management. He is a frequent World Atlas contributor. 
This page was last updated on April 25, 2017.
Citations
Your MLA Citation
Your APA Citation
Your Chicago Citation
Your Harvard Citation
Remember to italicize the title of this article in your Harvard citation.