World Facts
Largest Cities in the World By Land Area
Defining the world's largest city by land area is difficult. However, New York is often estimated to be the largest by land area, with a total of 8,683 sq km.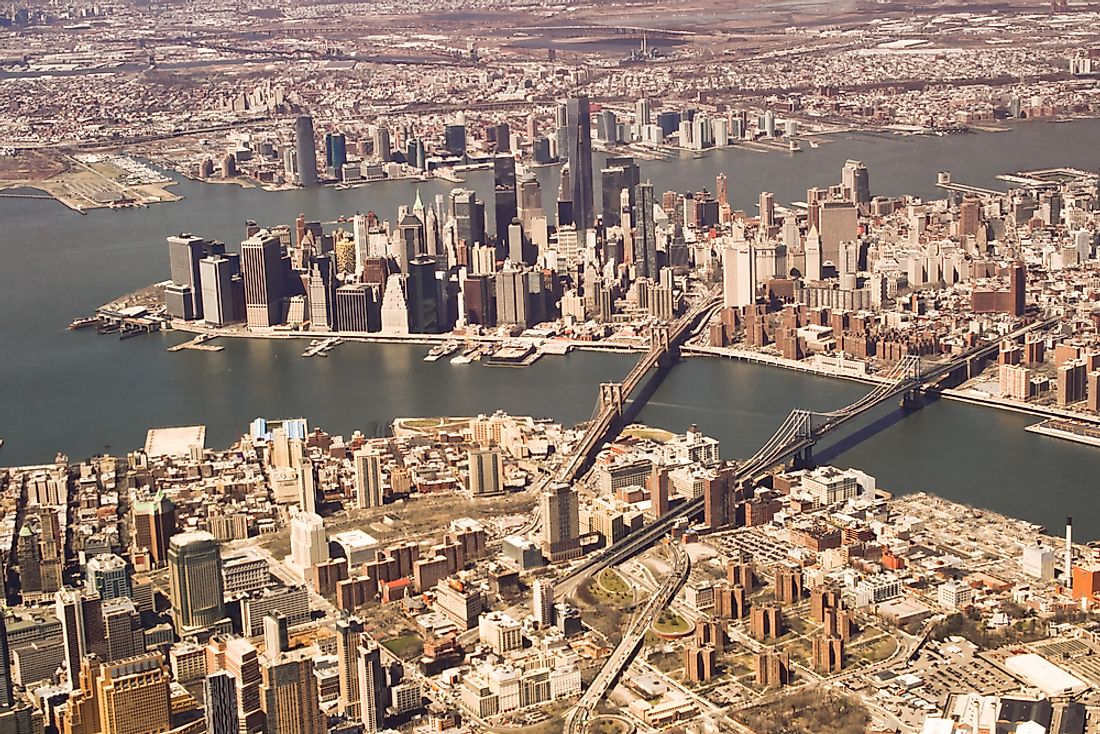 Defining the world's largest city by land area is difficult as many cities are always growing. However, New York is often estimated to be the largest city in the world by land area, with a total of 8,683 square kilometers. Other big cities include Tokyo, Chicago, Atlanta and Philadelphia. Though some occupy a large geographical area, the population is small while others with a smaller geographical coverage are densely populated.
Large Cities By Land Area
New York City
The City of New York is a vast metropolitan region, occupying a total of 8,683 square kilometers. The megacity is next to one of the largest natural harbors in the world. The City has grown rapidly as a center for finance, research, media, culture, education, politics and tourism. Over 17 million people live in New York City. The population density is 2,050 people per square kilometer. Established in 1624 as a minor trading post by colonialists, the New York has expanded to the level of hosting the United Nations headquarters.
Tokyo
Tokyo was established in May 1889 as a municipality headquarter. Located in Japan, the vast city is divided into 35 political subdivisions called wards. The city has more than 33 million people. Skyscrapers are a common phenomenon here to house the huge population. Tokyo occupies 6,993 square kilometers and a population density of 4.750 human beings per square kilometer. Tokyo also has one of the highest population densities in the world.
Chicago
Chicago, in the United States, has a massive land area. Since its incorporation in 1837, the city has grown rapidly despite its Great Fire of 1871 that caused enormous destruction. The expansion was accelerated by a boom in the construction industry. The city initiated urban planning and zoning techniques with new styles of construction drawn by professionals from the Chicago School of Architecture. The city currently occupies 5,498 square kilometers. The population is over 8 million. The city is a renowned hub for commerce, industry, finance, transport, technology and telecommunication. O'Hare International Airport is one of the busiest airports in the world.
Atlanta
Atlanta City, Georgia occupies 5,083 square miles and is home to more than 3.5 million people. Its population density is 700 people per square kilometer, making it one of the least populated major cities. Established as a transport hub in 1837, the city became the center for civil rights movements spearheaded by Martin Luther King Jr among others. Economic activities include information technology, logistics, media and business services. Atlanta is the "city in the forest" due to many trees planted in the city.
Philadelphia
Philadelphia occupies 4,661 square kilometers. Over five million people live in Philadelphia. Founded in 1682 as the capital for colonial control, the city is historical as the meeting point for "founding fathers of the U.S" who signed the declaration of independence. Growth was accelerated by an influx of immigrants from Europe. Philadelphia became a railway hub as well as an industrial center in the 19th century. The city has developed as a tourism destination, an education hub, and an economic center.
Location of the Largest Cities.
Most of the largest cities are in the United States of America. Other than Tokyo in the top five, the U.S has many of the world's largest cities by land area. One possible reason for this is that the United States has a vast land area and newer cities that are subject to sprawl. Another possible reason is the way that US cities define their urban areas. Some cities have liberal borders, which may give them a very wide land area.
Largest Cities in the World By Land Area
| Rank | Metro Area | Area (Km sq) |
| --- | --- | --- |
| 1 | New York | 8,683 |
| 2 | Tokyo | 6,993 |
| 3 | Chicago | 5,498 |
| 4 | Atlanta | 5,083 |
| 5 | Philadelphia | 4,661 |
| 6 | Boston | 4,497 |
| 7 | Los Angeles | 4,320 |
| 8 | Dallas | 3,644 |
| 9 | Houston | 3,355 |
| 10 | Detroit | 3,267 |
This page was last updated on January 7, 2019.
Citations
Your MLA Citation
Your APA Citation
Your Chicago Citation
Your Harvard Citation
Remember to italicize the title of this article in your Harvard citation.