Various land formations on Earth appear in many different shapes and sizes. We can recognize four main types of landforms: plains, plateaus, hills, and mountains. There are also smaller divisions of these landforms, and these are classified as basins, valleys, canyons, and buttes. 
Four Major Types Of Landform
One thing to note is that no landform is perfectly uniformed, meaning we can not associate it to only one of the four main classification types. On continents we have on Earth, the landforms change together with the climate, and technically create zonal patterns when they break up large areas in segments. The most distinctive differences between landforms are found in four major types that exist on Earth: mountains, plateaus, hills, and plains. 
Landforms Constantly Change
Landforms are formed through several different processes that reshape the land. This is a process that technically never stops, as there is always some kind of natural force that is affecting land formations around us. For example, probably the most potent way in which landforms are created is when tectonic plates move. When they do, the amount of force and energy that comes out of the friction between two tectonic plates can create new hills and mountains. Then those same mountains are in constant interaction with the powers of wind and water.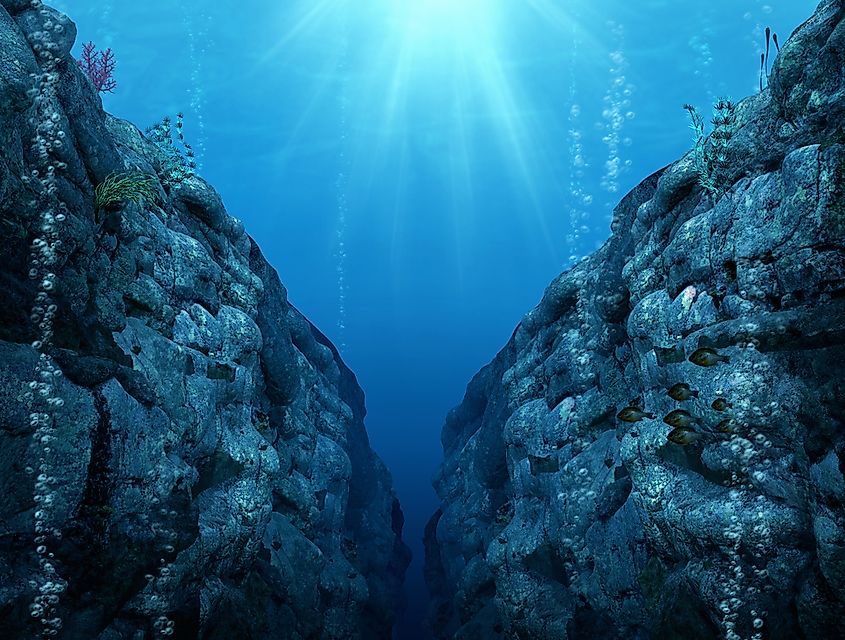 As the winds blow, erosions happen, as parts of a mountain are literally being blown away from their place of origin. Water can do it even faster. In the case of a massive flood, the terrains can change immensely, and the streams of water that flow downhill is creating smaller valleys and canyons. 
Timeline: Millions Of Years
Some of these processes take millions of years to create something that we can then recognize as a distinctive type of land. For example, in the state of Arizona, the Colorado River affected its surrounding for more than 6 million years. So, the Grand Canyon indeed is ''grand'' now, but it definitely started small!
Not all landforms are necessarily on land either, despite the name. Probably the most famous formation under the sea level is the Mariana Trench, which is the deepest point on Earth, which measures at 11,034 m (36,201 ft).
There are many different categories we can observe, which help us to distinguish one type of landform from another. The way they are categorized depends on their physical attributes, meaning: soil type, stratification, slope, elevation, and orientation. 
One way we can divide landforms is by addressing their scale. The smallest parts are usually defined as segments, relief units, and facets. Hills and plateaus can be categorized this way, where the range is anywhere from a few hundred meters, up to a few kilometers. Mount Everest in Nepal is the highest landform we have on Earth, and it goes as high as 8,850 meters (29,035 feet).