Horseshoe Bend, Arizona - Unique Places around the World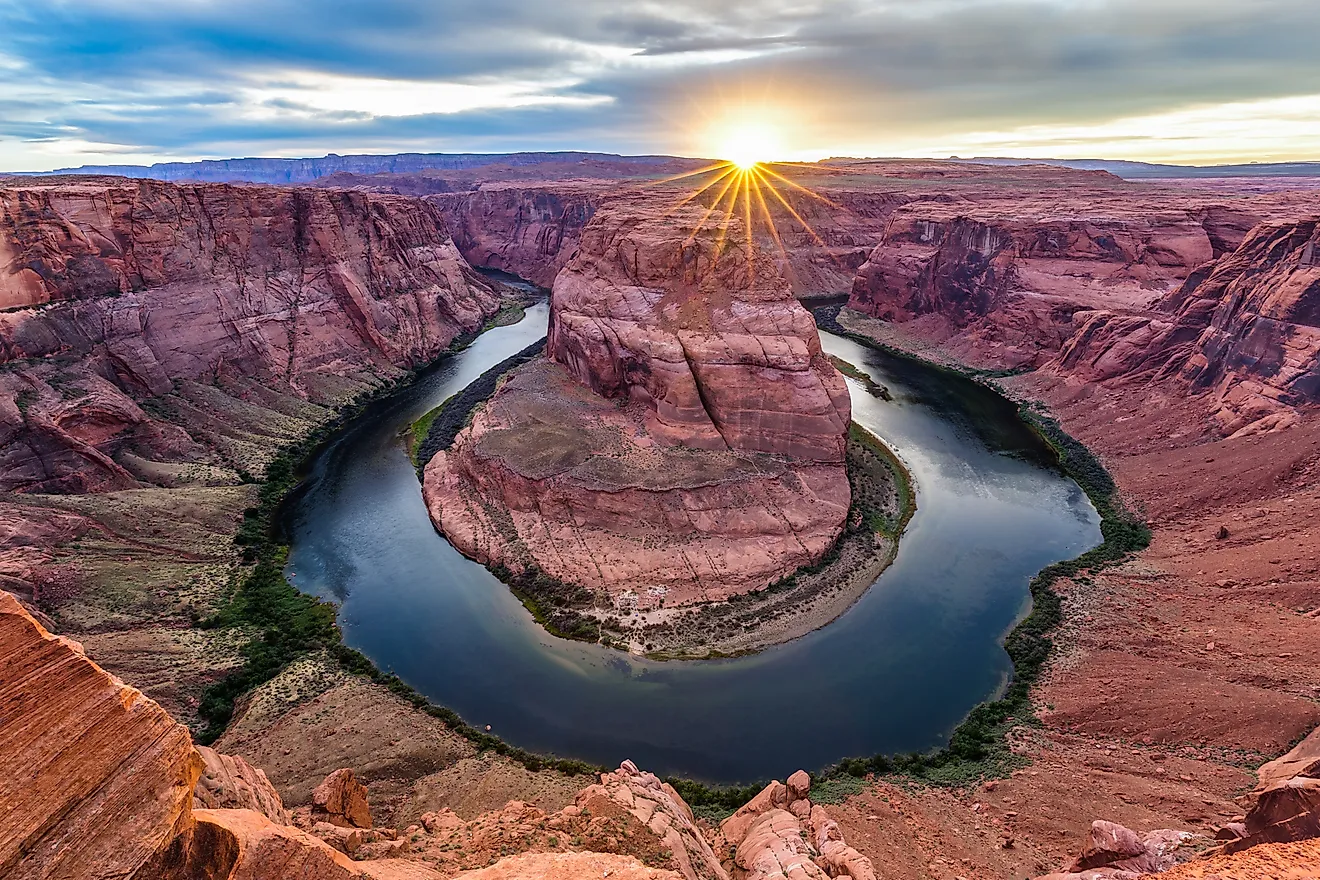 5. Description
As one of the many sights to see around the Glen Canyon National Recreation Area, Horseshoe Bend is located just a little ways from the town of Page, Arizona, and Lake Powell. Within 10 miles of Glen Canyon Dam, mile zero of the Grand Canyon, Horseshoe Bend is a sharp, curvy turn the Colorado River takes, forming a bend into a horseshoe shape, from which it takes its name. Due to its high elevation, the climate in the area is seasonal, with cooler winters can get as cold as 27˚F (-2˚C), and summers can often become as warm as around 100˚F (38˚C). Horseshoe Bend is quite centralized amidst all the other attractions nearby, and there are a number of towns and cities along the nearby highways.
4. Tourism
The Horseshoe Bend, along with many of the other nearby attractions, receives over a million visitors every year. From Page, reaching the Horseshoe Bend parking lot is a short, 10 minute drive south on Highway 89. Page also has a small municipal airport for those flying in from either Phoenix or Denver, and chartered flights from the Grand Canyon National Park Airport. For those who rented a car and are visiting the Grand Canyon from the Grand Canyon Village, it is a 2.5 hour drive along Highway 64 and merging north onto Highway 89, which altogether makes for a 135 mile (217 km) drive.
3. Uniqueness
After a 0.75 mile hike, visitors can reach the rim of Horseshoe Bend, and from there stand in awe of the different layers of stone that have taken millions of years to form and accumulate atop one another. Among these many layers of sandstone, mudstone, and sedimentary rocks, one of the most interesting layers is that containing the "Navajo Sandstone". Navajo Sandstone is made up of cemented sand from a 200 million-year-old sand sea, possibly the largest sand dune system in North America. Another unique feature in the area is the petroglyphs (rock art), which were left by the native Anasazi and Ancestral Puebloans, which can be found by the river in Glen Canyon.
2. Habitat
The Glen Canyon National Recreational Area is home to a great number of species of flora and fauna, some of them being classified as "Vulnerable" or "Endangered". Along with nearly 900 species of plants, there are also a number of species of bats, rodents, and lagomorphs. Other larger mammals include deer, bison, elk, bighorn and sheep. Local carnivores include foxes, badgers, black bears, bobcats, cougars, river otters, and coyotes. Furthermore, there are 27 species of lizards and snakes, and 7 types of amphibians. There are also a number of fish in the Colorado River, and birds are numerous in the area. The most notable of these avian species include eagles, falcons, hawks, condors, owls, and even pelicans.
1. Threats
Compared to other trails, the Horseshoe Bend Trail is quite mild, though it does have some steep slopes, and sturdy footwear is advisable. Wandering off the trail can also be hazardous to visitors, as there may loose gravel or sudden drops. It is also important to keep an eye on children and animals, especially near the edges and at the lookout point at the top of the canyon, where there is a sharp 1,000 foot (30.5 m) drop down to the river. For those who feel unsteady at such a height, it may be preferable to lie on the ground and look over the ledge that way.