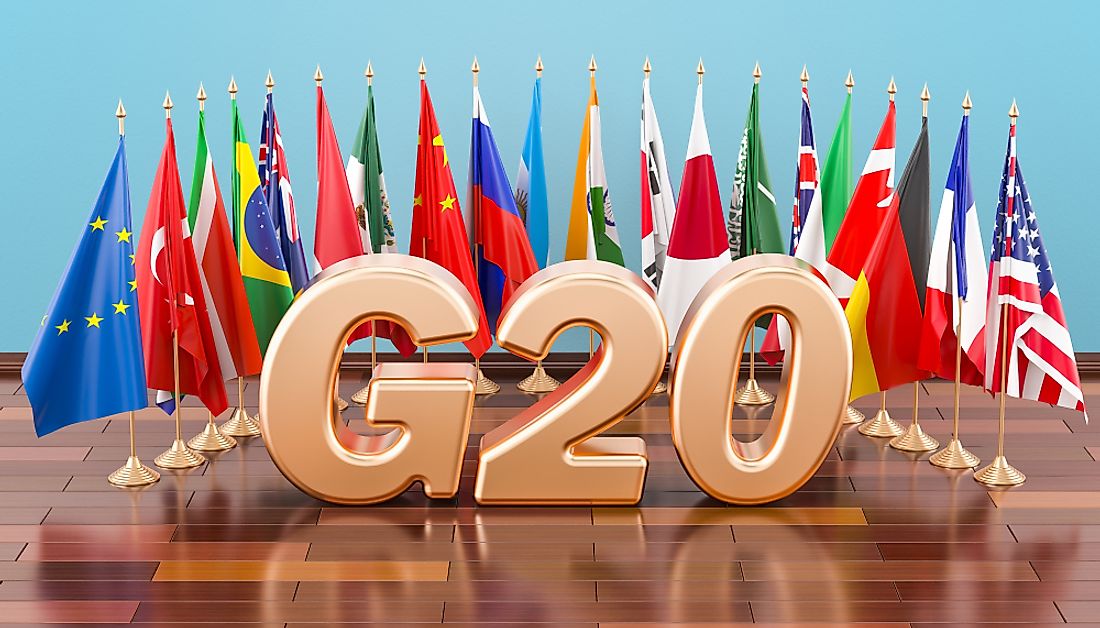 The G20 is a global forum for central bank governors and governments that was established in 1999. The primary objective of the G20 is discussing numerous policies affecting the promotion of global financial stability. G20 membership is made up of a mixture of the biggest emerging and advanced economies on Earth that represents 75% of the world trade, 85% of the planet's gross domestic product and over 66% of the world's population. The forum engages with numerous non-governmental sectors through their multiple engagement groups like youth (Y20), labor (L20), civil society (C20) and business (B20). The outcome of these engagement groups contributes to the deliberations of the G20 leaders.
Influential G20 Members
European Union (EU)
The G20 has twenty members which include nineteen nations as well as the EU. The EU is usually represented by the European Central Bank and the European Commission. The EU is an economic and political union of twenty-eight member countries which are in Europe. The EU has over 510million residents and an area of about 1,728,099sq miles. Their policies promote free movement of capital, services, goods and people in their internal market. The EU has permanent diplomatic missions and represents itself at the G20, G7, World Trade Organization and the United Nations. Due to its influence, the EU has been described by many as an emerging superpower.
United Kingdom
The United Kingdom is a developed state with the planet's ninth-biggest economy by PPP (purchasing power parity). Its economy ranks fifth by GDP. The United Kingdom was the first industrialized state on earth and also the first superpower during the nineteenth and twentieth centuries.
United States
The U.S. has the second biggest economy by PPP and largest by nominal GDP. It is the founding member of the IMF (International Monetary Fund) and the World Bank among other organizations.
China
China is a key regional power in Asia. China has one of the fastest-growing economies in the world with a growth rate of over 6% annually. It is the most populous nation on earth which occupies an area of over 3.7million sq miles. It has the biggest economy by PPP and the second by nominal GDP.
Which Countries Have Featured As Guests In The G20 Events?
The organization engages numerous non-member nations in their events to ensure that they reflect on global opinion. Some of the permanent invitees include Rwanda as the chair of the African Union, Papua New Guinea as the 2018's host, Senegal, Spain and Singapore. Some of the nations which attended the 2017 G20 summit include Zimbabwe, Thailand, Switzerland, Myanmar, Mauritania, Laos, Guinea, Colombia, Brunei and Azerbaijan among others.
G20 Members
G20 Countries
Argentina
Australia
Brazil
Canada
China
France
Germany
India
Indonesia
Italy
Japan
Mexico
Russia
Saudi Arabia
South Africa
South Korea
Turkey
United Kingdom
United States
European Union