Frederic Chopin - Famous Composers in History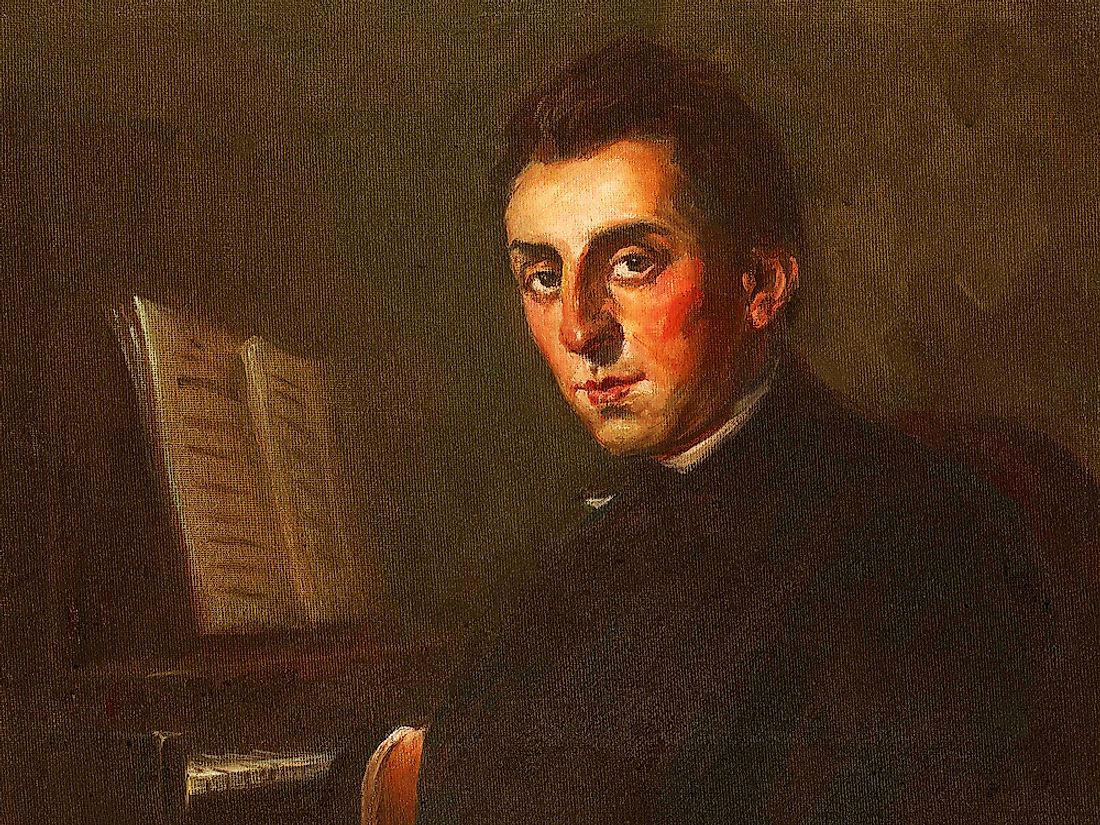 Frederick Chopin was born in 1810 in Zelazowa Wola, Poland. He was a pianist, composer, and child prodigy having published his first composition at the age of seven. Having discovered his talent, his parents sent him to study music under Josef Elsner in 1826 for three years. Chopin was a renowned virtuoso pianist who has gained worldwide recognition of the romantic era. His compositions were mainly for solo piano and he is acclaimed as a poetic genius was without equal in his time.
Career
After his studies, Chopin made his debut in Vienna in 1829 in a public concert that won the hearts of many. From then on he could do no wrong. He performed live in Poland, Germany, Austria, and had a huge debut in Paris of 1832. It was then that he fell in love with the city and decided to settle there. During his early years in Paris, Chopin found difficulty in attracting larger audiences due to his unique style because the people of Paris had been exposed to the works of Ludwig Beethoven and were not too keen on Chopin's work. Luckily, an introduction to the Rothschild family propelled him into new opportunities such as being employed as a teacher and recitalist in the great parlors of Paris. His new success allowed him to create pieces such as the Sonata in B-flat minor and Nocturnes of Opp. 9 and 15.
Major Contributions
It was during his early years that he composed some of his most successful works. The most popular are the Sonatas (in B-flat minor, Op. 35 and B-minor), The four Scherzos, The four Ballads, The Fantaisie in F-minor, Op. 49, and the Barcarole in F-sharp, Op. 60. As he lost interest in composing, he produced shorter works some of which still gained popularity. They include preludes, etudes, polonaises, scherzos, waltzes, impromptus, and mazurkas. Chopin's talents were profoundly beyond emulation and had a significant impact on other musicians, notwithstanding the number of concerts he performed. He performed only 30 times in public over a period of 30 years. No one before or since has come even closer to contributing such significant works to the piano's repertoire as much as Chopin did.
Challenges
Chopin had many love interests which were one of the challenges he faced. Of all his lovers, the most memorable was a French writer called Aurore Dudevant popularly known as George Sand. Some writers say that she was the cause of his downfall because it was after a winter that they spent together that his health began to deteriorate. Shortly afterward, Chopin was forced to pick sides when his daughter showed her disapproval of Sand and her son. This led to an unavoidable split of the lovers which left Chopin heartbroken and distraught. Chopin also suffered bout of Tuberculosis and his health continued to take a toll on his body, and he lost complete interest in the art of composing.
Death And Legacy
Before his death, Frederick Chopin made improvements on the piano through his unique creativity. Among his famous moves would be when he utilized his fifth finger and his thumb on black notes. He would also slide the same finger from a black note to a white one with complete ease. His last public appearance was on November 16th, 1849 after which he went back to Paris and died on October 17th, 1849. As per his wishes, his body was buried in Pere Lachaise Cemetery while his heart was preserved in an urn full of alcohol and taken back to Poland in 1850. It was a strange request but somewhat poetic that his heart lies where it first fell in love with music.
Frederic Chopin - Famous Composers in History
| Rank | People in History |
| --- | --- |
| 1 | Early Life |
| 2 | Career |
| 3 | Major Contributions |
| 4 | Challenges |
| 5 | Death and Legacy |