Franz Liszt - Famous Composers in History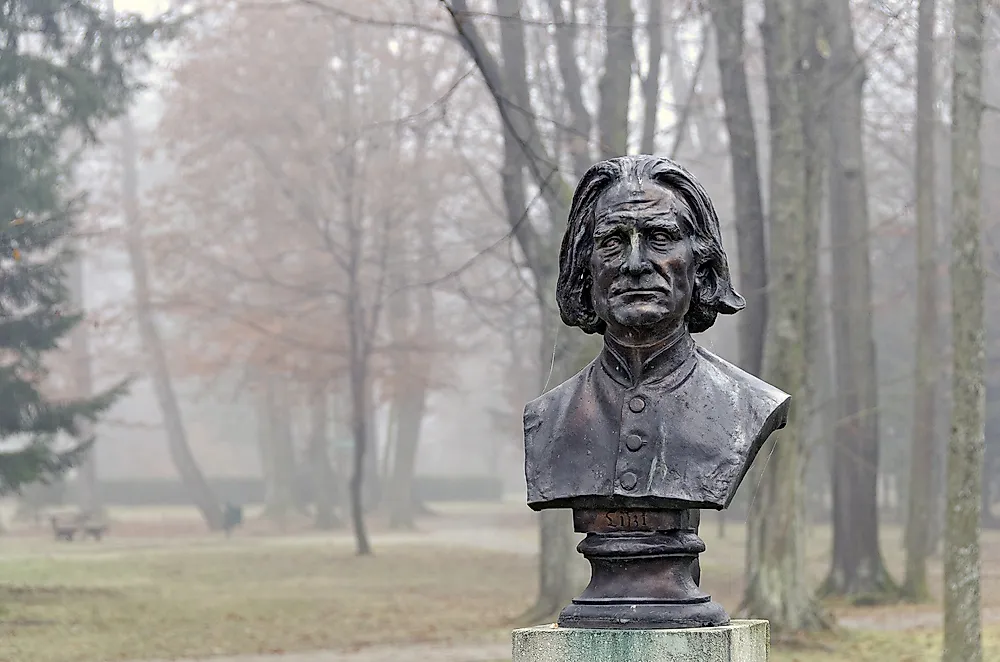 Early Life
Franz Liszt was born on October 22, 1811 to Adam Liszt and Ann Liszt in Sopron County, Hungary Kingdom. Franz started listening to his father play the piano at the age of six. At the age of seven, his father taught him how to play the piano. Franz began to compose songs at the age of eight years. In 1820, at the age of nine, he performed in concerts at Press burg and Sopron. He greatly impressed people, including wealthy sponsors who in turn financed his music education in Vienna. In Vienna, Franz further learnt how to play the Piano from Carl Czerny.
Besides piano, Franz learnt composition from Antonio Salieri and Ferdinardo. Franz's public debut in Vienna was a great success at a concert on December 1, 1822. He performed in Hungarian Aristoc Circles and Austrian. It was at this time that he met other two great musicians: Schubert and Beethoven. Towards the end of 1823 and early 1824, Franz's first composition; ''Variation on a Waltz by Diabelli'', was published.
Career
After his father's death in 1827, Franz and his mother moved to Paris, France. Franz stopped touring and concentrated on teaching music composition and piano to make money. On December 4, 1830, Franz met Hector Berlioz who was also a musician. Hector's music had a strong impression on Franz. In 1833, Franz produced transcriptions of several songs previously done by Hector. These included ''Symphonie Fantastique'' among others. Franz made friendship with another musician known as Frederic Chopin. Frederic influenced Franz's romantic and poetic music.
Later, Franz began to tour Europe. In 1841, he was admitted to a Freemason's lodge called Zur Einigkeit, in Frankfurt Germany. He was then promoted to the degree of the second member of the lodge ''Zur Eintracht'' in Berlin. In 1842, Franz produced ''Lisztomania'' and ''Heinrich Heine''. The two got a great reception across Europe. Franz's music raised the mood of the audiences to a level of mystical ecstasy. In February 1847, Franz moved to Weimar and played music in Kiev. Franz took a long-standing invitation of Grand Duchess Maria Pavlovna of Russia, to settle in Weimer. At Weimer, he worked as a conductor at court concerts and theatre on special occasions.
Other Works
Franz moved away from music and did poetry. He wrote, ''Der traurige Monch'' and ''Nikolau Lenau'' in October 1860. Franz also wrote essays such as ''De la situation des artistes'' published in 1835, and ''Sigismond Thalberg'' in 1837 among others.
Challenges
Franz experienced some moments of great sadness in his life. He lost his 20-year-old son Daniel on 13 December 1859. He later lost his 26-year-old daughter Blandine in 1862. Liszt had at some point resolved to retreating to solitary living. However, despite the challenges, he did not give up on music.
Major Contributions
Liszt made a name as one of the greatest pianists who ever lived. Having full knowledge on the piano, he wrote over 1,000 pieces. Franz was the first Rock star of Europe. He also made a name as a special composer of the romantic era.
Death And Legacy
Franz fell down the hotel stairs in Weimar 1881 causing his legs to swell. Later, several ailments arose like dropsy and asthma among others. Franz died in Bayreuth, Germany on July 31, 1886.
Franz' music greatly influenced the 20th century music. The 20th century music influenced includes Ravel and Debussy among others. He also mentored musicians like; Julius Eichberg, Herman Cohen, and Pierre Wolff among others.
Franz Liszt - Famous Composers in History
| Rank | People in History |
| --- | --- |
| 1 | Early Life |
| 2 | Career |
| 3 | Major Contributions |
| 4 | Challenges |
| 5 | Death and Legacy |