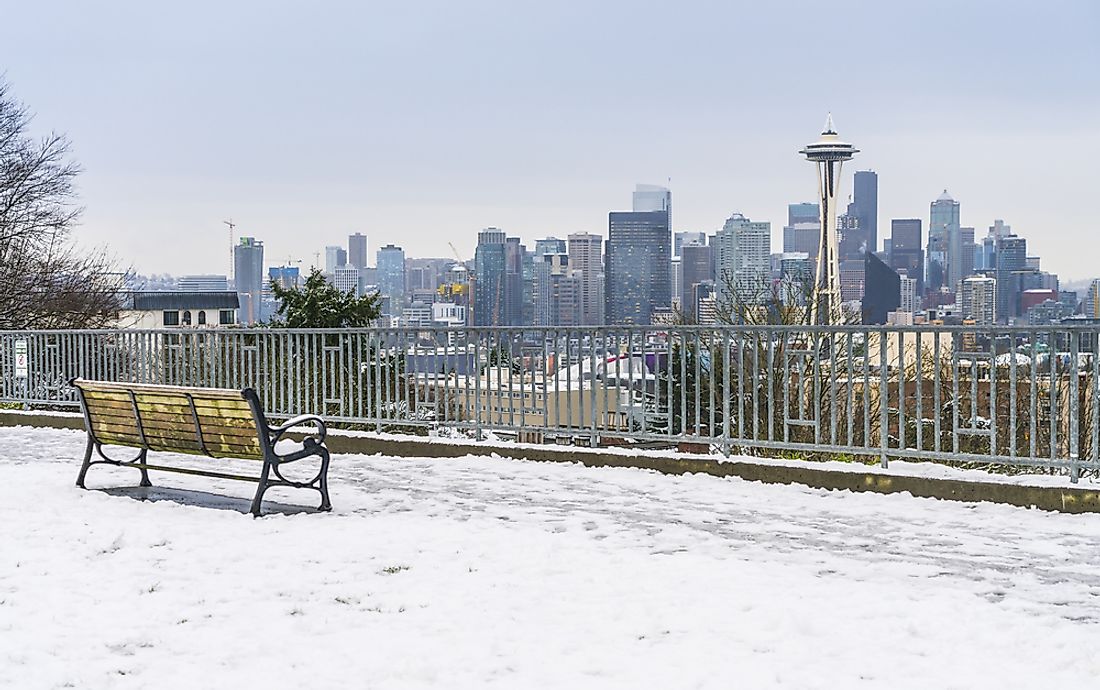 Seattle is a city in the US state of Washington. Occupying an area of 142.5 square miles on the cape between Lake Washington and Puget Sound, it is biggest city in the Pacific Northwestern region of North America. Seattle is located in King County and has a population of about 730,000 people, while its metropolitan region has a population of approximately 3.87 million, which ranks as the fifteenth biggest in the country. As a seaport city, Seattle was the fourth-biggest port in North America in 2015 in terms of container handling.
Climate and Snow
The Seattle region is the cloudiest place in the US and has a reputation of frequent rain, although it actually receives less total precipitation than cities like New York City and Chicago. However, Seattle has more "rain days" than most American cities. The city gets at least 0.01 inches of rain for 150 days, which is more days than all cities situated on the eastern side of the Rocky Mountains.
Seattle experieces a warm temperate climate, but occasionally cold air blows into the Puget Sound area, causing dramatic snowfall and cold spells. The city has relatively dry summers and mild, wet winters, as Lake Washington, the Pacific Ocean and Puget Sound help moderate the extreme temperatures. The city does not receive heavy snowfall like some American cities, but receives an average of 5 inches of snow each year.
Snow in Seattle
Winters in Seattle are wet and cool. December is typically the coldest month, with an average temperature of 4.8 °C. The average amount of snow recorded annually at the Sea-Tac Airport is 6.8 inches. In fact, the airport has recorded a single day snowfall of over 6 inches 15 times since 1948, including the 6.8 inch snowfall of February 17, 1990, which ranks as the snowiest winter season since 1985, and the twelfth snowiest since 1948. Seattle experienced its coldest and snowiest winters during the nineteenth and early twentieth centuries.
A moderate snowfall event occurred on December 12, 2008, which brought more than 1 foot of snow. The snow remained on roads for almost two weeks, and temperatures were below 0 °C. The heaviest snowstorm recorded in Seattle occurred on January 5, 1880, lasting for four days and bringing more than 6 feet of snow in some places. A three day snow event in February 1916 also resulted in 6 feet of thick snow throughout Seattle. The biggest single-day snowfall in the city, which resulted in about 20 inches, was recorded on January 13, 1950. Seasonal snowfall has ranged from 67.5 inches in 1968-69 to zero snow in 1991-92.
What Happens When It Snows in Seattle?
Given its relatively low annual amounts of snow, Seattle is not well equipped to remove significant snowfalls. Additionally, like most Puget Sound cities, Seattle has hilly terrain, and is therefore signifcantly impacted by snowfall. During extreme winters, temperatures in the city during can drop below -9 °C, and therefore snow melts and refreezes overnight, leaving roads icy and dangerous.