Does It Snow In Jerusalem? Does It Snow In Israel?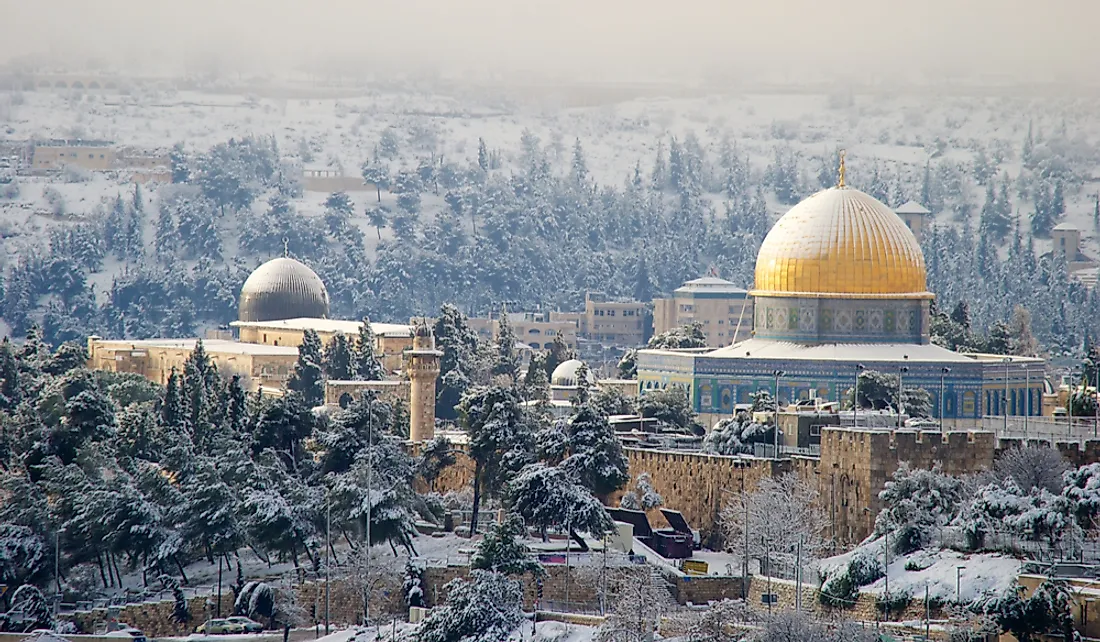 Israel is a West Asian state that is situated on the northern shores of the Red Sea and the eastern shores of the Mediterranean Sea. Israel occupies an area of about 8,019 square miles of which 6,178 square miles is the Negev Desert. Israel has over 9 million residents. Jerusalem is the capital city of Israel. Jerusalem is on a plateau right between the Dead Sea and the Mediterranean Sea. Due to its diverse topography, Israel has a wide array of climatic conditions. Israel has two distinct seasons: the hot, dry summer and the rainy, cold winter. Snowfall is quite common in certain parts of Israel including in Jerusalem.
Snow in Israel
Jerusalem experiences a hot summer Mediterranean climate that is characterized by mild, wet winters and dry, hot summers. Even though Jerusalem experiences a heavy snowfall after every three or four years, it does get snow flurries at least twice every winter. Cities like Safed receive precipitation is in the form of snow during winter. Safed recorded about 23.6 inches of snow during the winter of 1950. Heavy snow falls annually in the northernmost extremes of the Golan Heights leaving the peak of Mount Hermon covered by snow from December to March.
The Heaviest Snowfalls in Israel
The 1950 Snowfall
The snowfall of 1950 started in January as light snow in Jerusalem and Upper Galilee and as hailstorm in Tel Aviv. Snow began falling in Jerusalem and the northern mountains on January 27, 1950, but it melted quickly. Haifa received about 5.9 inches of snow on January 28, 1950. Heavy snow started falling in Israel on February 6, 1950, with Jerusalem receiving 23.6 inches of snow. Other places which received snow during the winter of 1950 include Lod, Tel Aviv, Haifa, Samaria, Netanya, Tikva, Petah, Negev, and the hills bordering the Sea of Galilee among others. The Dead Sea recorded about 3 inches of snow on February 8, 1950.
The 2013 Snowfall
Jerusalem recorded about 12 inches of snow on December 13, 2013, while the Kefar Etzion received 3.3 feet of snow. The capital city was cut off for about two days by flooding and deep snow. The warmer parts of the country received heavy rains that caused flooding. Most roads in Israel were closed by flooding and deep snow. The storm clouds forced John Kerry, the American secretary of state, to disrupt his meeting with President Mahmoud Abbas of Palestine and return to Israel before the airports and roads were closed.
Winters in Israel
The temperature in Israel varies in winter with the coastal regions like Haifa and Tel Aviv experiencing cold and heavy rainfall. Winter begins in October-November with the temperature in Tel Aviv ranging from 17°C to 22°C while at night it can drop as low as 10°C. Sunny days are quite common during winter in Israel. January is the coldest month in Jerusalem when the temperature averages at 9.1°C.