Cultural Sites of Al Ain, United Arab Emirates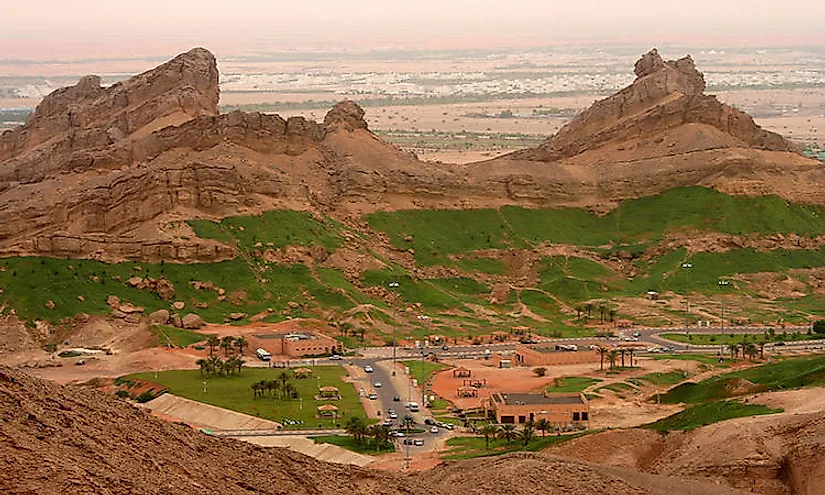 Al Ain, located in the Emirate of Abu Dhabi, is the fourth largest city in the United Arab Emirates (UAE) and has been awarded the title of "Green City" due to the amount of greenery present. In contrast to the modern development of cities such as Dubai and Abu Dhabi, Al Ain has managed to preserve major aspects of traditional desert living. At only 75 miles south of Dubai, Al Ain has become a popular tourist attraction, with visitors escaping from coastal humidity and enjoying the relatively clearer air in this part of the country. Al Ain is one of the oldest continually populated areas in the entire world, with discoveries of human living dating back to 3000 BC.
Al Ain Oases
The Al Ain Oases is the largest in the city of Al Ain. Al Ain Oases houses an ancient water system called a falaj, which transports water from boreholes or an aquifer under a hill to a convenient place in which plants can be watered and for humans to drink. The falaj system still continues to this day in Al Ain Oases and supplies the date palm groves with the water they need to survive and produce dates. This system is ideal in an unforgivably arid environment such as Al Ain. The oases has been very well preserved with many traditional houses, buildings, restaurants, and mosques throughout, there is a focus on maintaining aspects of traditional Bedouin culture within this site.
Bidaa Bint Saud
Located 15 Kilometers from Al Ain is the Bidaa Bint Saud site. This site is hard to miss as the rock formation towers 40 meters high, 800 meters long and 25 meters wide. This site has unearthed many Iron Age relics, including double-edged swords that can be as long as 40 centimeters (1.3 feet). A water system that could be up to 3000 years old was discovered here in the 1990's; this system would have made life a lot easier for early inhabitants and even small scale farming was possible during this time due to the water system. Nowadays, this area is completely fenced off to preserve what is left from the Iron Age, as people would often go into the area and keep anything they found. Many of the discoveries here, including jewelry and tools, are housed in the Al Ain Museum.
Hafit
Hafit is known to the locals as Jebel Hafit which translates to "empty mountain." This mountain and summit are located in Al Ain, but parts of the mountain cross the border with Oman. The road to the summit stretches 17 miles up Hafit and rises approximately 4000 feet once at the summit. This road has been called the "greatest driving road in the world" by some driving publications, and it is easy to see why. The road is immaculate and smooth, giving drivers an easy climb to the peak. Tombs that have been discovered at the base of Hafit have been found with skeletons draped in prized objects such as pearls. Some of these tombs have housed artifacts from Mesopotamia (modern Iraq which shows the degree of trading present within Al Ain. Hafit is also known for a wide variety of animals such as bats, foxes, and snakes to name a few.
Hili
Hili is known as the Hili Archaeological Park and has housed remains of humans that lived in this area 4000 years ago! Excavations of this site began in the 1960s and have unearthed many relics from as far back as 2700BC. Some of the excavated buildings include houses, towers, and tombs. In Hili, one of these towers has been rebuilt and is an interesting tourist attraction for visitors. Tombs played an important role in mass or family funerals of early inhabitants and the largest tomb discovered here was 2.5 meters high and 8 meters wide. This tomb was restored in 2005 and gives tourists and visitors a look into how the tomb originally appeared.
Cultural Sites of Al Ain, United Arab Emirates
| Cultural Sites of Al Ain | UNESCO World Heritage Site in the United Arab Emirates |
| --- | --- |
| Year of Inscription | 2011 |
| Type | Cultural |
| Sites Included | Hafit, Hili, Bidaa Bint Saud, and Al Ain Oases |
| Criteria III | Bears a unique or at least exceptional testimony to a cultural tradition or to a civilization which is living or which has disappeared. |
| Criteria IV | Is an outstanding example of a type of building, architectural or technological ensemble or landscape which illustrates (a) significant stage(s) in human history. |
| Criteria V | Is an outstanding example of a traditional human settlement, land-use, or sea-use which is representative of a culture (or cultures), or human interaction with the environment especially when it has become vulnerable under the impact of irreversible change. |
| Site Area | 4,945 hectares |