Travel
UNESCO World Heritage Sites In The United Kingdom Of Great Britain And Northern Ireland
Britain's cultural heritage includes one of Western Europe's oldest civilizations and one of the greatest empires the world has ever seen.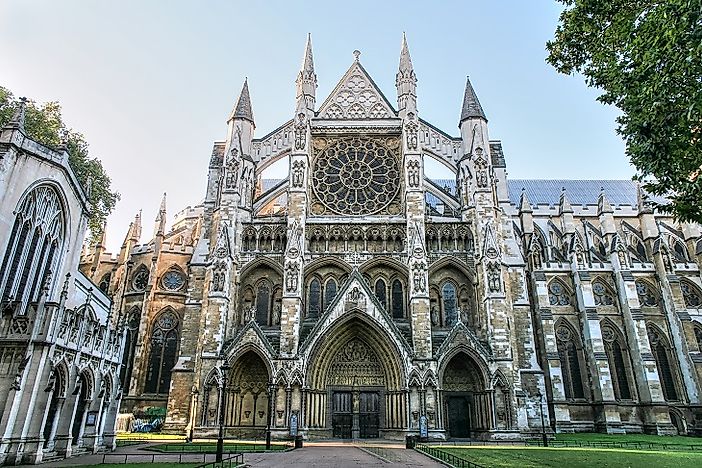 A UNESCO World Heritage Site is an area that has been officially recognized by the United Nations as having cultural, natural, or historic significance. Due to their importance, the sites are protected via international treaty. The United Kingdom of Great Britain and Northern Ireland is home to 30 different sites, including 1 of mixed significance, 4 natural, and 25 cultural. This article takes a look at a few of these sites.

Stonehenge
Inducted in 1986 as a cultural site, Stonehenge is one of the most recognizable UNESCO monuments in the United Kingdom. A visit to these prehistoric ruins, located in Wiltshire, England, may seem as if one is taking a walk backwards in time. Built sometime between 3000 and 2000 BC, this site is a ring of standing stones set into the ground and surrounded by a circular mound of earth. Avebury and associated sites located within a 30-mile radius have also been included in the protected status. They include similarly circular henge sites constructed of earth and stone. Nearby, model homes allow visitors to get a glimpse of Neolithic life. Theories of the purpose of Stonehenge include that it was intended as either a burial site, for use in ritualistic ceremonies, and/or a pilgrimage site for those seeking healing. What is even more mysterious is how the stones arrived to their current site. The stones were transported from over 200 miles away in present-day Wales. The most commonly accepted theory is that the culture moved these stones via water to a few miles from the site. This theory has not, however, been tested. The mystery that shrouds this World Heritage Sites is one of its great appeals.
Westminster Abbey
Located in London, the Palace of Westminster, Westminster Abbey, and Saint Margaret's Church were all reserved as World Heritage Sites in 1987. Built over medieval remains, Westminster Palace was constructed beginning in 1840 and today, is one of the largest examples of neo-Gothic architecture in the country. Parliament continues to hold its seat here. Westminster Abbey has served as the traditional place for royal coronations and marriages since the 11th century and Saint Margaret's Church, the parish church for the Palace, has held religious services since medieval times. The grounds also hold burial sites for English citizens as well as monarchy. These buildings stand overlooking the river Thames and remind passersby of the rich history of religion, royalty, and government that have helped shape the nation.
Saint Kilda
The Saint Kilda volcanic archipelago and settlements is a mixed cultural and natural site brought under UNESCO World Heritage protection in 1986. Located off the northwest coast of Scotland, its landscape is craggy and awe-inspiring and the coasts have some of the tallest sea cliffs in Europe. The area provides shelter to many endangered bird species such as puffins, and during breeding season around 1 million birds can be spotted. Humans inhabited this area from before the Bronze Age until 1930 AD. Combined with the harsh environment and unique natural setting are remains of ancient settlements that can still be found here. These ruins include storage structures, stone houses, and field systems. One of the villages was rebuilt during the 1800's, but increasing tourism and the devastating effects of World War I forced inhabitants off the island in 1930. A visit here today is akin to seeing one of the last great frontiers due to its inherent remoteness and natural beauty.
Giant's Causeway and Causeway Coast
One of the natural sites on the list, the Giant's Causeway was included as a UNESCO World Heritage Site in 1986. Unique for its polygonal-shaped basalt column beaches, this North Ireland coastline is an important geological site. Its columns interlock and form a nearly flat surface. Formed by volcanic eruption, the surface appears to be stepping stones that guide visitors from the coast into the sea. Research of this area has been ongoing for over 300 years and has added extensive knowledge to the field of science regarding the history of geological formations on earth. The name comes from local legend that these rocks provided a passage for giants crossing the sea to Scotland.
Additional UNESCO World Heritage Sites in the country can be found listed below.
UNESCO World Heritage Sites In The United Kingdom Of Great Britain And Northern Ireland
| UNESCO World Heritage Sites in the United Kingdom of Great Britain and Northern Ireland | Year of Inscription; Type |
| --- | --- |
| Blaenavon Industrial Landscape | 2000; Cultural |
| Blenheim Palace | 1987; Cultural |
| Canterbury Cathedral, Saint Augustine's Abbey, and Saint Martin's Church | 1988; Cultural |
| Castles and Town Walls of King Edward in Gwynedd | 1986; Cultural |
| City of Bath | 1987; Cultural |
| Cornwall and West Devon Mining Landscape | 2006; Cultural |
| Derwent Valley Mills | 2001; Cultural |
| Durham Castle and Cathedral | 1986; Cultural |
| Frontiers of the Roman Empire | 1987; Cultural |
| Gorham's Cave Complex | 2016; Cultural |
| Heart of Neolithic Orkney | 1999; Cultural |
| Historic Town of Saint George and Related Fortifications, Bermuda | 2000; Cultural |
| Ironbridge Gorge | 1986; Cultural |
| Liverpool Maritime Mercantile City (Site in Danger) | 2004; Cultural |
| Maritime Greenwich | 1997; Cultural |
| New Lanark | 2001; Cultural |
| Old and New Towns of Edinburgh | 1995; Cultural |
| Palace of Westminster, Westminster Abbey, and Saint Margaret's Church | 1987; Cultural |
| Pontcysyllte Aqueduct and Canal | 2009; Cultural |
| Royal Botanic Gardens at Kew | 2003; Cultural |
| Saltaire | 2001; Cultural |
| Stonehenge, Avebury, and Associated Sites | 1986; Cultural |
| Studley Royal Park and Ruins of Fountains Park | 1986; Cultural |
| River Forth Bridge, Edinburgh-Fife, Scotland | 2015; Cultural |
| Tower of London | 1988; Cultural |
| Saint Kilda Volcanic Archipelago and Settlements | 1986; Mixed |
| Dorset and East Devon Coast | 2001; Natural |
| Giant's Causeway and Causeway Coast | 1986; Natural |
| Gough and Inaccessible Islands | 1995; Natural |
| Henderson Island | 1988; Natural |
This page was last updated on April 25, 2017.
Citations
Your MLA Citation
Your APA Citation
Your Chicago Citation
Your Harvard Citation
Remember to italicize the title of this article in your Harvard citation.